[CLOSED] Take a Free Trial of PatternPal, an App for Sewing Supplies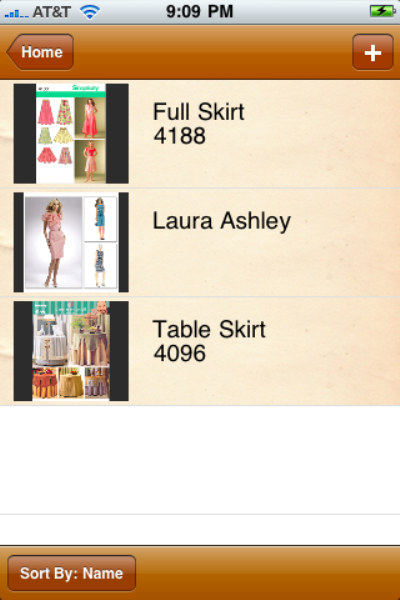 New technology for sewing is so much fun to investigate. There's computerized machines, pattern-drafting software, and neat applications. I love checking this stuff out and there's always something novel to discover.
Now, I have an electronic "notion" to share – Blueshift Software sent me six free-trial codes for PatternPal, an app to track patterns, fabric, and notions. I've previously written about Blueshift's FabricStash app here on ThreadsMagazine.com and they thought readers might be interested in another of their sewing apps for the iPod Touch, iPhone, or iPad.
PatternPal costs $4.99 in the iTunes store. I'm offering the free-trial codes to the first six readers who leave a comment requesting one. These trial codes are good until Dec. 1, so comment ASAP. I'll e-mail you a code via the address linked to your Threads login.
Like FabricStash, PatternPal is designed to help those who sew stay organized and on top of what they have – and what they need – to complete projects. No more staring off into space at the fabric store, trying to recall how many yards, the number of buttons or what length zipper to buy.
Here's a rundown of what the app does, based on BlueShift's description:
It has fields for the pattern name, number, brand, type, style, occasion (yes, now you can sort by evening or Halloween), cost, size, fabric width requirements and "Notes" where you get to elaborate in any way you please.
You can store two images – from your photo library or a device camera (such as the camera on an iPhone or the new generation of iPod Touch).
Track the materials with a fabric and notins selection interface. It is pre-loaded with many fabric types and also allows you to specify your own.
The more you use PatternPal, the faster your entries may be. It remembers your custom values for pattern brands, types, and styles.
Even better than me telling you about it, you can view a video demonstration of PatternPal on YouTube. If you'd like to try it yourself, just me a comment and I'll send you a code. I hope you enjoy trying out PatternPal!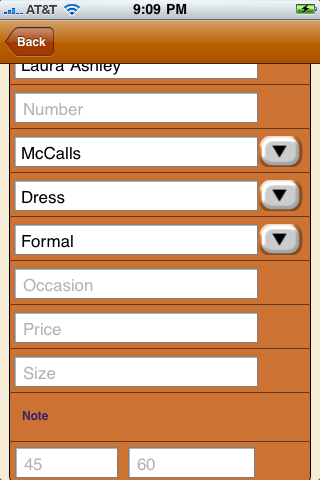 Sort patterns by brand, type, or other criteria, in PatternPal.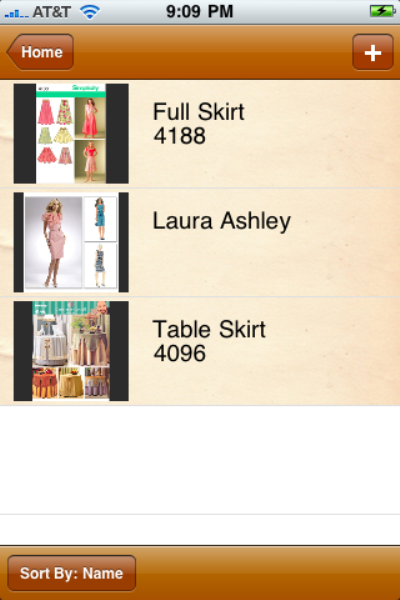 Add images - from your iPhone or iPod Touch camera, or your computer's photo library - to Pattern Pal.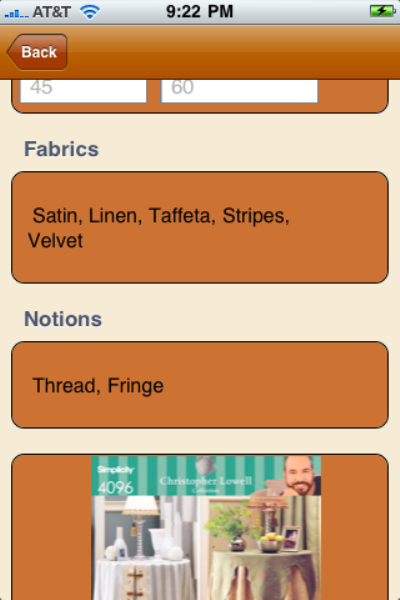 You can add details to each pattern you store in PatternPal, such as fabric and notion requirements.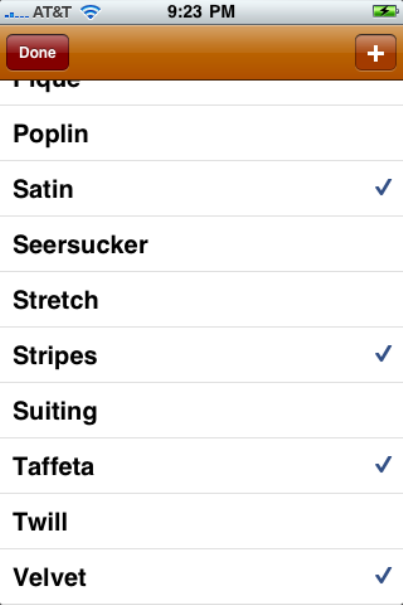 PatternPal is intuitive - it will remember new types of fabric or notions you enter. The next time you want to select those notions, just check them off instead of re-entering the information.