Magazine Giveaway: "Quick Stuff to Sew"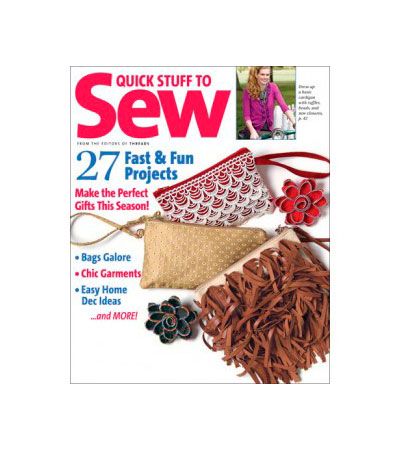 A must-have magazine to spark your holiday gift-making.
We've just released a terrific new magazine-Quick Stuff to Sew (The Taunton Press, $6.99) which will be perfect to help you create personal hand-made gifts for all of the special people on your holiday list. It includes 27 easy, quick projects that are great to give or extra-special to make for yourself. The issue contains complete instructions for a variety of snappy accessories, fashionable garments, as well as clever home décor projects.
You could be a winner!
You won't want to miss this issue, and you could be one of the two lucky people to win a copy for yourself or to give to a friend or relative who also loves to sew. Simply leave a comment on this post before the deadline-11:59 pm, Sunday, December 12-and you could be one of the TWO randomly-selected winners. The winners will be announced on Tuesday, December 21.
Good luck!