Three-Step Jacket: Make It in 30 Minutes
Turn a fabric rectangle into a versatile garment with a quick-to-sew project.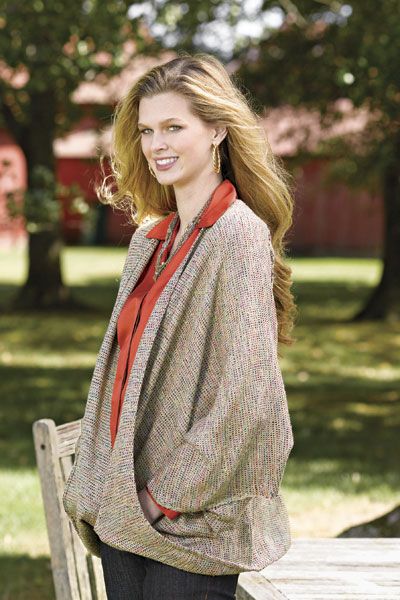 If you have limited time to sew, it's especially rewarding to create a garment you can wear right away. Made from just a rectangle of fabric, this three-step jacket can be made in 30 minutes.
This pattern is incredibly flexible. The fabric length determines the finished garment's total arm span and the fabric width determines the torso length. The measurements are easy to manipulate for different sizes. A shorter, narrower rectangle will produce shorter sleeves and jacket length.
With such a simple design, the possibilities for fabric and embellishments are endless. The jacket shown here is unlined, and made from a chunky, colorful, woven silk and viscose fabric. For an easy embellishment, let the selvage become a trim across the back, neck, and shoulder, down the sleeve, and around the wrist. Hem the other three edges of the fabric. You can use appliqué, trapunto, patchwork, photo-transfer, blue printing, painting, stamping, stenciling, embroidery, or any embellishment technique to adorn this jacket.
The seams are lapped and topstitched together, so it's also easy to make a reversible jacket by lining the rectangle first. Since this jacket can be made to fit anyone, it makes a perfect gift. Thirty minutes isn't much of an investment for so many fashionable possibilities.
Supplies
Fabric
Measuring tape or ruler
Pins
Scissors
Sewing machine
Thread

Make the jacket in three easy steps
1. Fold the rectangle in half crosswise to establish the center back. On the fabric's upper edge, measure 2 1/2 inches from both sides of the center back. Mark with pins. This indicates the back-neck edge.
2. Bring the lower corners to their corresponding pins at the back neck. Pin the short edge to the long edge to form the sleeve.
3. Lap the long edge over the short edge. Topstitch or slipstitch the shoulder/arm seam together.
Excerpted from "Thirty-minute jacket," Threads #100, April/May 2002. Look for this three-step jacket and more quick-to-make projects in Quick Stuff to Sew, Winter 2010.