Is sewing taught in your local school system?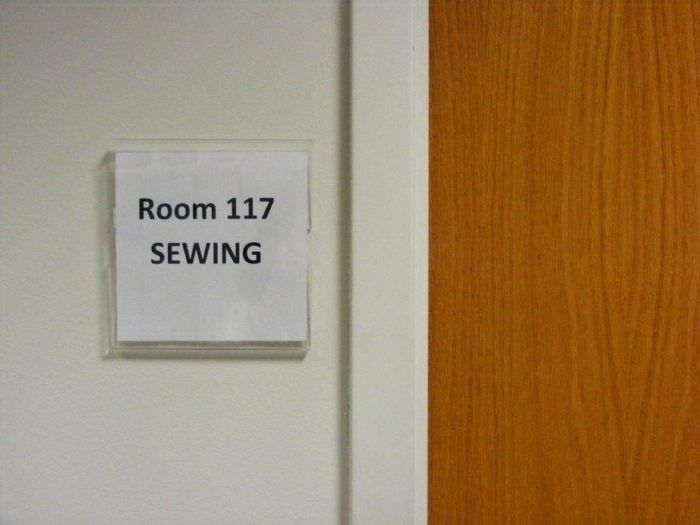 Sewing was required when I was in school.
When I was in junior high school, all girls in 7th and 8th grades were required to take sewing for half of the year and cooking the other half. The program was extremely structured. In 7th grade we made a pillow and in 8th grade we made an A-line skirt (which had already been out of style for years). The boys took shop (car mechanics) and woodworking. A boy would never have been allowed to take sewing or cooking, nor would a girl be allowed to take woodworking or shop.
Sewing was also required for my children.
When my children were in middle school (grades 6-8), the school year was broken into 4 segments, and they were required to take sewing, cooking, woodworking, and art. All of the classes were co-ed, and there didn't seem to be any stigma for kids crossing the sterotypical gender lines. My son made a fabulous shirt for himself in his sewing class, and I still use each of the woodworking items my daughter's made.
Is sewing having a rebirth?
Over the years, many sewing programs, as well as art, music, cooking, etc., have been removed from schools across the nation in an effort to help reduce school budgets. But, thankfully, I've noticed a recent increase in these programs in some schools in my local area. The town of Plymouth, Connecticut, recently built a new high school, and it is equipped with a beautiful sewing room. They offer one class called "Clothing and Fabric," but students who have strong interest can arrange an independent study to pursue the topic further. The sewing teacher works with them one-on-one to help develop their level of expertise. Judging from the work on display in their sewing room, the students learn a lot more than garment sewing. However, although the high school offers sewing, the junior-middle school in the same town doesn't offer any home economics classes at all. It does offer industrial technology to both boys and girls which includes woodworking. At least sewing is in the high school!
The school system in Newtown, Connecticut, offers a rotation class that includes sewing in their middle school (grades 7 and 8). The students rotate between sewing, cooking, computers, health and tech education during the school year. Because of the nature of the rotation, they don't spend too much time sewing, but at least they sew!
What does your town's schools offer for sewing education? Have there been cutbacks over the years? Are some of the classes that were cut coming back again?