Do you plan to make a Valentine gift for someone special?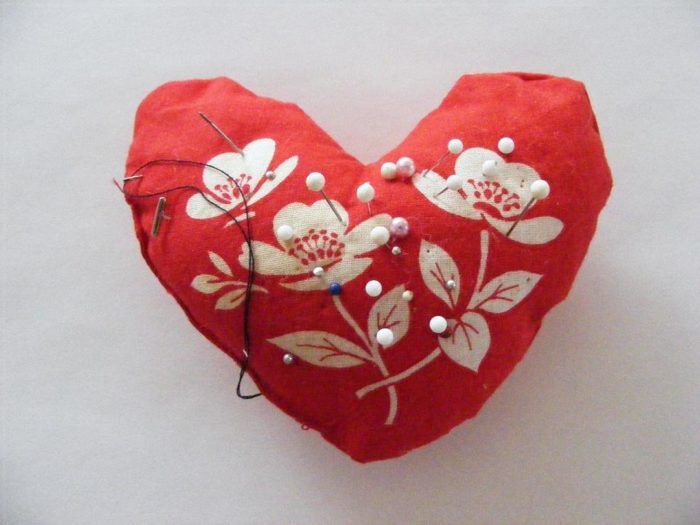 A Special Valentine's Gift
Over the years I've received Valentine gifts from many people, but I don't really remember any of them–except one.
Stitched Valentine Memories
When our youngest daughter was about 5 or 6, the only thing she wanted for Christmas was a Holly Hobby sewing machine. The machine was a "hot" children's item 3 or 4 years prior, but had faded in popularity by this time. We searched for it to no avail in every large and small toy store locally. We had given up when my husband unexpectedly discovered one in a tiny department store in a small midwest town while traveling just days before Christmas. It was covered in dust on a high top shelf, but it was a treasure to us. As we expected, our daughter was thrilled to have her very own sewing machine, and kept herself busy stitching numerous small projects for herself and her dolls. She surprised me with a heart-shaped pin cushion for Valentine's Day that she secretly worked on when I was busy in the kitchen making dinner. The skill level is just what you might expect from someone so young, but I still cherish my red pin cushion. Although I don't use it often, it's always in clear view. I treasure it more than my other sewing notions because it was so thoughtfully made with love.
Survey Results
According to a recent customer survey done by Michael's, the arts and crafts retailer, 85 percent of those who responded think handmade gifts are more sentimental than store-bought. I didn't take the survey, but I certainly agree with its findings. Since Valentine's Day is probably the most sentimental of holidays, perhaps we should all plan to stitch at least one handmade gift to touch the heart of someone special.
What will you make?
Have you ever made a Valentine's gift for someone? What do you plan to make this Valentine's Day?