YOUR Sewing Machine Buying Advice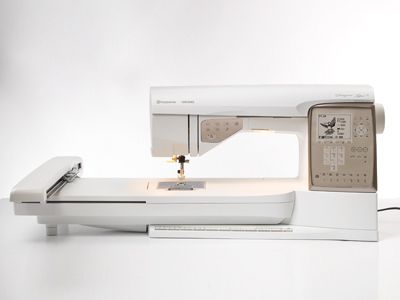 In my recent post, "A Buyer's Guide to Your Dealership," I asked you to share your thoughts, suggestions, and experiences about buying a sewing machine. Your responses were great! Here is what some of you had to say:
LillieB and KathleenSews both suggested "test driving" on your own materials. Kathleen says, "I make up kits with the kinds of fabrics I sew on, the needles I like to use and specialty thread."
MarieSainte and Ipodgrannie recommend purchasing the best machine you can.
Mariesainte: "I think buy a machine requires careful self assessment…. Also, how much do you like to stretch your skills? When I bought my old Bernina, it was the most versatile machine I had ever had, and I learned over time to use and appreciate its many beautiful features. It helped me expand and stretch my skill and gave me confidence to tackle projects I wouldn't have considered."
Ipodgrannie: "I went with the top of the line Bernina at the time, didn't use all the features at the time, but I sure do now 20 years later."
Dbtomczak agrees with them but also points out that some used machines also make fabulous new machines.
"Buy from a dealer, and establish a relationship. If you are new to sewing, buy the best quality machine you can afford, not necessarily the one with the most features…. An excellent machine doesn't have to be new."
Darylquilts talks about great used machines but also wisely cautions to not over buy.
" NO one machine does it all. Price is not always an indicator of a good machine. Used machines can be just as good as new, it depends on where to buy them and what they are. Do your homework to see what the going rate is. Some older machines still have a high price tag because they are classic workhorses. …Buy a machine that suits your needs today and not in the future. They are always coming out with new machines that do practically everything. …You may never use all the features/functions and they could be outdated by the time you want to use them."
SewcietyMaven and SewTruTerry both talk about doing your research. SewcietyMaven says, "I always consult Consumer Reports magazine." And SewTruTerry says to "Look for someone that is knowledgeable about the machines and sewing in general. Also [look for] convenience of hours of operations and location."
Thank you all for your great input! Not everyone who contributed is listed here so be sure to check out all the original blog comments.
The overall consensus? Don't over-buy, but get the best machine for YOU as possible. Do your research and don't be afraid to ask many questions. Take your own fabrics and supplies to test. And don't discount a good used machine.
Do you have any other advice to add?