The Blog for Men Who Sew (And the Women Who Sew For Them)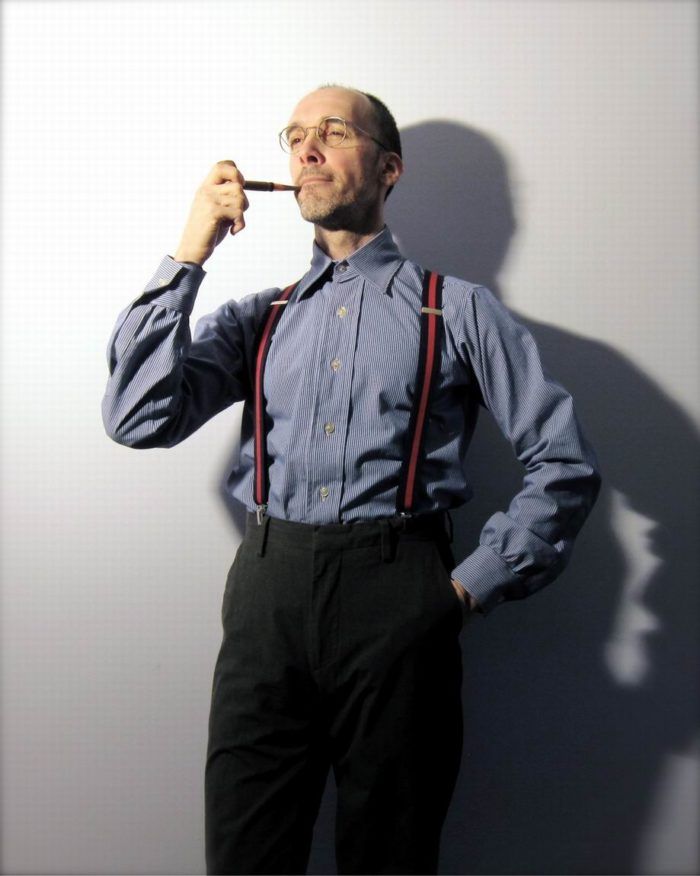 I recently discovered the sewing blog "Male Pattern Boldness" by Peter Lappin of New York City. I came across it because it was recommended between readers in Gatherings, Threads' online forums.
Peter's blog is fun, and his passion for sewing is so contagious, I wanted to share it. Let's face it, men are a tiny minority in the community of home-sewing enthusiasts, and it was interesting, and refreshing to see "the world's most popular men's sewing blog." Peter kindly answered some questions about "Male Pattern Boldness" and his enthusiasm for sewing:
SM: What inspired you to start writing "Male Pattern Boldness"?
Peter: I started sewing only in June 2009 but I caught the fever right away. I was writing a lot of pattern reviews (and posting photos of my projects) on the Pattern Review website, as well as writing about sewing machines and other sew-related topics on the Pattern Review message boards, and I wanted a place where I could do these things more expansively. I also wanted to create my own sewing community where I could discuss topics that interested me, and where my posts would remain archived and easily accessible to others.
A blog seemed like a perfect forum for me since I also love to write and entertain others. I started blogging in January 2010, so I've been at it a little over one (very full) year.
SM: Why do you think it's predominantly women who sew?
PL: More women than men sew for many reasons. First, up until the last generation or two, women were taught to sew in school as part of a Home Economics curriculum, which has largely been abandoned in the United States. Sewing was something that a woman was expected to know how to do – part of her contribution to her future family.
Clothes also used to be more expensive relative to other things and one could save money by knowing how to sew one's wardrobe. More women had time for sewing because many middle-class women didn't work outside the home.
Women also tend to be more interested in fashion than men (they're socialized to care more about their appearance) and women's styles change often and dramatically. Men's clothes have changed very little over the years; a man can wear the same pair of pants, say, for decades. There's less incentive for men to learn how to make clothes for themselves in order to stay in fashion.
Men traditionally have held a job outside the home so they have less time for pursuits like sewing. When they do have spare time, they're still more likely to pursue more socially-sanctioned activities like carpentry, or home and/or car repair.
Finally, there's no outreach to men who might be interested in sewing – not by schools, not by sewing machine manufacturers, nor commercial pattern companies. There's no encouragement in the culture at large, though blogs are changing things a bit: a man who does want to sew can find a community of other men who share his interest.
SM: I love that you keep your readers engaged with challenges and giveaways on your blog. How often do you do that?
PL: At least once a month I give away vintage women's – and men's – patterns, often great styles from the '60s and '70s.

SM: What was your most recent challenge?
PL: We just completed our Men's Shirt Sew-Along in February and we had nearly 175 participants, which is a lot of shirts!
I'm just about to run a men's pattern giveaway in celebration of what I've dubbed "Guy Week" on "Male Pattern Boldness." We're talking about men's fashion, style, and sewing, and I wanted to make sure I had something special to offer my many male readers. Some of the patterns I'm offering are wacky '70s styles (like groovy jumpsuits) and some are more classic (vests).

SM: What's coming up?
PL: I'm extremely excited about my upcoming Jeans Sew-Along starting in May 2011. There's so much interest in menswear among both men and women who sew for men, and I'm thrilled to be able to focus and fuel some of that energy and interest into actual projects.
SM: Do you have any advice for men interested in sewing?
PL: Give it a try. Pick up a vintage mechanical Singer or Kenmore machine (from the '50s or '60s) which can be had for less than $100, and give it a whirl. There's a steep learning curve but there's a ton of information online, both on blogs and on websites like Pattern Review and ThreadsMagazine.com. Start with something easy – boxer shorts for example – and work your way up from there. Find a beginner-level book or, even better, an online sewing buddy.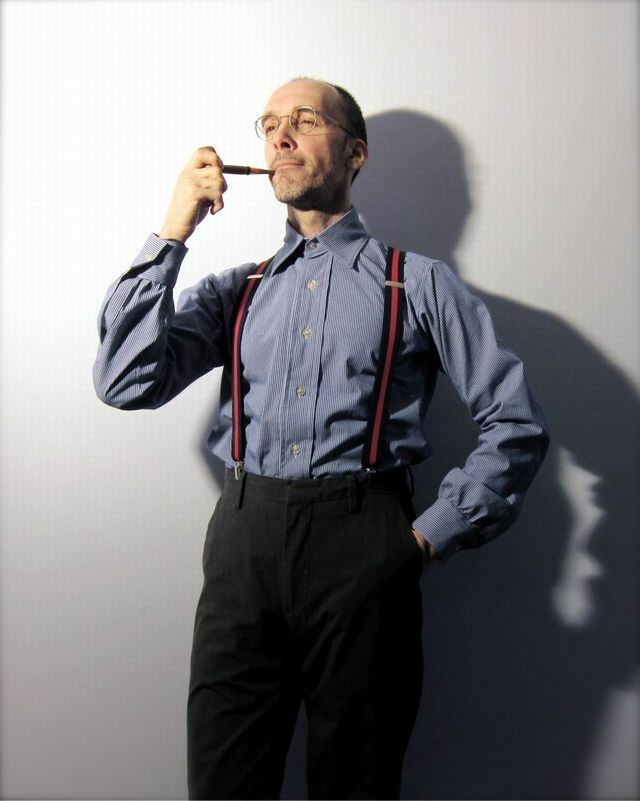 Peter Lappin, the author of the men's sewing blog "Male Pattern Boldness." Peter led 175 of his readers through a Men's Shirt Challenge in February. Next up: a Jeans Challenge in May.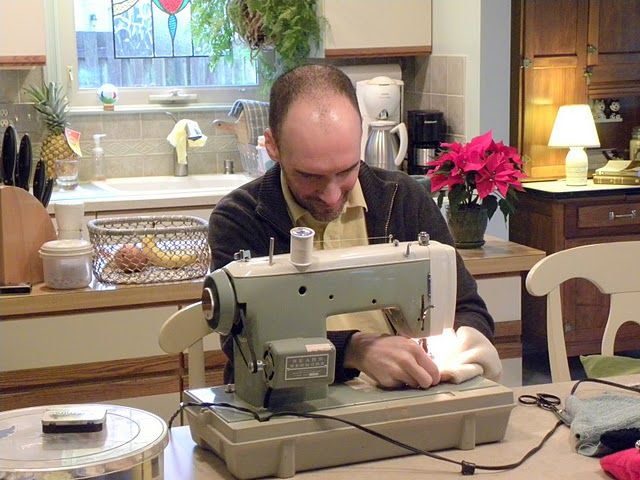 Peter sewing in his New York City kitchen on a vintage Sears Kenmore sewing machine.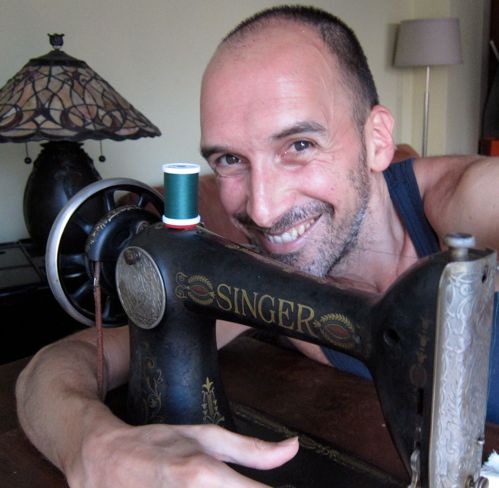 Peter says he prefers vintage mechanical machines - Singer or Kenmore models from the '50s or '60s.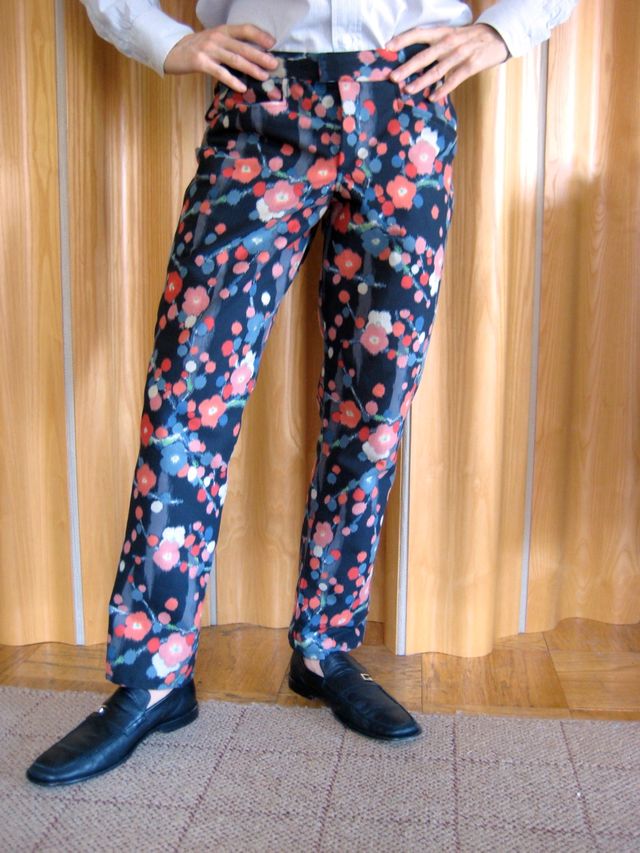 Peter shares photos of his in-progress and completed sewing projects at "Male Pattern Boldness."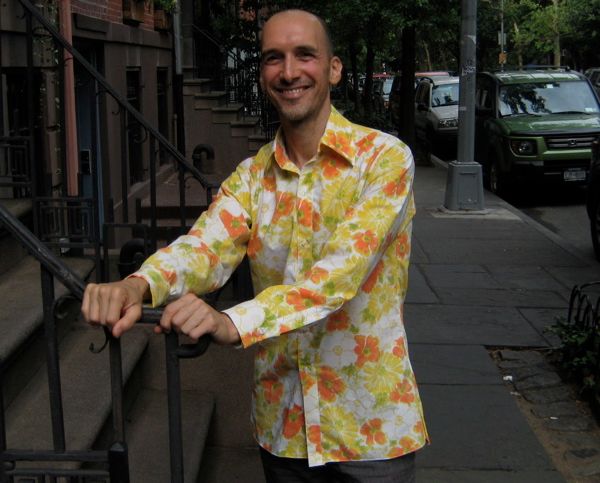 Peter Lappin, the creator and writer of the blog "Male Pattern Boldness" in one of his self-sewn men's shirts.