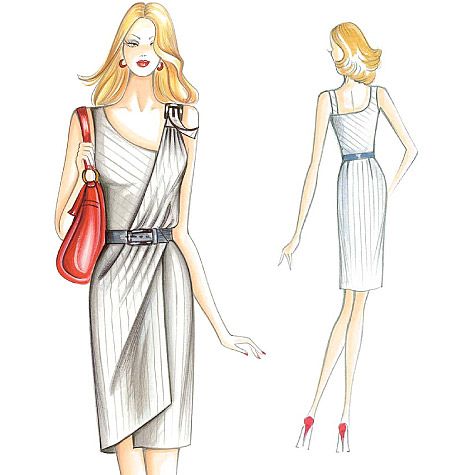 Stretch your sewing skills with the newest Marfy pattern collection.
Marfy, an Italian pattern company, is known for their no-nonsense approach and high-fashion designs. Their patterns are made for the advanced sewer and do not include seam and hem allowances, cutting layout, nor sewing instructions. This season's collection includes 50 fabulous new patterns.
Pattern 2523 is described as "a modern peplum" dress. It has a vertically pleated panel running from the hem to the left shoulder that is secured at the waist with a belt. You can dress this pattern up or down based on your fabric selection.
Pattern 2470 is a sleeveless dress with princess seams. Its simple silhouette is matched with a dramatic asymmetrical draped "sash."
Make a stylish tunic with pattern 2606. This top is sleeveless, has two scarf-like points in the back, and a tied stand-up collar. Fabrics such as crepe de chine and chiffon are recommended.
Pattern 2608 is a chic high-waisted sheath. The bodice, with an edgy slit above the bust is joined to skirt above the high waist. This pattern is ideal for color blocking.
Visit Butterick's or Marfy's website for the complete new collection!