Australian Woolgrowers Dress Prince William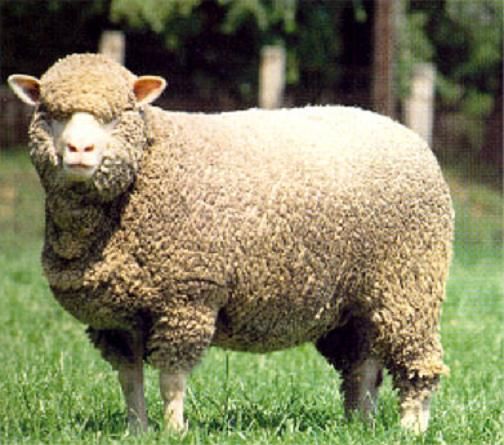 AUSTRALIAN WOOLGROWERS HELP DRESS PRINCE WILLIAM
Australia is the largest exporter of wool in the world. Recently 211 Australian woolgrowers donated wool as part of the "Wool Fit for a Prince" project in an effort to create a wedding gift for Prince William and his wife-to-be—a wool suit for each. The gesture to dress Prince William and his fiancé will benefit a unique Australian charity: the Royal Flying Doctor Service. Prince William and Kate Middleton, who will be married on April 29, nominated the Royal Flying Doctor Service of Australia (RFDS) as one of only three non-United Kingdom charities to benefit from a gift fund established for the upcoming Royal Wedding. The fund was established to allow well-wishers around the globe to express congratuations through a charitable donation in lieu of a wedding gift.
THE WOOL TAKES AN AGE-OLD JOURNEY
The cloth was made from fibers provided from woolgrowing properties representing every Australian state and landscape. The wool followed the same "path" it has taken for over 200 years since the first bale of Australian wool was sent to England to clothe King George III. From Sydney, Australia the donated wool was scoured and combed in Biella, Italy, by Pettinatura di Verrone, before being dyed and spun at Bulmer & Lumb in Bradford. It was woven at Taylor & Lodge in Huddersfield, UK into two lengths of luxurious worsted–a grey pinstripe for Prince William and a plain grey flannel for Kate. Both pieces of fabric have the motif "To celebrate the marriage of HRH Prince William and Kate Middleton 29th April 2011" printed on the selvedge. The fabric was then tailored by Anderson & Sheppard in Saville Row, London into two suits. The Flying Doctors will also benefit from the private sale of the surplus Australian Merino wool suit lengths remaining after the Prince's suit is tailored.
AN ADDED GOAL IS THE AWARENESS OF WOOL
Australian Wool Innovation CEO Stuart McCullough added: "The project to dress Prince William and Kate in the lead-up to their wedding was initiated by woolgrowers as a gesture of thanks to Prince William's father, HRH The Prince of Wales as his global Campaign continues to raise the awareness of wool as a natural and renewable fiber." Mr. McCullough added a small sample of the final cloth will be sent to every Australian woolgrower who contributed to the bale as a fitting way to commemorate the occasion of the Royal Wedding.
THE RFDS PROVIDES EMERGENCY CARE
Today, the Royal Flying Doctor Service provides emergency aeromedical and primary health care services to more than 250,000 people across Australia every year, helping someone every two minutes. The RFDS operates a fleet of 54 aircraft and maintainS 21 aviation bases and five remote health facilities with a total staff of 900. They conduct over 100 aeromedical flights every day, 365 days per year.
WOOL IS ECO-FRIENDLY
Wool is a natural fibre which grows on sheep and is a bit like hair. When it is cut, it grows back. Wool clings together and is environmentally friendly. By simply eating grass and drinking water, sheep produce a fiber that no scientist using chemicals can copy. It has a comfortable feel and drapes well. Wool has the ability to absorb moisture and because of this ability, it is relatively free from static. It is also resistant to soiling. Wool is comfortable in a wide range of climatic conditions. It is warm in winter and cool in summer. Unlike synthetic materials, because of its natural fibers, wool breathes, allowing comfort to the wearer. Wool can be dyed easily and molds into desired shapes. It can be compacted into felt and is relatively fire resistant. Wool tends to char rather than burn and when ignited, it burns slowly. It is biodegradable. Unlike plastic, it will break down and go back into the soil. It is renewable. Unlike fossil fuels, such as oil, we can produce more of it. Wool is reliable, it can be used over and over again. It's been a prized fabric for generations, and will no doubt continue to remain a favored fabric for sewers and tailors around the world. Threads supports the wool industry through coverage of the Make It With Wool competition. (See Threads issue no. 152, January 2011.)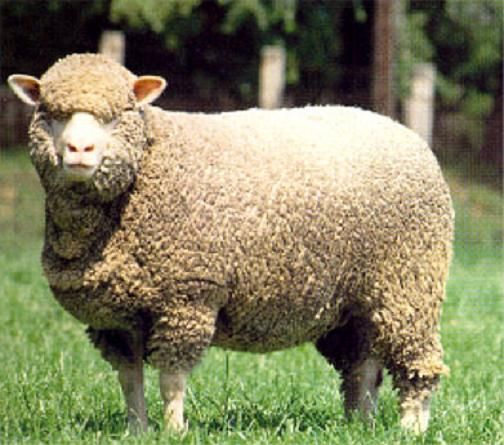 A particular type of sheep--a Merino sheep--produces Merino wool.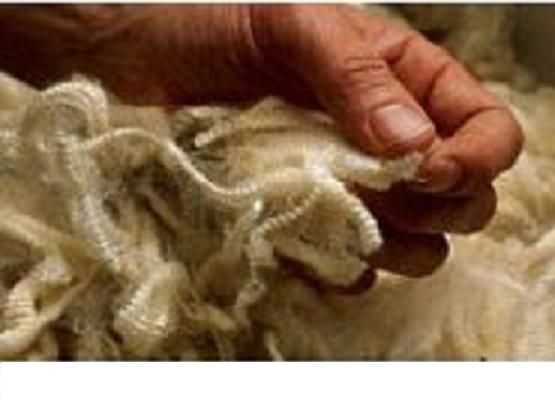 Merino wool after it's been sheared.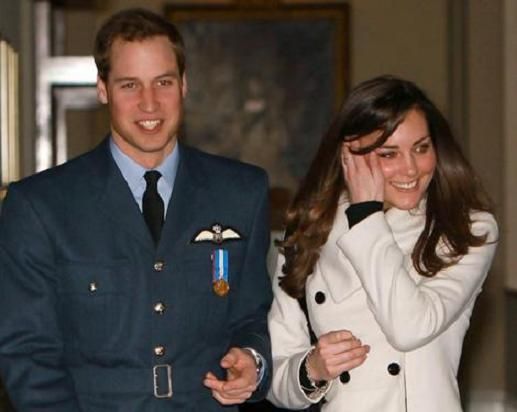 Prince William and Kate Middleton will be married on April 29, 2011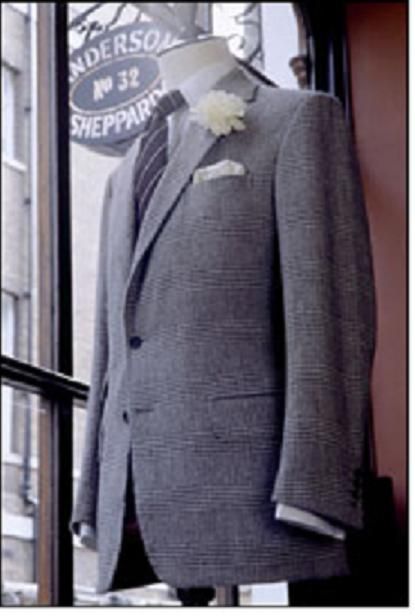 A suit in the window of Anerson & Sheppard.