Museum Exhibit: Alexander McQueen Savage Beauty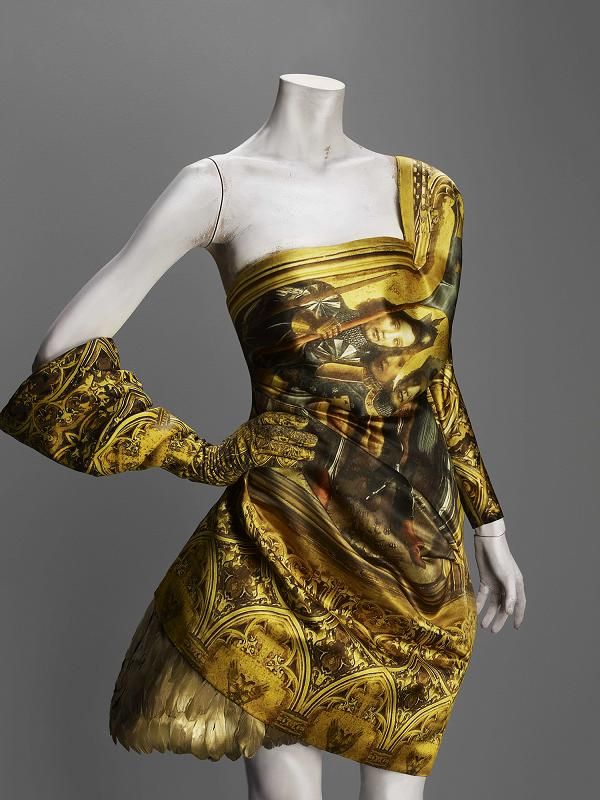 ALEXANDER MCQUEEN SAVAGE BEAUTY
The current exhibit at the Metropolital Museum of Art in New York City is called "Alexander McQueen Savage Beauty," and it's an exhibit you won't want to miss. There's also an audio tour that will guide you through the exhibit. It includes insightful information about the garments on display and background information about Alexander McQueen. In addition you can purchase the museum's 240-page book which coincides with the exhibit, or view videos and photos online. So even if your travels don't take you to NYC, you can still enjoy the exhibit.
ALEXANDER MCQUEEN
Alexander McQueen was a British fashion designer and couturier best known for his in-depth knowledge of bespoke British tailoring and his tendency to produce astonishing and extravagant runway presentations. He is also known for working as chief designer at Givenchy from 1996 to 2001 and for founding his own label under the name Alexander McQueen. His achievements in fashion earned him four British Designer of the Year awards as well as the Council of Fashion Designers of America's International Designer of the Year Award in 2003. According to Andrew Bolton, Curator of The Costume Institute, "His fashions were an outlet for his emotions, an expression of the deepest, often darkest, aspects of his imagination."
EXHIBIT OVERVIEW
The exhibition, in the Metropolitan Museum's second-floor Cantor Galleries, runs until July 31, 2011, and features approximately 100 ensembles and 70 accessories from McQueen's prolific 19-year career. Drawn from the Alexander McQueen Archive in London, the Givenchy Archive in Paris, as well as private collections, signature designs include the bumster trouser, the kimono jacket, and the three-point "origami" frock coat. McQueen's fashions often referenced the exaggerated silhouettes of the 1860s, 1880s, 1890s, and 1950s, but his technical ingenuity was always noteworthy.
EACH GALLERY SHOWCASES A DIFFERENT THEME
Each of the museum's galleries showcases a theme or concept that recurs in McQueen's work. "The Romantic Mind" examines his technical ingenuity, which combined the precision of tailoring and patternmaking with the spontaneity of draping and dressmaking. "Romantic Gothic" highlights McQueen's historicism, particularly his engagement with the Victorian Gothic, and dichotomies such as life and death. "Romantic Nationalism" looks at McQueen's patriotic impulses, including his reflections on his Scottish heritage and his fascination with British history. "Romantic Exoticism" explores the influence of other cultures on the designer's imagination, especially China and Japan. "Romantic Primitivism" captures McQueen's engagement with the ideal of the "noble savage," while "Romantic Naturalism" considers his enduring interest in raw materials and forms from nature.
A BOOK TO COINCIDE WITH THE EXHIBIT
The book Alexander McQueen: Savage Beauty by Andrew Bolton coincides with the exhibition. It features a thematic overview of McQueen's career. There are over 290 color photos and illustrations. Quotes from Alexander McQueen, exhaustively researched by Bolton, are paired with the images to enhance understanding of the designer's viewpoint. (Hardcover, $45.00, Yale University Press).
PHOTOS AND VIDEOS AVAILABLE ONLINE
Many beautiful photos and more than a dozen videos about Alexander McQueen are available on the Metropolitan Museum's website, and if you can't make it to the exhibit, you'll want to spend some time experiencing this material online. There's also an iPad app!
TELL US ABOUT YOUR VISIT TO THE MUSEUM OR TO THE WEBSITE
Please share your experience with us after you've had a chance to visit either the museum or to spend some time exploring the material available on the Metropolitan Museum website.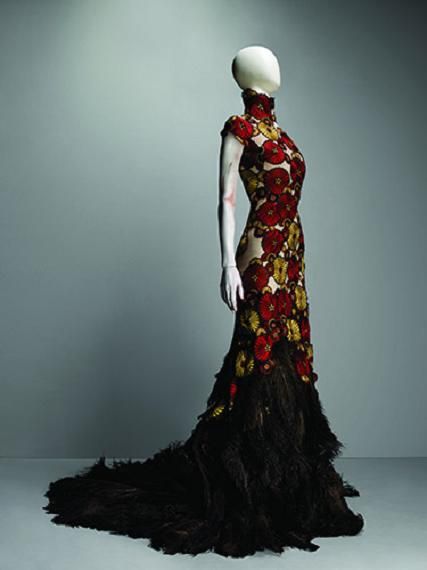 Dress; spring/summer 2001. Nude synthetic net appliquéd with roundels in the shape of chrysanthemums embroidered with red, gold, and black silk thread with black ostrich feathers.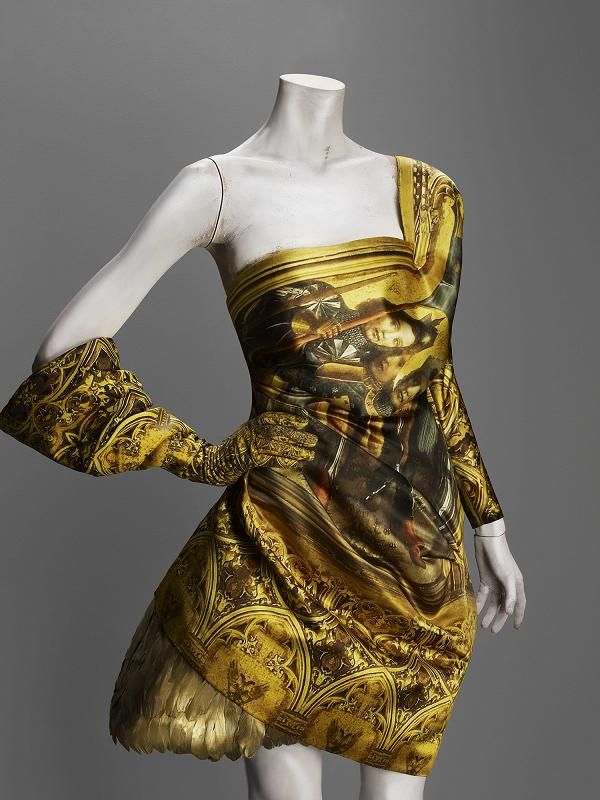 Ensemble; autumn/winter 2010–11. Dress and glove of printed silk satin; underskirt of duck feathers painted gold.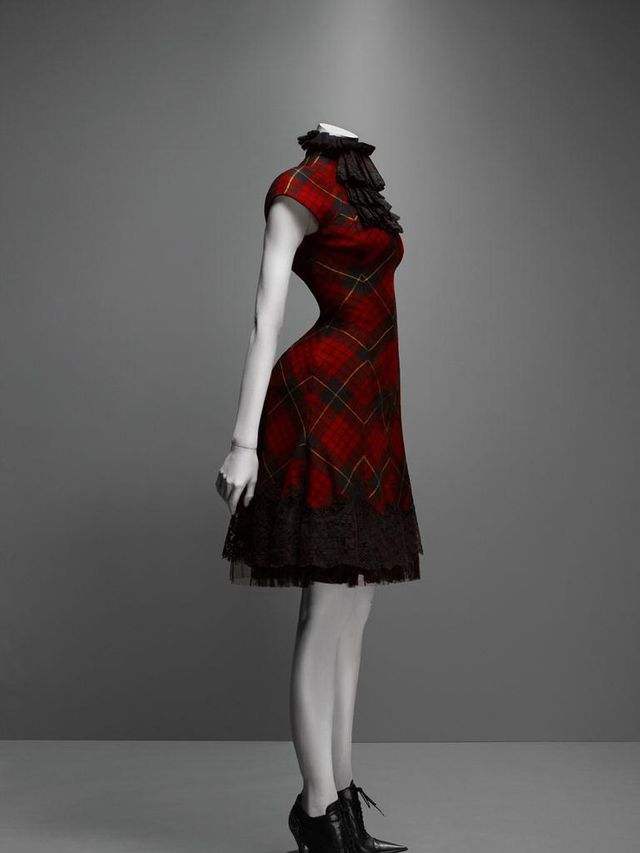 Widows of Culloden; autumn/winter 2006–7. Wool tartan appliquéd with black cotton lace; underskirt of black synthetic tulle; faux jabot of black cotton with broderie anglaise.