Favorite Sewing Blogs and Websites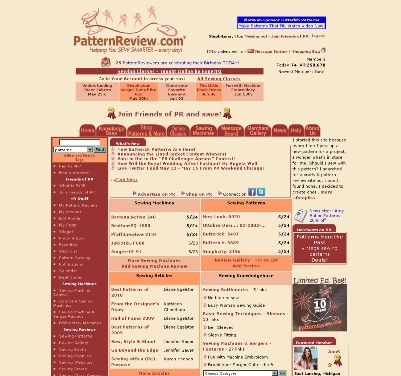 I love sewing, and I love reading—and I love reading about sewing. If I can learn something from another sewer's experiences (be they mishaps or triumphs or simple tutorials), it's a good day. That's why I peruse so many online sewing blogs, from personal sewers' blogs to those of bigger organizations. Particularly for someone whose friends are non-sewers, sewing blogs serve as sources of inspiration as well as instruction, and connect me to a community. But a few stand out as particularly useful, because they emphasize instruction, technique, design, and pattern information.
• PatternReview.com—I'm sure many of you Threads online readers are well aware of PatternReview.com, but it's such a useful site it bears repetition. I love this workhorse of a site because it delivers everything from sewing instruction, sewing event coverage, and new pattern news to its namesake member-generated reviews of commercial patterns. I've found it indispensable when I need to know about the pitfalls or glorious possibilities of a particular pattern. Plus, the educational opportunities are so numerous and so interesting—ranging from beginner to advanced techniques—it's hard to decide which to take advantage of. Several of Threads' contributing editors regularly teach online classes through the site, as well.
• http://365daysofsewing.com—This site offers daily sewing lessons, including free pattern downloads that help teach the method being highlighted. It covers all the basics, ranging from actual sewing techniques, fitting, and pattern drafting to design elements, special projects, color selection, and optimizing one's sewing time. Every day's lesson is archived and available for viewing after its date of first posting, plus, the site notes the lessons to be covered in the following three days. It's perfect for beginners and more advanced sewers who may need the occasional refresher. I always find something useful when I stop by for a browse.
• Gertie's New Blog for Better Sewing—New York vintage-sewing aficionado Gertie has recently taken a break from the intensive sewing technique tutorials that her readers have come to love so much (the better to focus on completing her forthcoming book), but her blog archives are packed with lessons on couture construction methods and instructional sew-alongs. She's also started teaching occasionally in brick-and-mortar sewing studios. To keep her blog lively in the interim, she has started posting on more modern fashion topics and vintage patterns, but always with a weather eye out for details, techniques, and construction methods to make them worthy of a few minutes' diversion. (Her book, tentatively titled "Gertie's New Book For Better Sewing" is scheduled for release Fall 2012 by STC Craft/Melanie Falick Books and will focus on "couture-style sewing using basic vintage techniques.")
Do you have a favorite sewing blog (or two)?