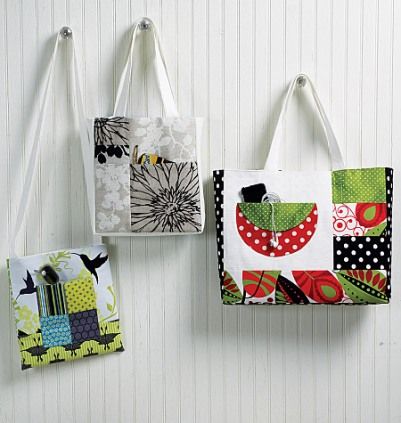 Summer is the perfect time of year for quick, fun projects, but I prefer that even my fun projects be useful. And what's more useful than a tote bag? The big pattern companies and smaller companies alike tend to bring out new patterns for totes and other bags seasonally, but the summer introductions always have the handiest features and cutest designs. I've never sewn a tote bag for myself, but I might be tempted by some of these great new patterns.
Butterick offers an adorable collection of totes and smaller bags in B5659, each with inside pockets, full linings, and fun appliqués or patches that are perfect for pattern and color mixing. Four of the bags measure 11 inches wide and 12 inches tall; the larger two measure 17 inches wide and 14 inches tall, with 4-inch depths.
Amy Butler's newest tote pattern, the Spice Market Tote, offers two sizes: 15 inches wide by 10 inches tall, and 15 inches wide by 17 inches tall. The bags each have two inside pockets and ample interior space for carrying everything you need for running a few quick errands or for a day at the beach. This pattern calls for two different fabric prints, one for the exterior and one for the lining, but I can see using several different fabrics for its various elements: one for the bag exterior, one for the straps, one for the lining, and one for the pockets.
McCall's 6409 Whistlepig Creek totes pattern has three different-sized, contrast-lined bags with inside pockets and contrasting exterior pockets. The smallest is 10 1/2 inches wide by 7 1/2 inches long; the medium-sized tote is 13 1/2 inches wide by 11 inches long; and the largest is 15 1/2 inches wide by 14 inches long. You can decorate the outside contrasting pockets with buttons, as the pattern calls for, but I think the bags could showcase any type of pretty embellishment you'd like to substitute.
For novice sewers or those who've never sewn a bag before (like me), Simplicity offers pattern 2164, Learn to Sew Bags. It offers four different bag styles—two small messenger styles and two small tote styles—that teach how to pin and cut a pattern, stitch and press seams, sew on a button, and apply a patch pocket.
Do you sew bags and totes? Do any of these tote patterns appeal to you?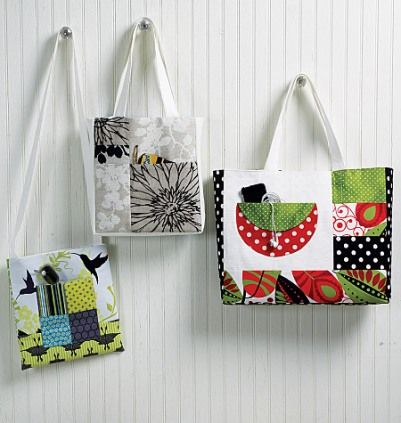 Butterick 5659 tote bags.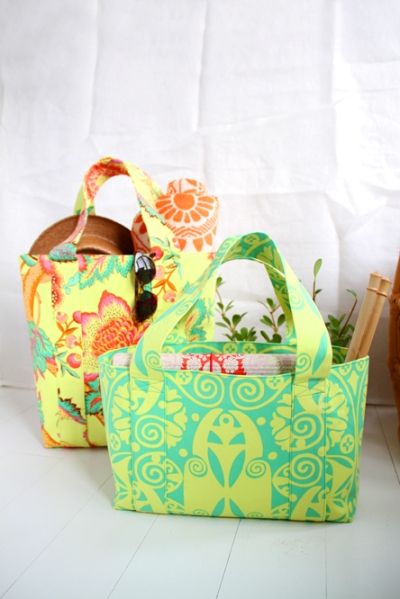 Amy Butler's new Spice Market Tote pattern.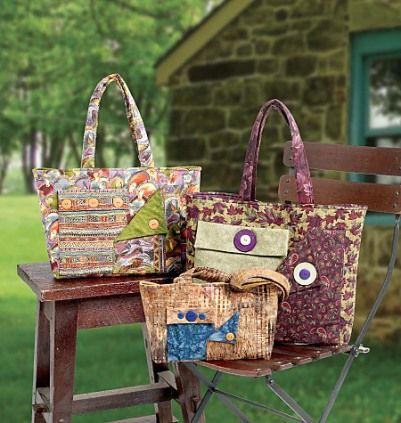 McCall's 6409 tote bag pattern, designed by Whistlepig Creek.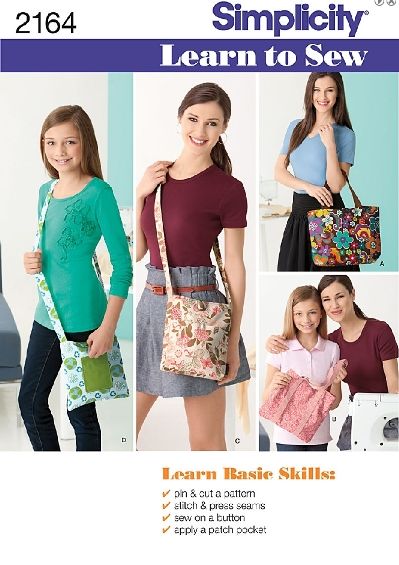 Simplicity's 2164 Learn to Sew Bags pattern