London Exhibition on the Fashion of Fanny Brawne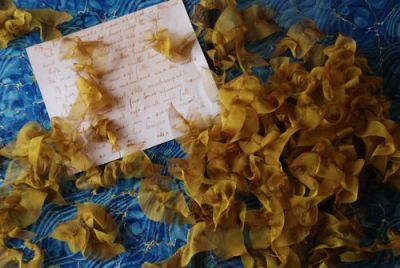 If only I could be in London before August 14! For a lover of English Regency fashions and literature, the exhibition going on until that date at Keats House, once the home of Romantic poet John Keats and his fianceé, Fanny Brawne, is just the thing to make me want to buy a plane ticket. But perhaps a few Threads readers have better luck and are planning a trip to London within the next month.
Fanny Brawne and John Keats were engaged during the last few years of his life, before he died in 1821, and each lived in one half of Wentworth Place in Hampstead, London (Brawne with her family, and Keats alone). Much of what is known about Brawne and her relationship with Keats comes from letters between the two, which weren't revealed until years after Brawne's own death. Among what is known is that the teenaged Brawne was a fashionista of her era, and sewing was more to her than a pleasant pasttime or household necessity. It was a form of creative expression. She is said to have subscribed to many of the fashion magazines of the day (the early 1800s), and she translated her love of fashion into her own clothing.
(For those of you unfamiliar with Regency fashion, think "Jane Austen." It was a neoclassical style—called Empire when referring to the French fashions of the time—that freed women from the constricting corsets and overwrought, heavy styles of the past decades and ushered in floating, high-waisted gowns of almost-sheer cottons and silks that emulated ancient Greek and Roman clothing and revealed the natural beauty of the female form. They were considered quite scandalous at first!)
Through August 14, Keats House is exhibiting a collection of new artworks by historic costume designer Lindsey Holmes called "The Needle is Always at Hand"—reproductions of garments based on Brawne's love of fashion and her interest in dress. On display are corsets, gowns, shoes, gloves, and other items of clothing. The exhibition is free with an entrance ticket to Keats House (£5.00 for adults), and visitors can explore the collection to discover more about Fanny Brawne, Regency fashions, and dressmaking of the era. Get more details at http://www.keatshouse.cityoflondon.gov.uk/.
Do you share a love for historical fashion and reproduction? Will anyone be traveling to London in time to view the exhibition at Keats House?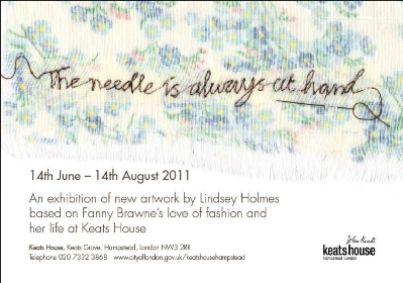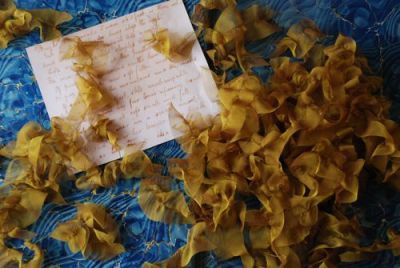 Work in progress by artist Lindsey Holmes for the exhibition.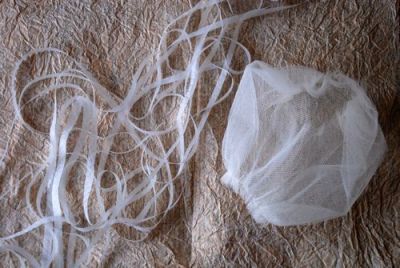 Elements of the fashion exhibition.