Quick Cuts for Applique and Quilting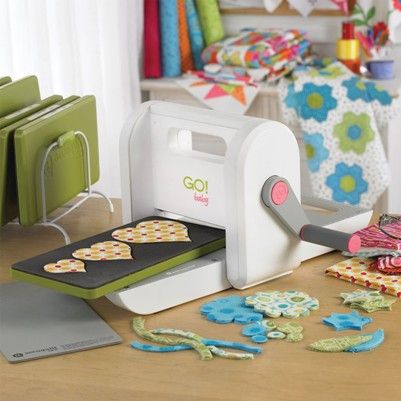 I'm fascinated by the AccuQuilt GO! and GO! Baby fabric cutters, although I'm not a quilter. I think either tool would be a handy way to cut accurate multiples of shapes for appliquéing crafts, accessories, or even clothing—not just quilts.
Children's clothing would be an obvious use, and the AccuQuilt dies offer some cute appliqué shapes that could be adapted to this purpose. But I'm also thinking about its potential for embellishing women's clothing, especially formal-wear, with a bit of whimsy.
I'm betting it would seriously speed up the process of cutting hundreds of fabric circles that could then be layered and tacked to create oodles of fluttering petals on a skirt, as well as butterfly shapes, leaves, or feathers that could be scattered across the body of a gown or jacket, or clustered on a cardigan shoulder. Just think of cutting out by hand enough chiffon circles or more intricate shapes to cover even a short skirt! And a tool like the AccuQuilt would make rendering consistently sized shapes much easier, too.
What do you think about using crafting tools like this for short-cuts in garment embellishment? Has anyone tried the AccuQuilt GO! fabric cutters for quilting or other crafts?