Style Adaptations for Sewing for People with Disabilities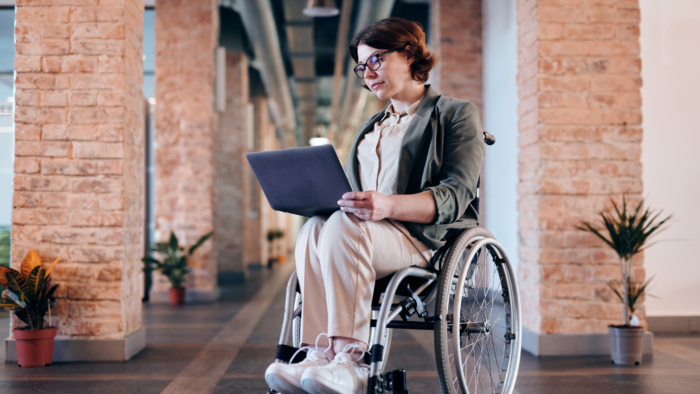 Convenience as well as comfort
Periodically Threads readers have asked for information about sewing for people with disabilities, especially those who spend a great deal of time in a wheelchair or bed. Probably the most difficult challenge for a person with physical disabilities is dressing and undressing, so the key is to make garments that are simple to put on and take off without compromising function or appearance. Over the years I've gathered many suggestions and tips which I will share with you here. Pants, skirts, dresses, shirts, and jackets can be easily redesigned for comfort and convenience. I encountered more pants adapting tips than tips for other garments, so I'll focus on them here. If you've had occasion to sew for someone with limited mobility, I invite you to share your tips and design ideas. There are also some great online sources where you can find some information. Independent Living is located in Sweden, but they include patterns for people with disabilities on their website. In addition, Sew Much Comfort provides custom-made adaptive clothing (at no cost) to injured service members from all branches of the US military and national guard who were injured while serving in our current conflicts.
The seated figure
As we all know, when we sit, the front hem of our pants rides up, the back waist rides down, the abdomen area bunches up, and the crotch area becomes more snug. For someone in a wheelchair for a good part of the day, it makes sense to make adjustments for these situations. It's easy to lengthen the center back seam and shorten the center front seam. It's also helpful to contour the pants hem so that the front hem is longer than the back hem. Extra room should be given in the seat, crotch, and thigh areas which tend to spread when sitting. (For more information read "Adjusting Pants from Waist to Seat" by Joyce Murphy in Threads issue #122.) Knit fabrics have more give than woven, and a waist with pleats in the front can give extra room to the seated figure.
Rethink Pants Pockets
It's often difficult for a person with disabilities to run to the desk to get a pen and paper, or go to the bathroom to find a tissue or hand cream. However, using a traditional pants side pocket to store essential items is impractical because the standard pocket is next to impossible to access while in a wheelchair. Relocated roomy pockets can help eliminate this concern. Cargo pockets are a real plus, but placing them on the front upper thigh will make the pocket even more accessible. You can also add a bag pocket that hangs from a belt or the waistband. For something less noticeable, place a pocket in the side seam along the lower thigh or upper calf using an invisible zipper to keep the pocket almost invisible. In fact zippers are a wonderful addition to any disabled pocket to keep stored items secure. It's not easy for a person with disabilities to pick items up that drop on the floor, so keeping their stored items in place is helpful.
Pant front and side adaptation
Always choose a center-front pant zipper over a standard side zipper, but even that can be a problem for someone with severe disabilities, especially at bathroom time. Consider a drop-front panel that snaps or buttons just under the waist and attaches on the sides with buttons or hook and loop tape. Another option is to put a long invisible zipper along almost the entire side seam from the waist to mid calf. Zippers are extremely effective in allowing garments to open in places that one doesn't expect. As long as there's a seamline, you can add a zipper, and an invisible zipper won't be noticeable. These openings make dressing, etc., easier for the disabled.
Avoid pressure sores
For someone that spends lots of time in a wheelchair or bed, pressure sores are a concern (also known as bed sores). They develop when sustained pressure against the skin inhibits an adequate supply of blood to the skin cells and underlying tissues even in a small location. Sitting on or leaning against a bulky seam for an extended period of time can cause this problem to occur. The handicapped may not be able to lift themselves easily enough to adjust clothing to remove a wrinkle or move a thick seam to another place. For the severely disabled, a better option might be pants styled with no seam in the center back. Sweat pant styles work especially well for this, and a gusset in the crotch area can provide additional room without adding bulk to the back. (See "Gusset Solution" by Kenneth D. King in Threads issue #153.)
Design rules
All of the well-known style "rules" are just as important for someone in a wheelchair. For example, vertical lines on a standing person might make her look slimmer, but for someone in a wheelchair, vertical lines make her appear taller. Keep all style lines in mind. Pay attention to the body's silhouette when seated and discover which garment style lines work best in that position. For more ideas you can also read "Discover the Best Proportions & Styles for You" by Nancy Shriber in Threads issue #125. All of the same rules apply involving choice of fabric and garment styles, except that the silhouette becomes a seated figure rather than one that's standing.
Share your ideas
If you've ever sewn for someone with a disability, please share your tips and techniques as well as your successes and failures by leaving a comment below.