Turning Pillowcases Into Dresses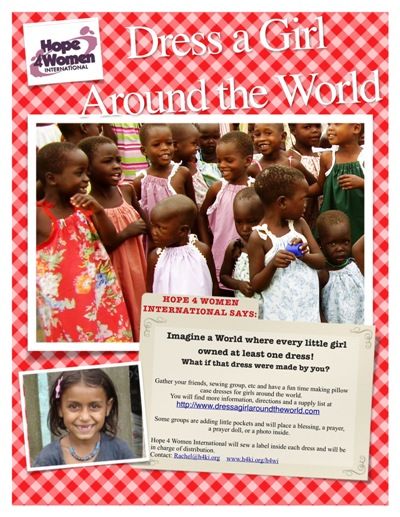 There's more than one use for a pillowcase. In a jiffy, they can be transformed into much-needed articles of clothing for disadvantaged girls.
That's what volunteers around the United States and internationally are doing in cooperation with Hope 4 Women International, a division of Hope 4 Kids International. This 501c3 charitable organization helps to improve the lives of impoverished women and children around the world by teaching them skills that empower them, boost their self worth, and help them support themselves and their families.
In October 2009, Hope 4 Women launched a program called "Dress A Girl Around the World," which encourages sewers to make pillowcase dresses and distributes them to girls—from infants to teenagers—in numerous communities in need, including within the U.S. To date, the Dress A Girl program has delivered nearly 38,000 dresses in 47 countries.
According to Rachel Eggum Cinader, Hope 4 Women's director and the Dress A Girl campaign's founder, the goal is to raise the dignity of girls and help them feel valued. She says that pillowcases are the ideal material to work with because they're light-weight, inexpensive, easy to convert into simple dresses, and easy for program workers in the field to carry and distribute.
The Dress A Girl campaign makes a five-year commitment wherever it distributes dresses, so it has an on-going impact, and it has partners in the United Kingdom, Hong Kong, Australia, Uganda and other African countries, as well as most states in the U.S.
The program's website, www.dressagirlaroundtheworld.com, provides instructions and patterns for sewing simple girls' dresses from pillowcases and T-shirts and offers tips for starting sewing groups and hosting Dress A Girl events, as well as guidelines for working with the organization. The tutorial on converting a pillowcase into a dress is super easy. It uses the pillowcase opening as the dress hem, and the only sewing necessary is along the new neckline and armholes. The only extra materials required are elastic and bias tape. In countries where girls are required to cover their shoulders and legs, the program distributes long dresses made by sewing pillowcases to T-shirts. There is also a secondary campaign to provide pants for boys, called "Boys in Britches."
You can check out Dress A Girl's Facebook page, too for all the latest news and updates.
Is there a Dress A Girl Around the World sewing group in your area? Do you sew for charitable organizations?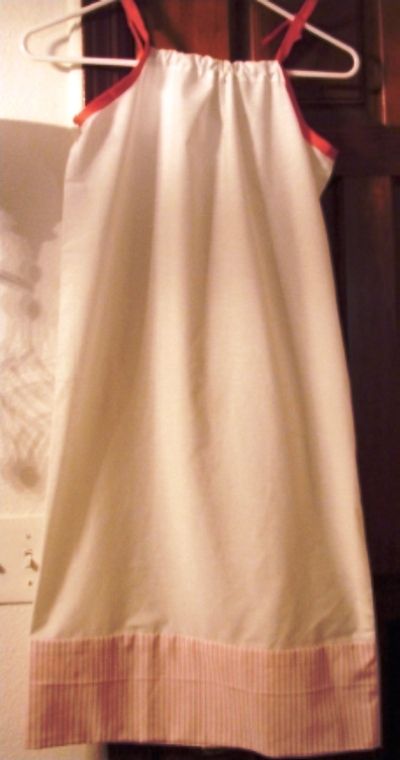 A completed pillowcase dress for the Dress A Girl Around the World campaign.