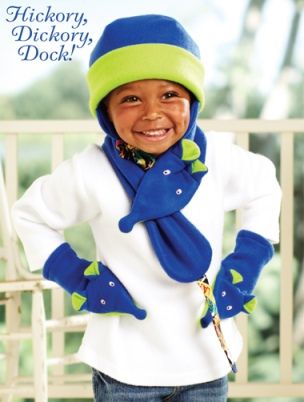 From a fanciful animal scarf and hat set to matching dresses for a little girl and her favorite doll, Kwik Sew's newest collection features sweet patterns for children.
Pattern 3904 is a cute-as-can-be hat, scarf, and gloves set. It features a fun animal face on each glove and a face and tail on the scarf. It's easy to sew, takes only about 1 yard of fabric, and will be treasured by its recipient.
Pattern 3901 is for the very little ones in your life. Sized for baby, this sweet apron dress and bloomer set is adorned with ruffles—one row at the dress's sleeve cap and two on the bloomers.
Pattern 3902, called Patti's Pinafore, is an ensemble for toddlers. The pinafore's front, back, and cap sleeves are gathered to a neckline yoke. The leggings feature a decorative bow near the ankle. The whole look is finished off with a mop-cap-style hat complete with a contrasting band and a decorative bow.
Patterns 3903, 3905, 3906 are the newest additions to the clever Made to Match collection. Each envelope includes the pattern for the child's outfit and an identical pattern for their favorite 18-inch doll. Many hours of fun and imagination can be had with this collection!
Check out these, and the complete new Kwik Sew collection.