Project Runway 9: My Pet Project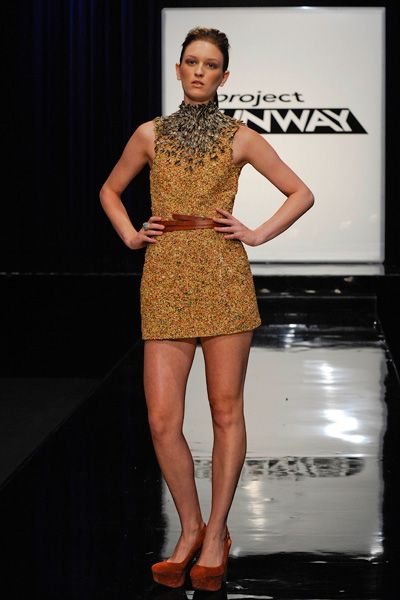 "To go home over birdseed and hot glue would be devastating," – Anthony Ryan Auld.
"My Pet Project" was the title of Episode 2, which featured one of Project Runway's classic unconventional materials challenges. The designers had $300 and 30 minutes to shop for supplies at Petland Discounts. There was a mad rush for fish tank gravel, hamster bedding, cat-scratching posts, leashes, dog food bags, pet toys, birdseed and the like.
Tim Gunn's direction to the designers was to stay away from fabric or fabric-like materials. The designers could use muslin as an infrastructure for the garment. This episode's losing designer should have heeded Tim's advice.
These unconventional materials challenges don't really produce great garments, typically. It is a tremendous testament to the designers' creativity and ability to innovate to produce any kind of garment from a pet store's stock, but the "unconventional" results are usually more good craft projects than beautiful clothes. That said, this particular episode produced some very attractive garments!
"A garment out of dog-food bags! If that's outside the box, put me back in!" – Joshua McKinley.
Despite the preview footage at the end of Episode 1, this was a remarkabley drama-free episode (all that arguing is still coming up). Everyone was stressed and irritated at working with difficult-to-control materials, but the designers worked with a minimum of bickering or panic. Everyone managed to finish on time – though Anthony Ryan Auld and a few others were gluing and sewing right on the models.
The guest judge was alice + olivia designer, Stacey Bendet. Glad to see another designer able to contribute insight to the judges' panel. (Next week, I think the celebrity guest is Kim Kardashian.)
Bert went in with immunity, having won the "Come As You Are" Episode 1 challenge.
The bottom three
Joshua Christensen: I can't say I held high hopes for a brilliant design from Joshua C., but still, what a disappointment! What was the one cardinal rule of this challenge? Stay away from fabric! Nevertheless, Joshua used an umbrella for a halter top and reptile netting for a skirt. The judges declared it boring, dated, ill-fitting, and a very poor answer to the challenge.
Fallene Wells: The judges chewed out Fallene for a boring, dated, poorly proportioned, badly accessorised and unfortunately hued strapless sheath. Fallene had covered the skirt with plastic aquarium flora and finished off the look with a wide leather belt that visually shortened her model's torso. Fallene had no defense to offer – she conceded openly to the judges that she was disappointed in the look and could have done better.
Bryce Black: A truly awful two-piece garment. The cropped, sleeveless top was covered with glued-on blue chloroform small-animal bedding. The bottom was a full handkerchief skirt, made of puppy "wee-wee" pads. Bryce didn't any attempt to disguise what they were, really. "The worst"and "Hideous" were comments from the judges. Ouch.
The top three
Joshua "More is Better" McKinley presented a circle skirt made from reptile netting (with a parrot mirror as a belt accessory) and a gorgeous top that perfectly answered the unconventional materials challenge. Joshua used fish-tank gravel as a glittering embellishment, and created a day-glo flowing zebra- or tiger-type pattern. Nina was particularly impressed by the design. And to think, it was a late decision to use the gravel on the top, too. Joshua's style sensibility cost him, however, in his choice of overdone accessorizes and makeup.
Anthony Ryan Auld covered a simple muslin sheath, sleeveless and with a high neck, with birdseed. The all-over texture of tiny seeds made the garment look like an elaborately seed-beaded garment. On the shoulders and chest, flowing up around the neck, Anthony had created a gradual transistion from seed beads to darker and larger sunflower seeds. The sunflower seeds looked almost like feathers enclosing the model's neck. The drawback: The dress's skirt was too short.
Olivier Green's creation was refined and minimalist, but also demonstrated his tailoring techniques, and all within a very muted pallet of oatmeal to light brown. The top was faux sheepskin from a dog bed. Olivier created a molded-looking skirt for and glued three different types of small-animal bedding material to create an ombre effect from the waist to the hem. At the waist, he used clear aquarium tubing to create a subtle, modern belt.
Olivier and Anthony were neck-and-neck in the judges' opinions.There was a stand-off between Heidi Klum (who loved Anthony's dress), and Nina Garcia, who insisted that Anthony's dress was too short and that Olivier's garment was "editorial." Stacey Bendet and Michael Kors pretty much stayed clear!
The winner
Olivier was declared the winner and immune for Episode 3 (although it was suggested that the best garment would have been Anthony's top with Olivier's skirt!).
The loser
Joshua Christensen did not make it past his second challenge – even though the judges had agreed that Bryce's garment was the absolute worst. I can see their point, however. Joshua Christensen had made another dismal effort AND he'd committed the cardinal sin of the unconventional materials challenge – using almost all fabric. The top of his dress was actually made from an umbrella he found at the pet store.
Wrap-up thoughts
There have been some very negative fan postings about Olivier's garment – what did you think of it?
Were you disappointed in Bert (as I was) for taking such advantage of his immunity? It was as if he barely bothered to make a garment. Why not have fun with this challenge?
"Road to the Runway": I didn't get to watch it yet, but at MyLifetime.com you can watch an hour-long "Project Runway Road to the Runway Casting Special." Tim Gunn is the host for the bonus episode, which offers more background about the Season 9 competitors – and a close look at the judges'the selection process. It's a tie-in, too, to the Lifetime "Road to the Runway" Sweepstakes. Enter online for a chance to attend the Season 9 finale.
This week, the designers were challenged to use unconventional materials found in a pet store to create a look. Birdseed, hamster bedding, umbrellas, leashes, and fish tank accessories are just some of items that are transformed into wearable garments.
What did you think of the designs this week? Did the judges get it right or do you think a different designer should have won?
Top Three:
Olivier (winner with immunity):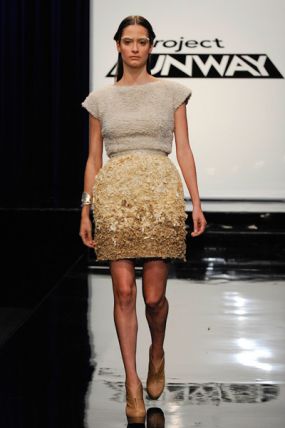 Anthony Ryan: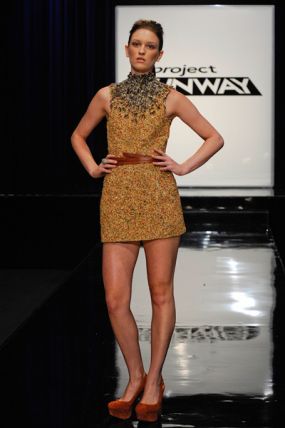 Joshua M: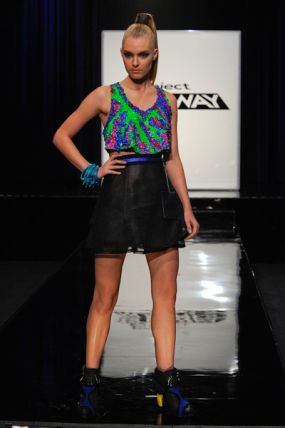 Bottom Three:
Fallene: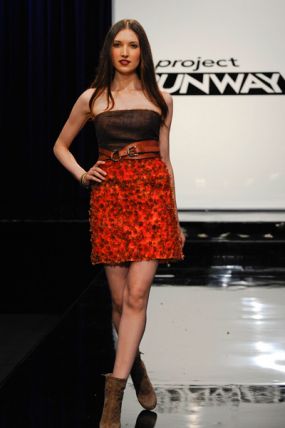 Joshua C. (out):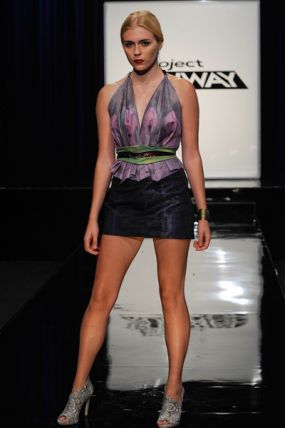 Bryce: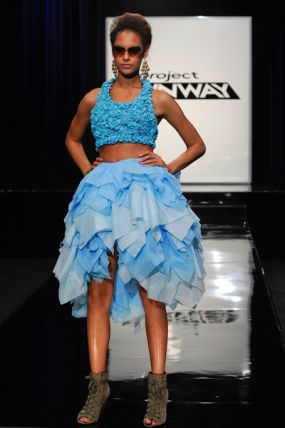 Season 9 Designers: (*eliminated)
Amanda Perna*
Anthony Ryan Auld
Anya Ayoung-Chee
Becky Ross
Bert Keeter
Bryce Black
Cecilia Motwani
Danielle Everine
David Chum*
Fallene Wells
Gunnar Deatherage*
Joshua Christensen*
Joshua McKinley
Julie Tierney
Kimberly Goldson
Laura Kathleen
Olivier Green
Rafael Cox*
Serena da Conceicao*
Viktor Luna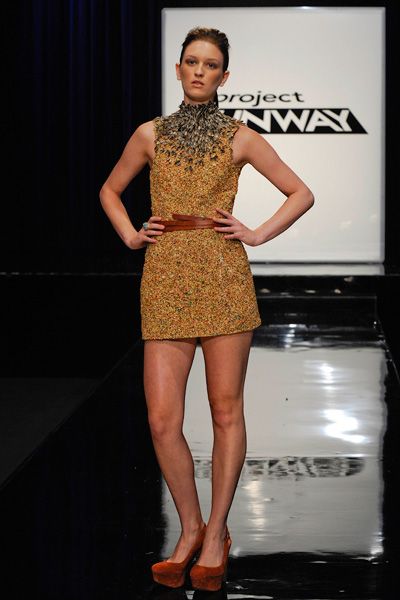 Heidi loved Anthony Ryan's birdseed dress, but was overruled. Which garment was your favorite?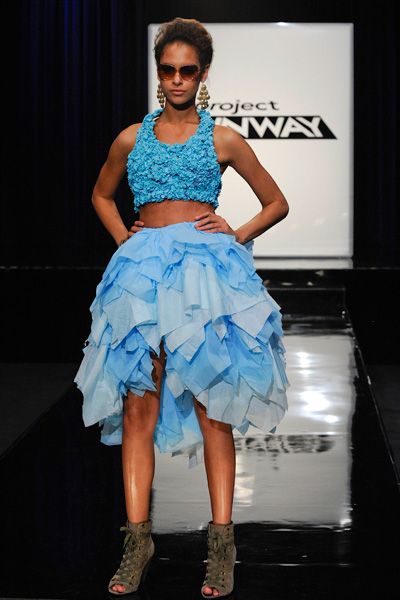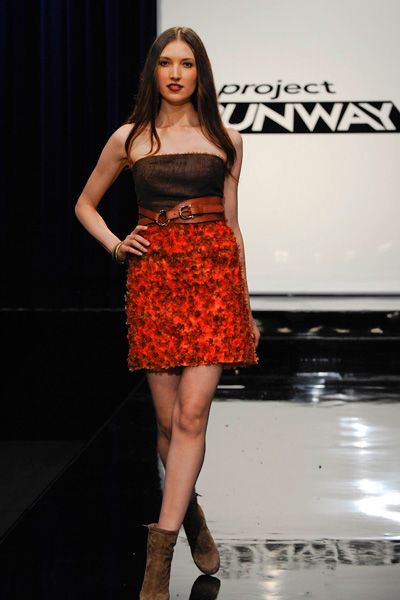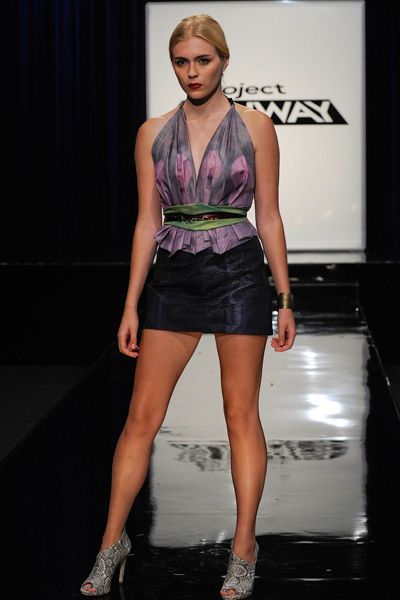 Josh C. missed the mark with this boring emsemble. He tried for something wearable, but lacked creativity.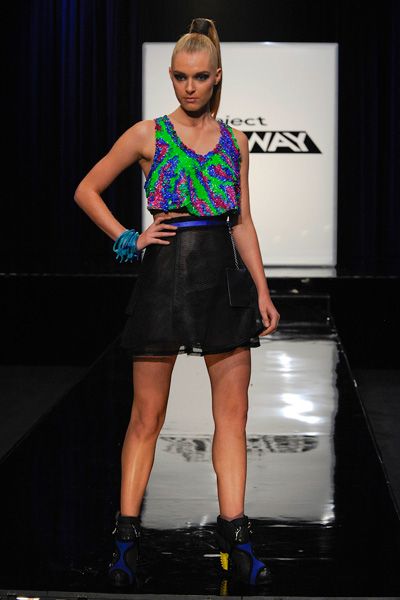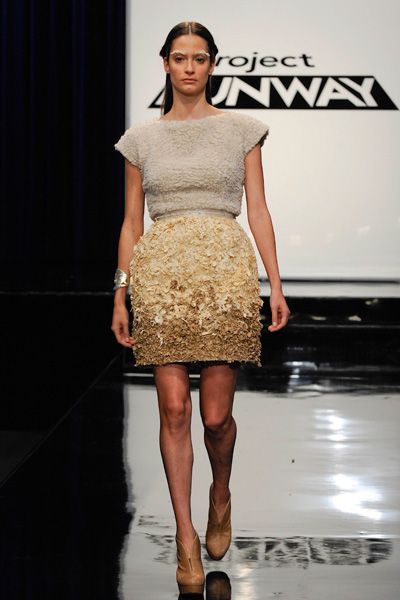 Olivier created an ombre skirt using hamster bedding and sponge.