Sewing the Facing Gusset for the Fantasy Fur Jacket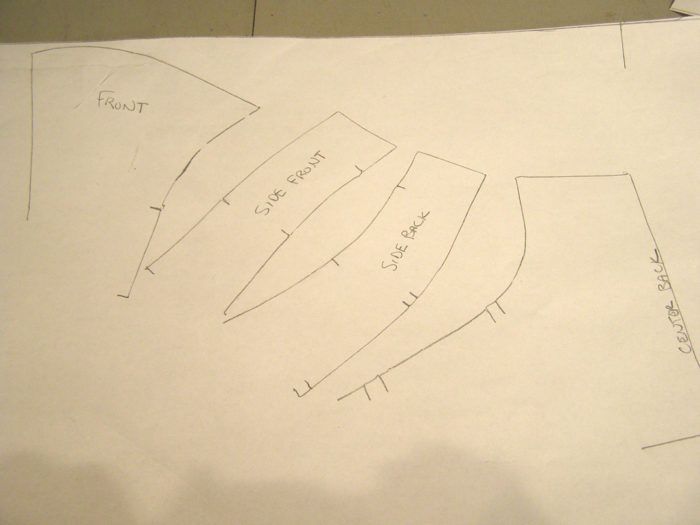 When drafting the facing for this jacket, I didn't want facing seams to create bulk in the body. This required me to cut a neckline/collar facing that had only a center back seam. Since the collar was cut all in one with the bodice, this used a solution I resort to on occasion–and put a gusset in the facing. This post show how to draft this type of gusset.
The object here, is to keep an unbroken neck seam to avoid additional bulky leather layers when applying the facing to the body.
First, copy all the yoke pattern pieces onto fresh paper. Cut them out and tape them together along the collar part of the facing. They will overlap at a point around the neckline, marked here with dots. Draft a line where the overlapping begins to connect the dots. This is line A to B. This line will become the top edge of the gusset. Now, draft the lower edge of the facing. This is the line where the facing joins the lining. This line is positioned "to taste", and is shown here in red. Begin at the center back and draw to the first seam line. Next, swing the back paperto the right, and match the two adjacent side/back seam lines below point B. Continue the red line across the side back pattern. The blue line from B to C will be one of the seam lines for the gusset we are making. Again, pivot the paper patterns so you can align the seam lines adjoining the side front to the side back below the blue line, and tape them together. Continue on the red line over the side front to point D. Align the remaining seam in the same manner, and continue the red line across the front piece. The…
Start your 14-day FREE trial to access this story.
Start your FREE trial today and get instant access to this article plus access to all Threads Insider content.
Start Your Free Trial
Already an Insider? Log in