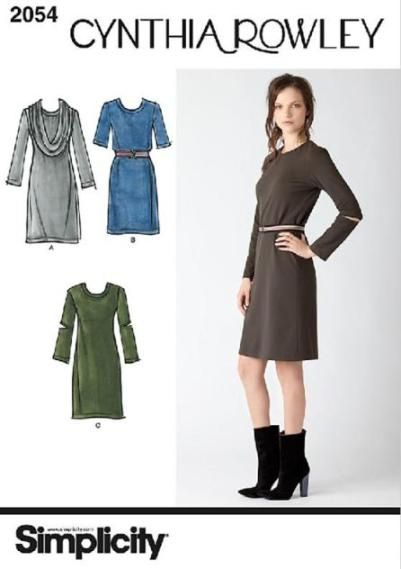 In a time when reusing and repurposing is so important to many of us, I'm always on the lookout for patterns that offer a lot. Either styles that are so classic I can wear them often and in various ways or patterns that I can use multiple times for the different views or fits offered.
Wear it again and again
Cynthia Rowley designs are categorized by simple beauty. They are fashionable and current while still having a classic silhouette and look. Her latest pattern, number 2054, is a simple knit sheath dress that is easy enough to sew up in one night and versatile enough to wear all season long. Choose from three neckline options, including a cowl collar, and three sleeve varieties—long, elbow, and a fashionable long sleeve variation with a slit elbow opening.
Day and night
This flattering dress, pattern 2053, is fitted with a multiple waistline pleats forming an interesting sunburst design. The basic silhouette is the same throughout the six views but sleeve/strap variations, hem length, an optional rosette embellishment, and your personal fabric choice makes it appropriate for day or evening wear. The suggested fabrics are extensive—such as damask, poplin, wool crepe, linen, or double knit—with such a varied selection we all could probably make this from a fabric found in our stash!
Make it for you. Make it for a friend.
Pattern 2058 is a new six-gored skirt in Simplicity's Amazing Fit line. This pattern has separate pieces to accommodate a slim, average, and curvy fit. Also included are customized fitting instructions for each. Make a well fitting skirt for both you and your friends—all with various fit needs.
Sew a staple garment.
A coat or jacket is probably the most worn garment of autumn, winter, and even spring. So why not make one? Show off your sewing skills over every outfit. You can make a high-quality coat for the fraction of the price. Patterns 2057, from the Project Runway line, and pattern 2056, from the Suede Says line, are new outerwear options to consider. Both are classic styles with a variety of modern design options to make it up-to-date.
Check out these and the full Simplicity Autumn collection.
What do you look for in a pattern? Does the number of times you can reuse it or having multiple views matter to you?