ASG Names its 2011 Sewing Hall of Fame Honoree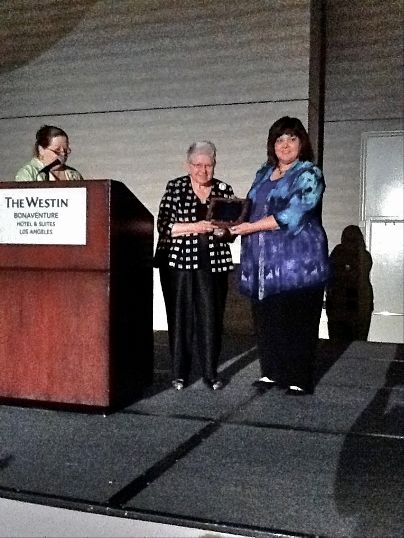 During the American Sewing Guild's (ASG) 2011 National Conference in Los Angeles last week, the board recognized sewing instructor, writer, and founder of Unique Techniques Judy Barlup as the ASG's 2011 Sewing Hall of Fame honoree.
Judy is most well-known for her instructional books and DVDs on Japanese tailoring techniques, but has also been highly regarded for 25 years as a teacher of sewing and garment construction at colleges and sewing conferences and shows. Judy was the first to bring some of the newer techniques of jacket construction to the home sewer, according to Margo Martin, ASG president. "She's an incredibly sharing person," Margo said.
Throughout Judy's career as a sewing instructor, she has written several books, published an instructional DVD on Japanese tailoring techniques that is still very popular, and written articles for sewing magazines, including Threads.
Although she no longer teaches formally due to the limitations imposed on her by Parkinson's disease, Judy still shares her seemingly endless wealth of knowledge any way she can. She has been drafting custom pants patterns for clients, takes on an occasional student, and maintains her website, UniqueTechniques.com, offering free sewing tips and selling her publications and sewing notions.
Speaking to the assembly of ASG members during the Sewing Hall of Fame recognition ceremony, it was apparent that her enthusiasm for sewing is undiminished. Her quick wit and sense of humor ensured no one's attention strayed from the podium.
In her address at the conference, Judy encouraged the attendees to continue supporting up-and-coming sewing stars and to foster their growth. Offering support of her own while acknowledging her physical condition, Judy said, "When you think of me, I don't want you to think about what you see on the outside. That's changing. But think about what's on the inside. I'm standing tall, I'm wearing big glasses still, and I'm shouting 'you can do it!'"