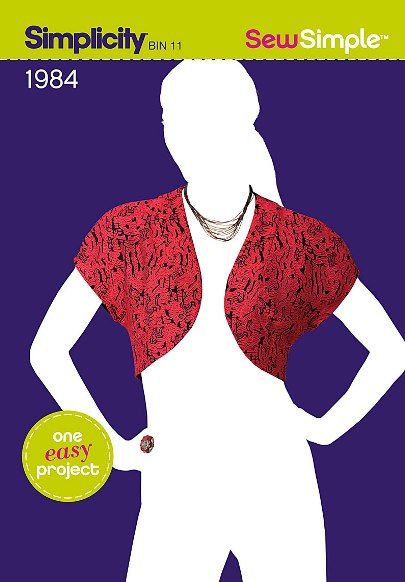 A little while ago I needed to make a simple bolero jacket. I went shopping for a pattern thinking it would be an easy find. I found a few choices, but to my dismay, they were all included in much larger patterns—generally paired with a formal gown. I cringed at the idea of wasting so much of the pattern, not to mention paying for something I was never going to use. I thought, "why don't they sell simple, single project patterns?" Well apparently the pattern fairies heard my plea.
This fall Simplicity Pattern Company has introduced a new, inexpensive—only $1.99 each—pattern line. Each envelope includes only one single-view pattern. Though you won't find advanced items, (ties and elastic seem to be this line's best friends), included are great sew-in-one-night projects. There are 70 different patterns offered including tops, jackets, skirts, pants, also children's, household, and crafts.
Do you teach sewing? Consider this line for your students. The projects are easy to sew, the single view format makes it less intimidating, and the price won't break the bank.
What do you think of this a la carte format? Be sure to check out the complete Sew Simple line.