Valentino receives the 2011 Couture Council Award for Artistry of Fashion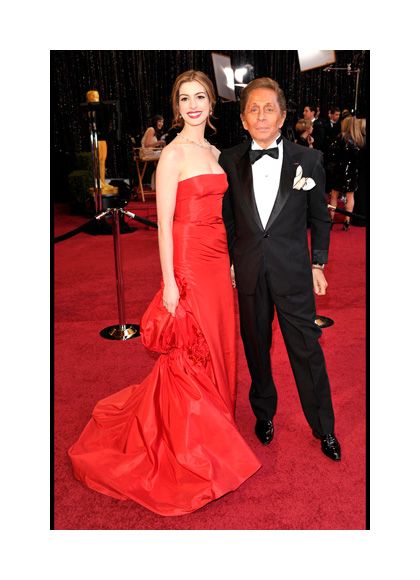 VALENTINO IS AWARDED THE COUTURE COUNCIL'S AWARD
On September 7 the Couture Council of The Museum at the Fashion Institute of Technology (FIT) honored Valentino with the 2011 Couture Council Award for Artistry of Fashion. As has become the tradition, the naming of the honoree heralds the arrival of Fall Fashion Week.
PRAISES ARE BESTOWED UPON HIM
Dr. Valerie Steele, director of The Museum at FIT, announced, "Valentino was chosen in recognition of his status as a world-historical figure in modern fashion, a man who has dressed every beautiful woman of the past 50 years, from Jacqueline Kennedy to Madonna." FIT president, Dr. Joyce F. Brown, noted, "We are delighted to have this opportunity to honor Valentino, who, through his timeless and elegant designs, is a legend to all those who love fashion." Past recipients of this award are Karl Lagerfeld in 2010, Dries Van Noten in 2009, Isabel Toledo in 2008, Alber Elbaz in 2007, and Ralph Rucci in 2006. In 2008, Giorgio Armani also received a special award for Global Fashion Leadership.
VALENTINO'S FASHION BEGINNINGS
Valentino became interested in fashion while in primary school in his native Voghera, Lombardy, Northern Italy. He then moved to Paris to pursue his interest and studied at the École des Beaux-Arts and at the Chambre Syndicale de la Couture Parisienne where he discovered the perfect red that would become a leitmotif throughout his career. In Paris his first choice for an apprenticeship was Jacques Fath, then Balenciaga. Next he found an apprenticeship with Jean Desses. After five years, Valentino left Jean Desses and joined the fashion house of Guy Laroche.
BACK TO ITALY
In 1959 Valentino left Paris and moved back to Italy and opened a fashion house in Rome on the posh Via Condotti. More than an atelier, the premises resembled a real "maison de couture,"–everything was grand and models flew in from Paris for his first show. Valentino became known for his red dresses, in the bright shade that became known in the fashion industry as "Valentino Red." In 1960 Valentino met Giancarlo Giammetti at the Café de Paris. Giammetti would eventually become his business partner.
INTERNATIONAL DEBUT
Valentino's international debut took place in 1962 in Florence, the Italian fashion capital of the time. His first show at the Pitti Palace was welcomed as a true revelation, and the young couturier was deluged with orders from foreign buyers and enthusiastic comments by the press.
HE DRESSED MANY FAMOUS WOMEN
After the breakthrough show in Florence, he began dressing the ladies of the internationally best-dressed crowd. By the mid-1960s he was considered the undisputed maestro of Italian Couture. Customers included The Begum Aga Khan, Farah Diba, Jacqueline Kennedy Onassis, Lee Radziwill, Queen Paola of Belgium, Babe Paley, Elizabeth Taylor, Audrey Hepburn, Gloria Guinness, Marella Agnelli, Jayne Wrightsman, Marisa Berenson, Veruschka and Princess Margaret and many others.
VALENTINO RETIRED IN 2008
After nearly 40 years of superlative evening dress designing, Valentino Garavani, known simply as Valentino, sold his company in 1998. He was 75 and had done it all: from Jackie Onassis' wedding dress to J Lo's. His popularity continued to grow until his retirement in 2008.
Congratulations to Valentino on a long, exciting, and prestigious career. Please tell us what you most like about Valentino's designs.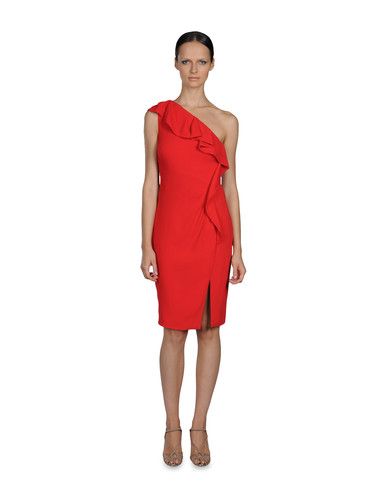 Another red dress from the Valentino Ready-to-Wear collection.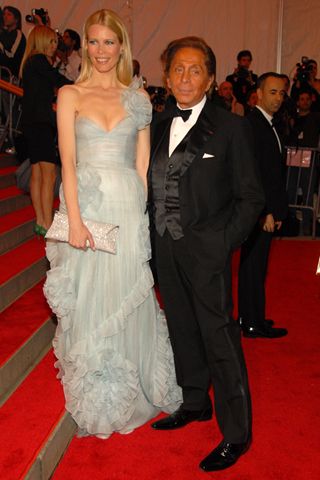 Claudia Schiffer wearing Valentino.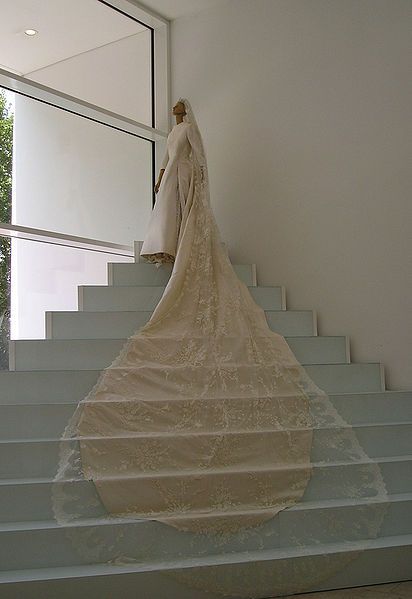 A wedding gown created by Valentino.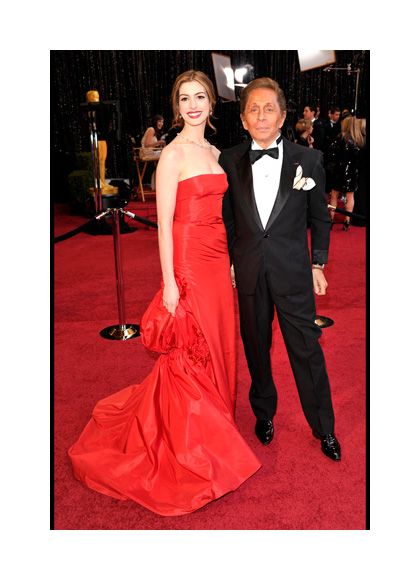 Anne Hathaway wearing Valentino's famous "red" at the recent 83rd Annual Academy Awards. Valentino stands next to her.