No Halstons Here: Project Runway Episode 10 is "Sew '70s"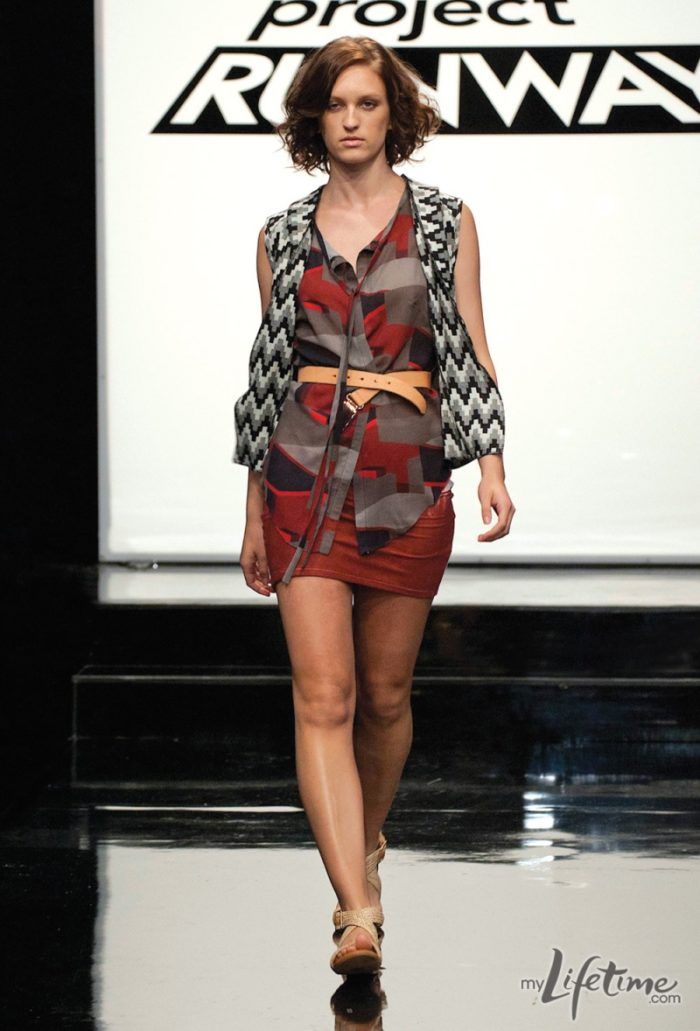 Episode 10 began with the usual city-life, Atlas New York montage. Laura Kathleen said, "At this point, everyone knows how to construct clothing. So now it's about having good Mood trips and a high taste level." Or you could put it another way, as Viktor did: "I'm not worried about the challenges. I'm worried about the remaining people getting nasty. The tiger's going to come out."
This episode was titled "Sew '70s," and the designers were had to (once again) look to the past and create a modern look inspired by 70's fashion.
The challenge information was shared by Tim Gunn and Heather Archibald, the lead apparal buyer for Piperlime.com. The winning design was going to be put into production and sold on the site.
As Heather explained it, the site's customer is into trends and the site was looking for something reflecting the revival of the sophisticated '70s. The examples were flared pants, tie-neck blouses, earthy colors, plaids, all for a strong and feminine woman. The designers had a dossier of '70s images to review on their HP computers.
Tim stressed the sophisticated angle. Not retro, not vintage, not too literal. After pulling accessories from the Piperlime wall and sketching, all of the designers seemed to have concepts they were happy with. They set off for Mood with Tim – with $100 to spend and 30 minutes to spend it in.
Anya had a disaster at Mood – another "Project Runway" first in Season 9. Anya's dress had no pockets. She tucked her money into her top, but somewhere between the silk jersey and linen sections at Mood, she lost it. You'd think with the camera crew or crews there, they would have known where she dropped it, but no.
She searched frantically with the help of the Mood employees, but could not find the money. Tim told her she could use muslin, as well as any money the other designers had left over and gave to her. Only Anthony Ryan had any extra – 11 dollars and change.
The judging
Kimberly left the runway straight away with a passing score.
Anya was named the winner, and her chiffon-backed print jumpsuit is available for $198 on PiperLime.com.
Olivia told Bert that they loved his little dress and they wanted to also produce and sell it on Piperlime.com. You can get Bert's dress for $98 on Piperlime.com
Viktor was the last member of this week's top 3. Everyone was impressed with both of his looks.
In the bottom 3, Laura Kathleen was told she was in, but to watch it. She really missed the mark on this challenge.
Anthony Ryan and Joshua were left. Heidi started with Anthony. His dress was a shapeless tent, she said, and the prints he'd chosen were unattractive.
For Joshua, she told him his works were over-designed as usual, and that neither look had offered a modern take on the '70s. (Backstage a bit earlier, Joshua had complained about having to design for a decade he didn't live throught. He was pretty aggressive when Viktor pointed out that he, too, hadn't lived through the '70s, but had made an effort to learn about the styles of the decade from movies and television. Joshua didn't take it well when the others chimed in in defense of Viktor, saying that the point was as fashion designers they had to familiarize themselves with fashion history.)
Anthony Ryan was out. It was one of the most affecting PR goodbyes I've seen. Even Tim got choked up.
Do you think the judges made the right decision to send Anthony home instead of Joshua? Do you think it was fair that Anya won, and Bert's dress was manufactured too, but Viktor's great outfit went nowhere? How much do you think that the complexity of his design might have weighed in the decision?
Next week: The designers have to make dresses based on live birds.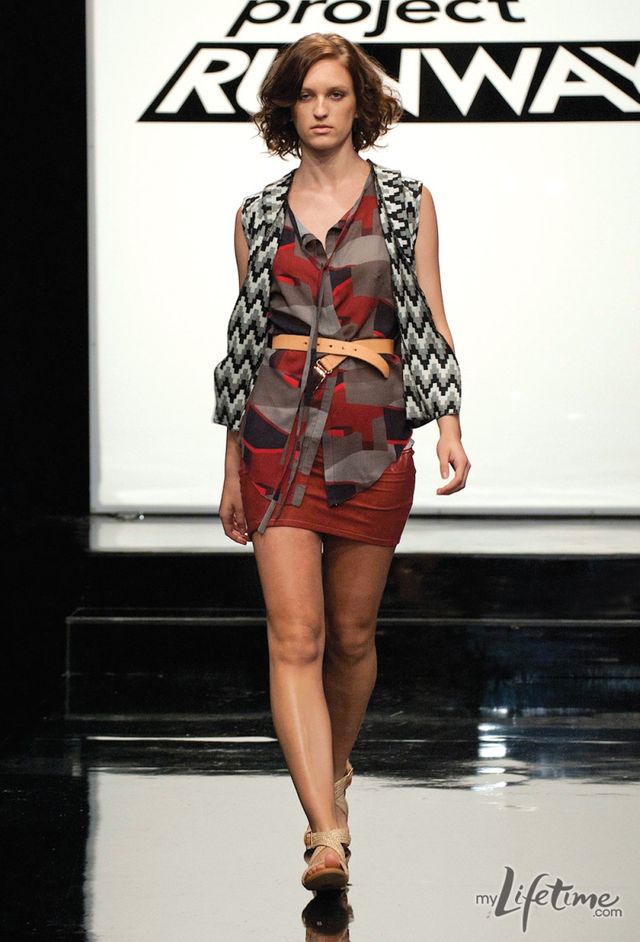 Anthony Ryan's three-piece outfit was for "boring girls who are in a cult," the judges declared.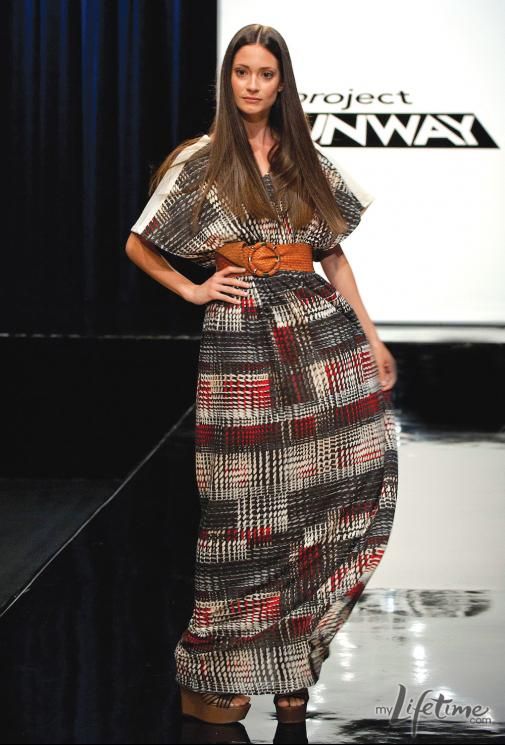 A sad, shapeless maxi-dress contributed to Anthony Ryan's dismissal from "Project Runway"'s 10th episode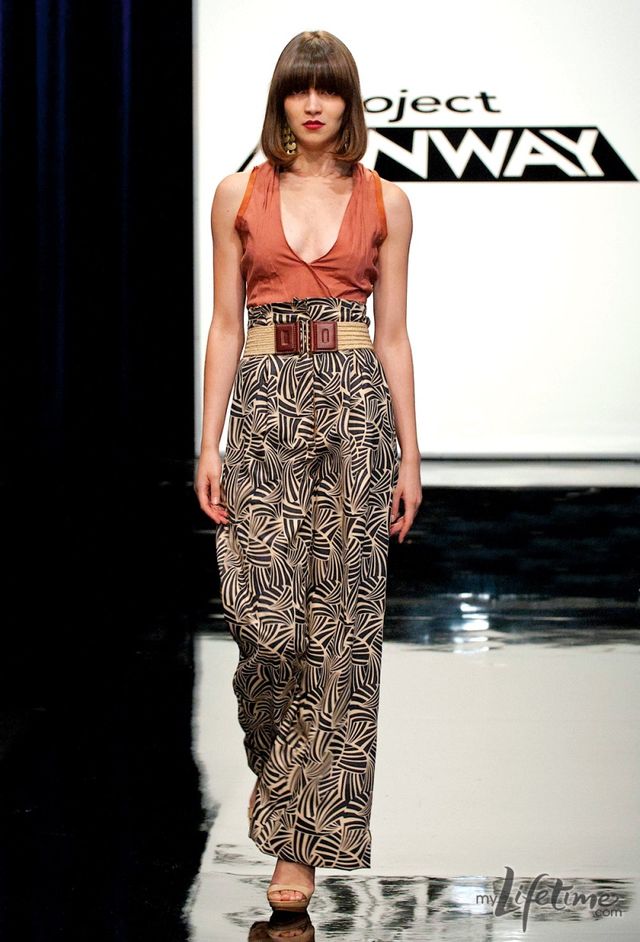 Despite losing her fabric money at Mood, Anya pulled together a passable outfit from $11 in fabric and dyed muslin.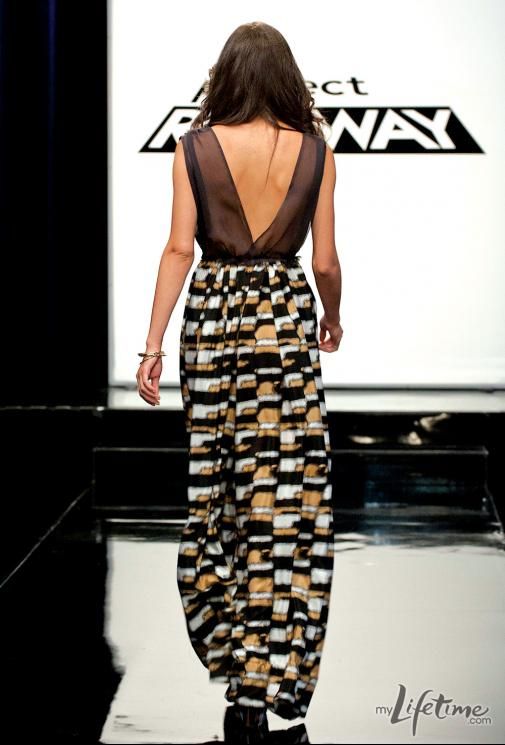 Anya's second, one-piece look featured a sexy chiffon back. The look was a winner, and it's been produced by Piperlime.com, and sells for $198.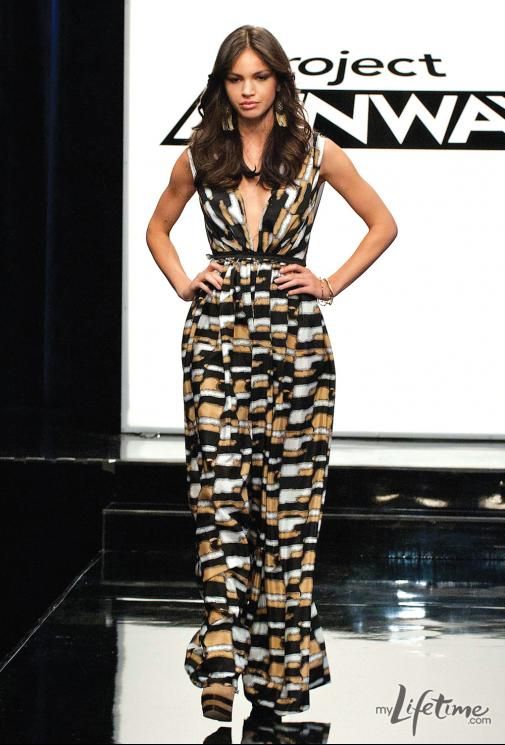 The front of Anya's winning look. It's not easy to do a V-neck that deep that doesn't fall off, Michael praised Anya's design skills.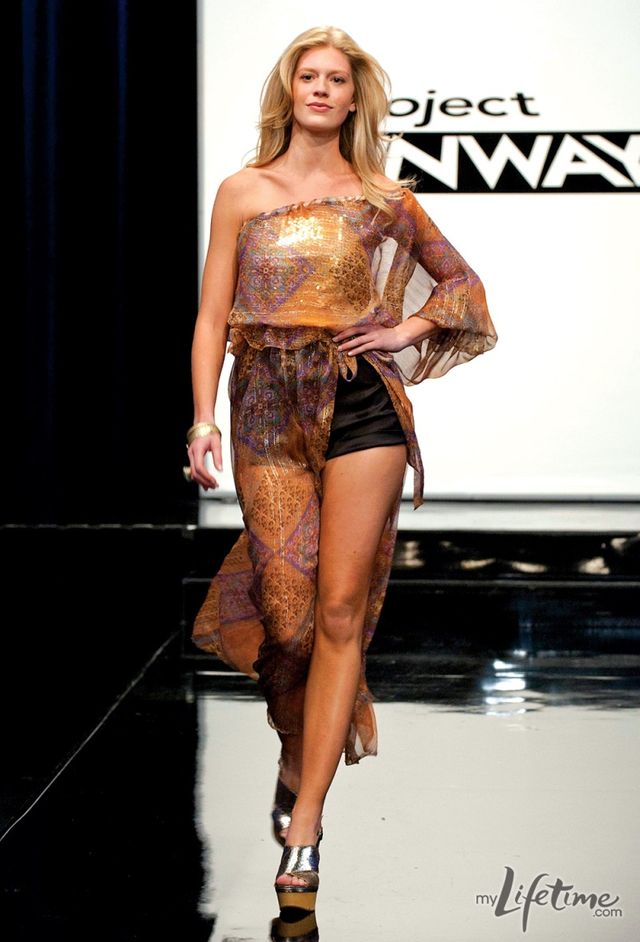 All the female judges expressed a wish to own Bert's chiffon one-armed peasant blouse.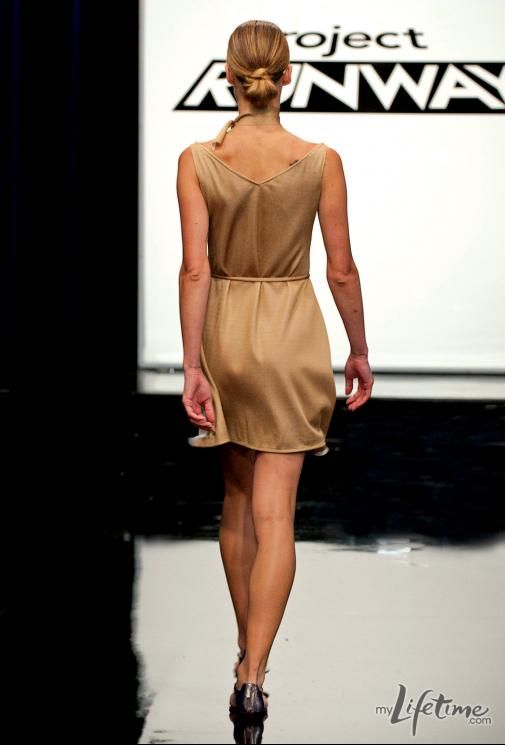 From the back, Bert's little winning dress, available at Piperlime.com for $98.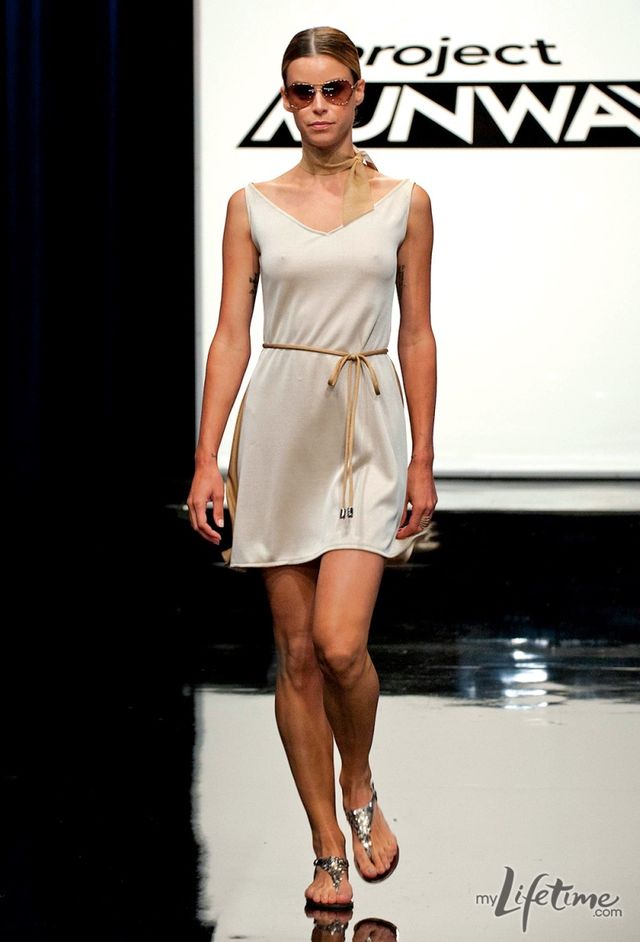 Bert's little dress, from the front.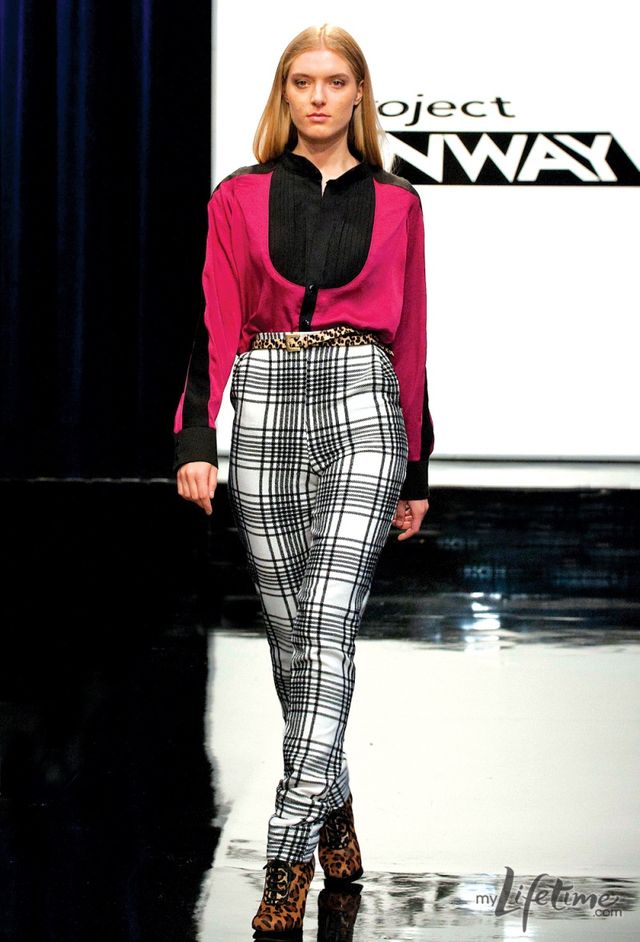 There's little to defend Joshua's look, but he tried on the runway. Michael Kors, in particular, condemned the fit of the pants.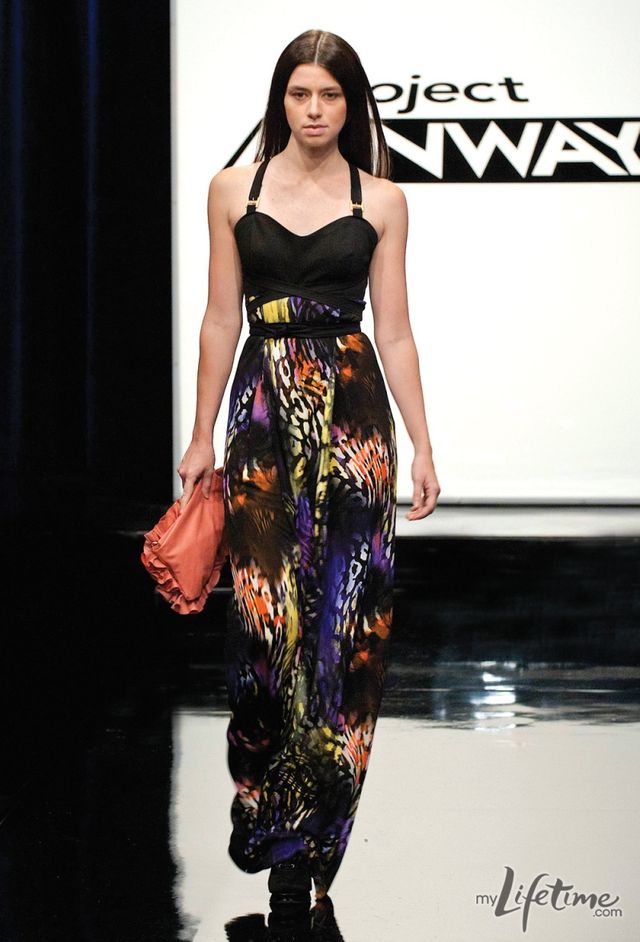 "Why, oh why, did you use an acid-colored animal print?" Nina practically wailed at Joshua. Though this look was not as roundly trashed as his ensemble, the consensus was that he chose an ugly print.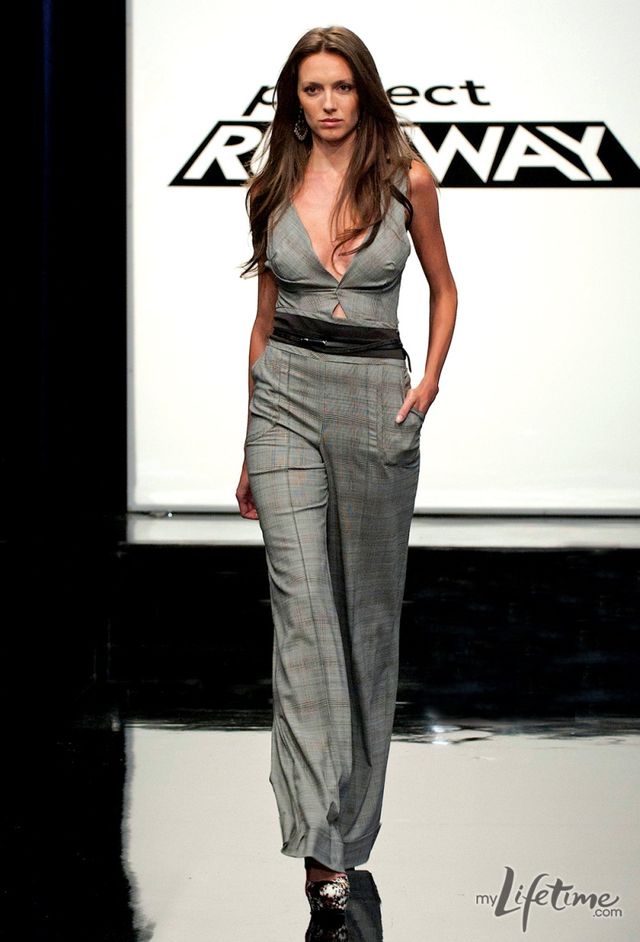 Kimberly was voted safely "in" with this one-piece jumpsuit.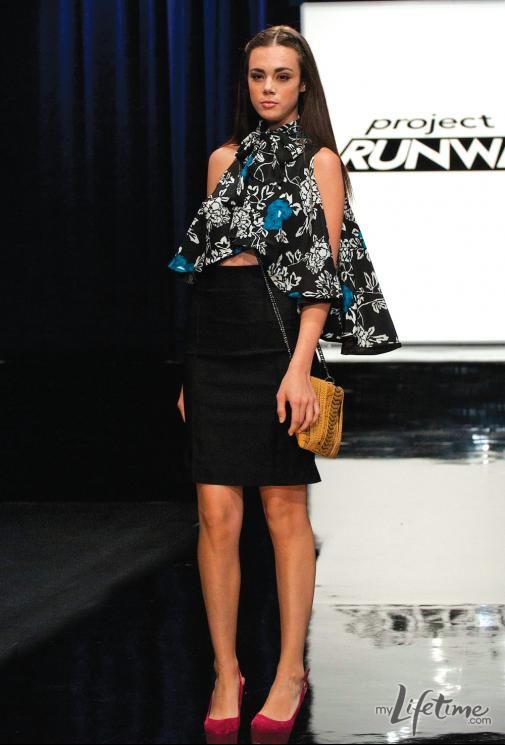 Kimberly's other look, a top and pencil skirt, where strong enough to earn her a spot in Episode 11, but strong enough for a win or a top 3 spot.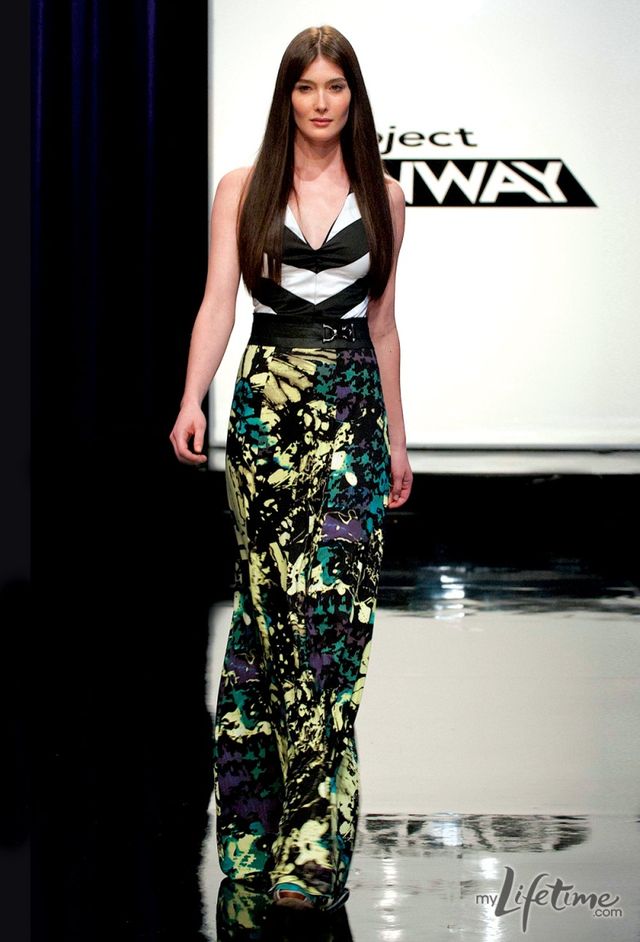 Tim told Laura Kathleen that Nina was out to get her. It's true, Nina has bristled over Laura Kathleen's color sense right from the beginning. Nina called the top "prison wear" and blasted the print of the skirt. Ouch.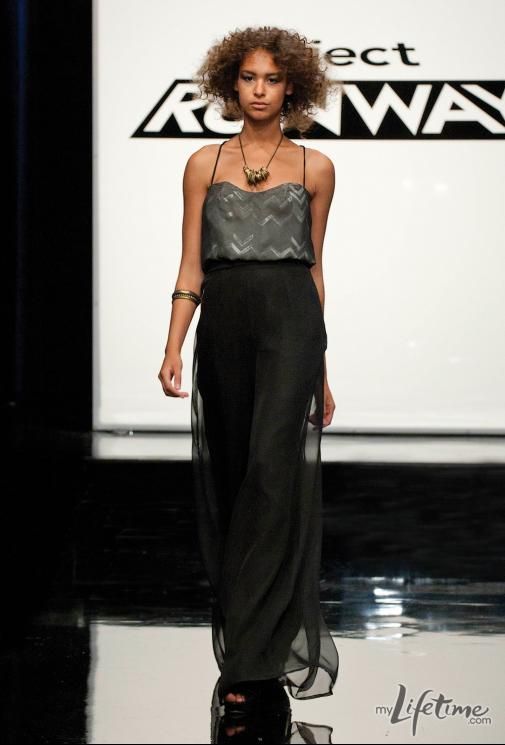 Guest judge Olivia Palermo criticized Laura Kathleen's jumpsuit for having little online appeal. Nice, but way too boring to catch consumers' eyes on Piperlime.com.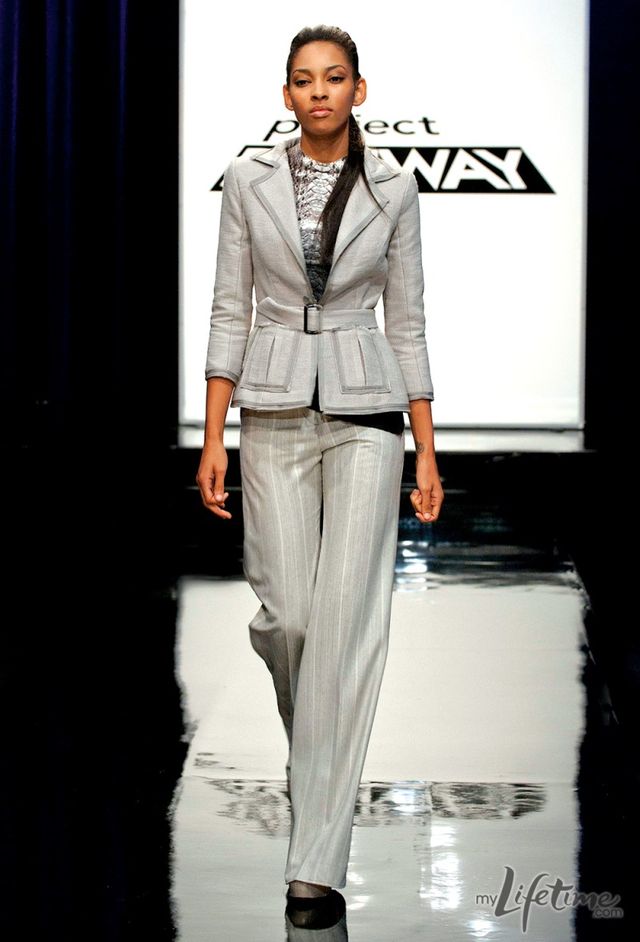 Viktor's safari influenced suit was complimented by the judges for the cut, the fit, and the expensive look.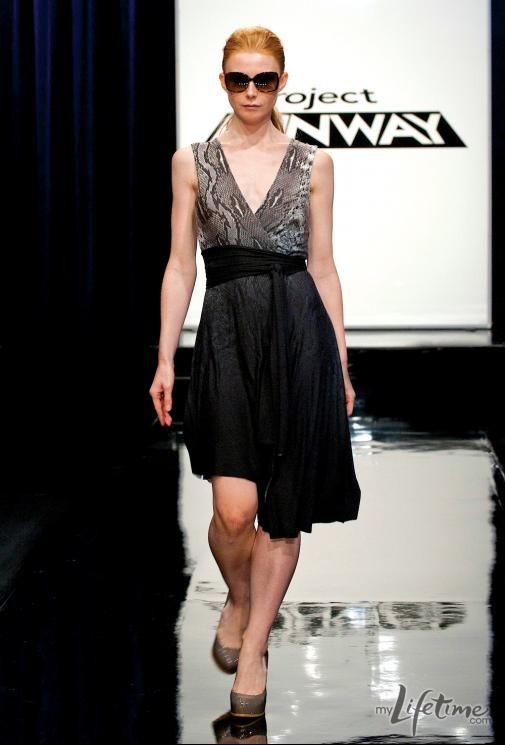 Viktor's wrap dress tied into his other look through the use of the snake print (it was also the T-shirt in his separates look).