DVD GIVEAWAY: Threads Magazine Archive, 1985-2011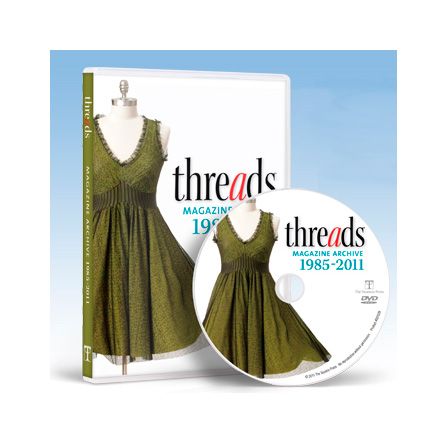 UPDATE: THIS GIVEAWAY IS CLOSED. THANKS FOR PARTICIPATING!
EASILY SEARCHABLE INFORMATION WITHOUT ANY CLUTTER!
Would you like to empty your bookcase of printed Threads magazine issues, but continue to benefit from the expert advice found within the magazine pages? Would you like to be able to search for that article you remember reading months ago in Threads, but forget the title and forget which issue you read it in? If your answer is "Yes" to either of these questions, then the Threads Magazine Archive is designed just for you. It's a tool no sewer should be without. From one computer disk, you'll find 26 years of information from America's most trusted sewing magazine. That's all 158 issues of Threads, starting with issue #1 and including all the issues through the end of 2011. It even includes advertising! You can search by author, by topic, by headline-you can even search every single word for that really elusive article. It's a snap to find articles on every subject we've ever written about!
ALL THE EXPERT ADVICE YOU NEED
You'll get the classic articles, timeless techniques, a wealth of information on the hottest topics, plus insight from our most popular contributors-all the expert advice you need to sew well-made clothes that fit and flatter. Best of all, you'll know that every project, technique, and tip you find comes from a credible source, including iconic designers, renowned instructors, and industry professionals.
LEAVE A COMMENT ON THIS POST TO WIN
Simply leave a comment telling us why you think the 2011 Threads Archive is a must for you. Leave your comment on this post before the deadline-11:59 pm, Friday, October 21-and you could win a copy of the DVD. The winner will be randomly selected on Monday, October 24, 2011. The DVD won't be complete until after issue #158 is available (early December), but the winner will be among the first to receive a copy!
Good luck!