[CLOSED] Last chance to enter the 2011 Threads Halloween Costume Contest!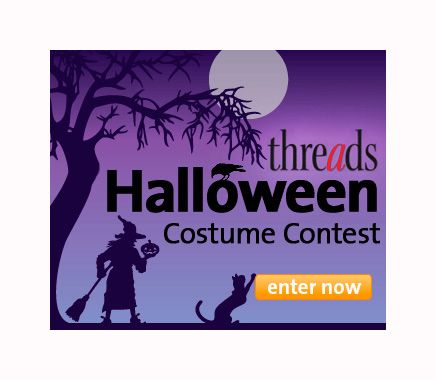 Are you making a Halloween costume this year? Share your crazy, spooky, or just plain creative costumes in our Halloween contest gallery by 11:59pm EST, November 9, 2010, and you could win prizes from SewingPatterns.com and Beacon Adhesives!
The editors of Threads will choose five finalists from all eligible entries, and then you will get to vote for your favorite to win. The winner will be announced on or around November 15th, 2011.
Prize package: 
SewingPatterns.com
Sewingpatterns.com is the original online store for all of the latest sewing patterns from your favorite brands.
$50 worth of Brown Paper Patterns & $50 worth of La Fred patterns
Beacon Adhesives
This fall basket contains glues for almost every imaginable application including arts & crafts, sewing & quilting, home decor, and many other household projects and repairs. No matter what the surface–wood, fabric, canvas, paper, cardboard & more–Beacon has the perfect glue. You can always make it better with Beacon!
Beacon's Basket 'O Glue
STIFFEN STUFF, $7.99
3-IN-1 ADVANCED CRAFT GLUE: $5.99
FABRI-TAC: $8.99
ZIP DRY PAPER GLUE: $5.99
QUILTER'S CHOICE BASTING GLUE: $5.99
QUICK GRIP: $5.99
LIQUID THREAD: $6.99
GEM-TAC EMBELLISHING GLUE: $6.99
FAST FINISH DECOUPAGE: $5.99
DECOUPAGE GLOSS SEALER: $5.99
GLITTER IT: $4.99
COSTUME & MASK GLUE: $5.99
ENTER NOW!
See official rules for more details.