Non-sewer Dad Promises to Make His Daughter's Wedding Gown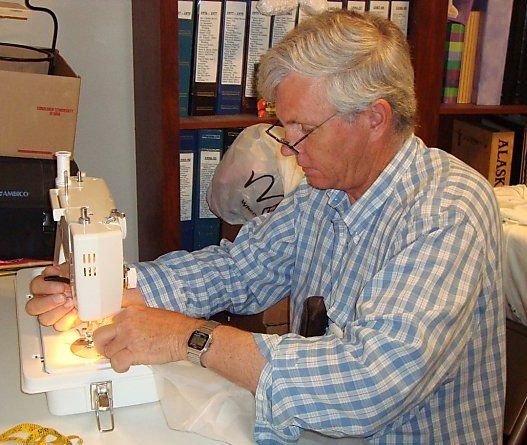 SEWING A BRIDAL GOWN IS THE ULTIMATE SEWING PROJECT
Those of us who sew dream of making our own wedding gown or the gown for a daughter, niece or other person dear to us. A wedding is such a special day that the dress, too, becomes symbolic of the love shared during a wedding ceremony. Few dads would contemplate making their daughter's wedding gown—unless they had considerable experience sewing. Construction worker, Erin Lucien, felt differently.
NON-SEWER ERIN LUCIEN PROMISES TO MAKE WEDDING GOWNS FOR HIS DAUGHTERS
When his three daughters were young and thinking about getting married one day, their father, Erin, told them he would be willing to make each of them a wedding dress for the occasion. Years later when Danielle, 24, became engaged, she took him up on his offer. Erin, with no sewing experience whatsoever, decided following step-by-step instructions for working with fabric couldn't be that much different from creating something using wood or other materials.
ERIN HAD TO LEARN TO SEW FIRST!
Erin used books and videos to teach himself how to use a sewing machine and to learn the sewing techniques necessary, and he got to work. He even made a muslin out of sheets, which he referred to as a "prototype." With many long nights, and hundreds of hours of work from design conception to the final fitting, he completed the dream gown including his own "designer" label! Even ABC TV produced a segment about Danielle's wedding dress.
A PROUD DAY FOR DANIELLE AND ERIN
Danielle knows that "Nothing is more memorable than your own father making your wedding dress!" She was not-surprisingly thrilled to wear his dress on that long-awaited day, but I suspect Erin was the proudest of all as he escorted his daughter down the aisle wearing the beautiful silk charmeuse dress he created especially for her. I can't think of a more loving gift from a dad to his daughter.
HAVE YOU MADE OR DREAMED OF MAKING A WEDDING GOWN?
Did you make your wedding gown? The gown for a daughter, niece, or other person? How did the dress make you feel on the day it was worn?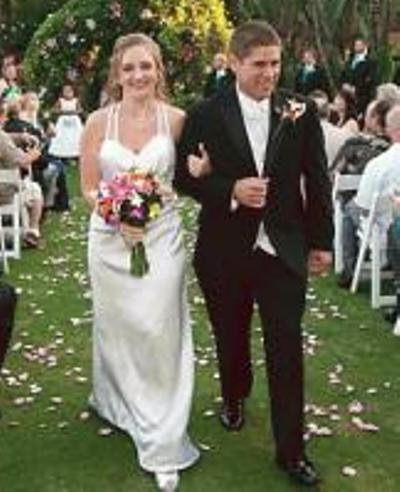 Danielle Lucien and her new husband Steve Thompson. Danielle is wearing the gown her dad made for her.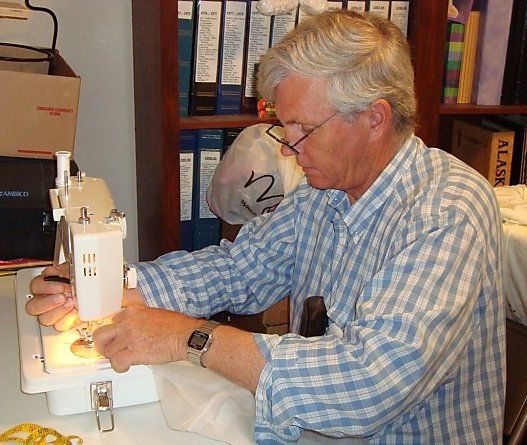 Danielle's father, Erin, preparing to work on her silk charmeuse wedding dress. This was the first dress he had ever made!