1950s patterns perfect for today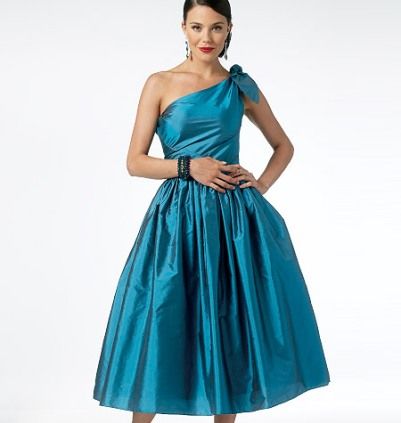 In 2011, Butterick released their Holiday collection. Included are three patterns that really stood out to me. They are retro designs from the 1950s yet they're extremely fashionable for today. Similar designs are on the runways and appeal to a wide range of sewers. Whether you're experiencing these designs for the first time, or they bring back happy memories of years gone by, I'm sure you'll appreciate the timeless nature of these designs.
Butterick Pattern 5708 is a convertible party dress from circa 1953. The fitted bodice, with Y-shape piecing, can be tied in different ways to create four unique looks. The full skirt is gathered at the waist and ends below the knee. Show off a fashionable taffeta, shantung, or crepe for a fancy evening party or use linen or cotton broadcloth for an afternoon affair.
Butterick Pattern 5707, from circa 1958, is a chic daywear dress. The fitted bodice has a bias yoke with the sleeves cut as one. The neckline has a fashionable drape or tie. The semi-fitted skirt has darts and ends a bit below the knee. Choose a three-quarter or short sleeve and an optional belt. Consider making this great winter dress in a wool crepe fabric. This pattern is out of print but can be quickly found on Etsy, eBay or other online resellers.
Butterick Pattern 5716 is a jacket also from 1953. This lined, loose fitting jacket has cuffs, pockets with flaps, and an extra wide front facing which is sewn to the right side. Make these items in the same fabric or in a coordinating fabric to stand out. Suggested fabrics include wool and wool blends. Consider adding a few coat hook and eyes if you want a closer. This pattern is out of print but can be quickly found on Etsy, eBay or other online resellers.
Do you use retro designs to create current fashions? If so, check out the Butterick Retro Pattern Collection. What's your favorite style?