Premiere Date Set for 'Project Runway All Stars'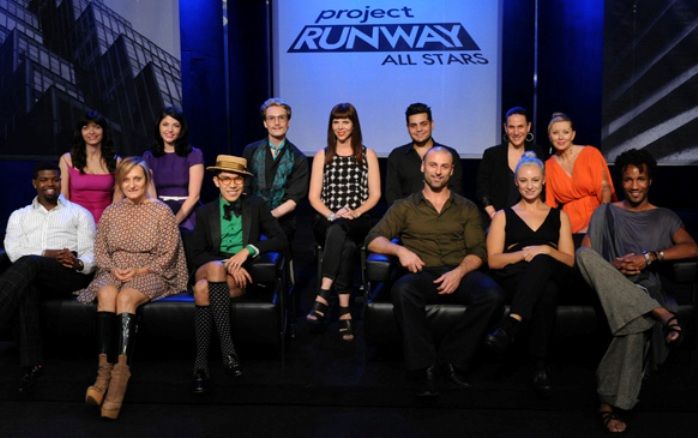 One day you're in – the next day you're out – but the day after that, you could be in again. Entertainment Weekly posted a sneak peak earlier this week of the new reality show, Project Runway All Stars. The spin-off pits some of the most beloved – and the most reviled, of course – competitors from past Project Runway seasons against each other.
Thirteen designers return when the new show premieres at 9 p.m. EST, Jan. 5 on Lifetime. Unlike the "All-Star Challenge" specials, this is a new series and there are 12 episodes planned.
The cast
The channel posted a list of the returning designers, including the season they competed and how they fared . As every PR fan knows, it's not always the most talented designers that make it into the Top 3.
From Season 1:
Austin Scarlett (he finished fourth place)
From Season 2:
Kara Janx (fourth place)
From Season 4:
Rami Kashou (runner-up)
Sweet P/Kathleen Vaughn (fifth place)
Elisa Jimenez (tenth place)
Season 5:
Kenley Collins (second runner-up)
Jerell Scott (fourth place)
Season 6:
Gordana Gehlhausen (fourth place)
Season 7:
Mila Hermanovski (second runner-up)
Anthony Williams (fifth place)
Season 8:
Mondo Guerra (runner-up)
Michael Costello (fourth place)
April Johnston (fifth place)
The host and judges
Model Angela Lindvall fills Heidi Klum's role in the new show as hostess, and Joanna Coles, Marie Claire magazine's editor-in-chief, does Tim Gunn's job in this version, acting as a style mentor for the designers.
Two designers are a permanent part of the judging panel, Isaac Mizrahi and Marchesa designer Georgina Chapman. So far, the announced guest judges include Miss Piggy. That episode I have to see – especially if the designers have to make Muppet outfits.
The prize package
"All Stars" actually has a better prize package than the regular season of Project Runway history. The package includes "boutiques for the winning designer in some Neiman Marcus stores and online at NeimanMarcus.com; $100,000 dollars from HP and Intel for business and technology development; a feature in Marie Claire and a year-long guest editing spot with the magazine, another $100,000 in cash from L'Oreal Paris, and a Brother International sewing and embroidery studio.
So the stakes are high and the egos are huge!
Who's your favorite returning designer? I'm for Rami Kashou, actually!
Who's your least favorite returning designer? Remember how rude Kenley Collins was to Tim? I'm glad they aren't on the show together again. We'll see if Kenley is any more respectful of Joanna Coles.
Are you going to watch Project Runway All Stars? Tell us what you think of the show's concept, and about the designers selected to compete once again.