Creating a Partial Facing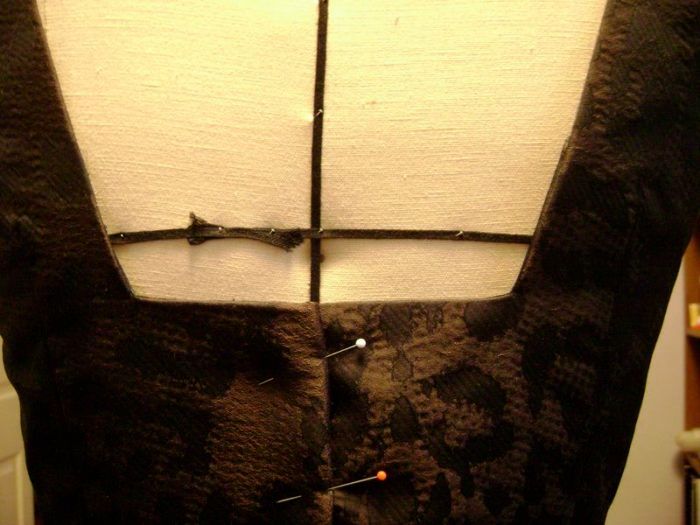 I was working on a dress the other day that has a square neckline at the back. Across the front, it features a boatneck, and at the shoulders, the neckline drops vertically then squares off before the two sides meet at the center back.
I generally don't use separate sewn-on facings. Instead, I leave a wide seam allowance, staystitch the seamline, then turn the seam allowance back and catchstitch it to the underlining to hold it in place.  It's a standard couture treatment.
Of course, curved seamlines need clipped seam allowances. When there's a sharp angle, the seam allowance clipping needs to go into the corner.
While the seam allowance will eventually be covered with the lining, the clipped corners remain vulnerable. Once the seam allowance has been clipped and folded back, there's not of lot of support. The underlining helps, but a chunk of fabric is missing. Further, it's hard to control the raw edges of fabric that's been clipped, especially with fabrics that fray easily. Even with the lining in place, it's easy for  tiny threads to work their way out from under the lining and become visible.
In this case, there's a subtle and easy solution: a small piece of silk organza (or something similarly firm and lightweight) can be used to create a facing where it's needed—at that clipped V.
I've made some samples to illustrate the process.
The standard treatment
The fashion fabric and silk organza underlining have been hand-basted together along the stitching line.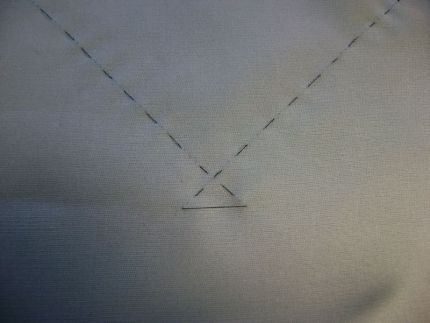 The seamline is then machine-staystitched.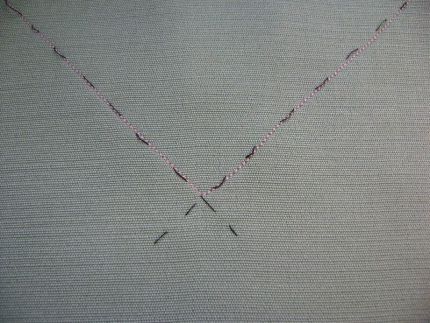 After stitching, the basting is removed.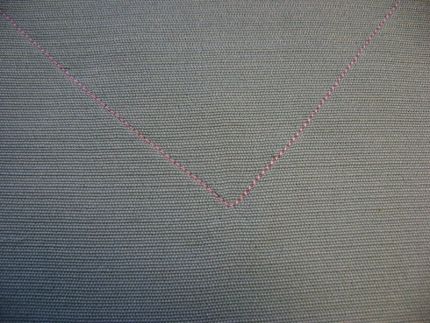 The V has been clipped, into the corner, as close to the staystitching as possible.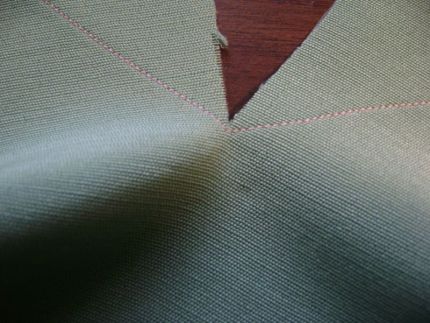 After pressing, the seam allowances have been catchstitched to the underlining; the corner is already beginning to fray.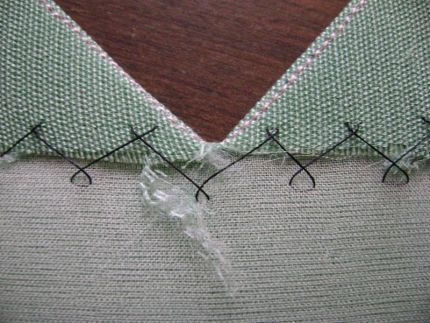 The fraying is visible from the right side.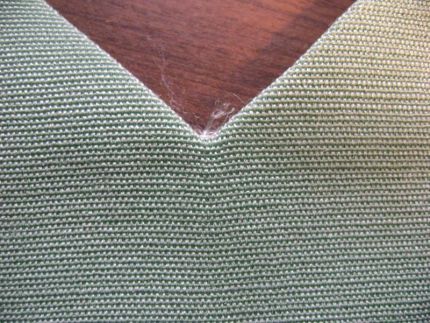 Improved method
A small piece of silk organza, serving as a facing, is pinned to the right side of the fashion fabric.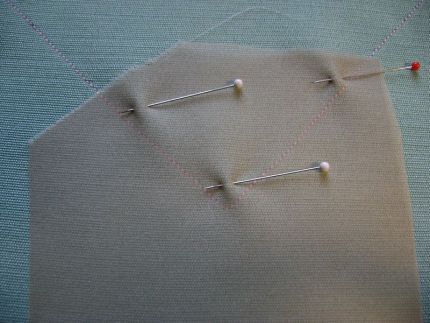 It is machine-stitched into place along the staystitching line.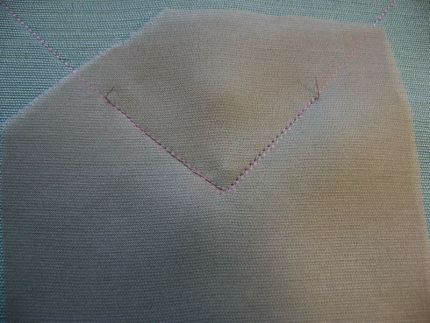 Then it is clipped into the corner as close as possible to the staystitching.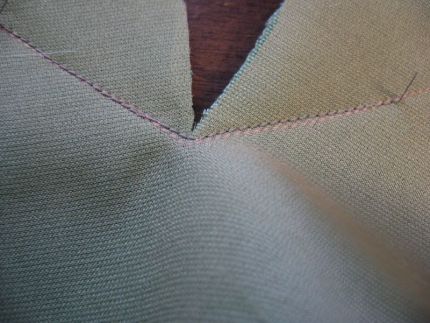 The facing is folded back; organza is so crisp and well-behaved that it works beautifully as a facing.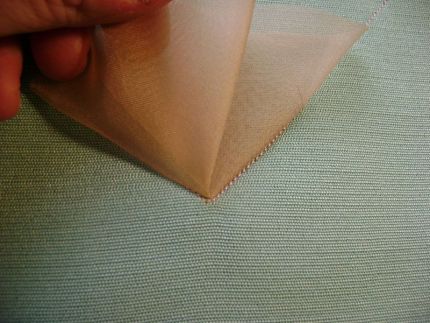 The organza is first pressed in the direction of the seam allowance, then it is pressed again along the seamline.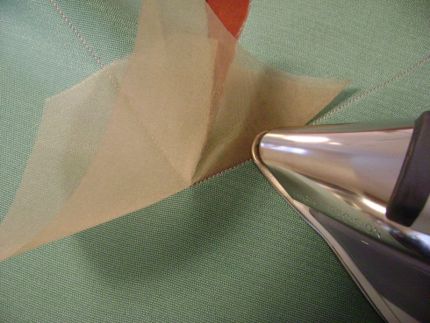 The facing is pressed on the wrong side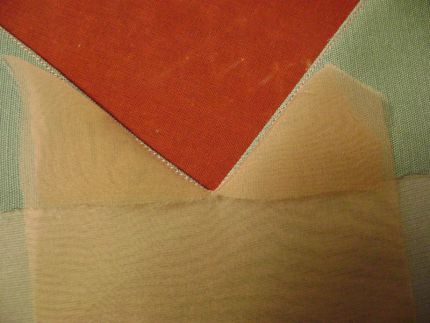 Voila, a secure, cleanly faced V has been created.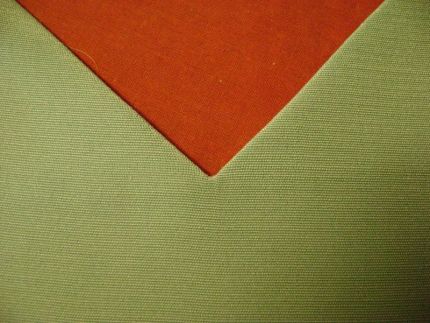 The facing is catchstitched to the underlining.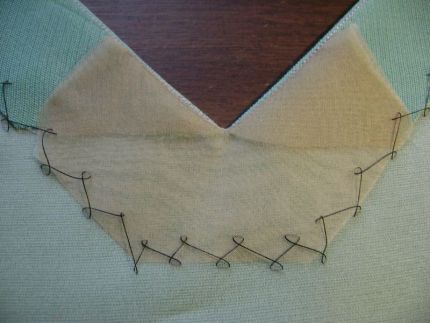 The wrong sides of the two treatments show one with a partial facing and one without.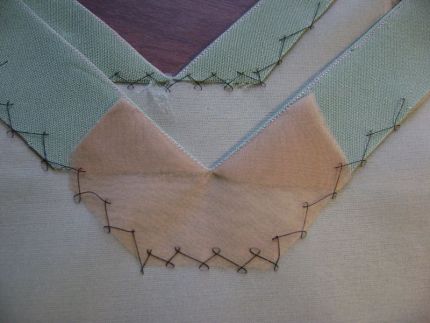 On the right sides of the two treatments the difference is subtle, but you can imagine that the faced treatment will hold up better over time, with no chance of fraying. The extra layer of organza lends a bit of support as well.