Elvis' Fabulous Upholstered Pool Room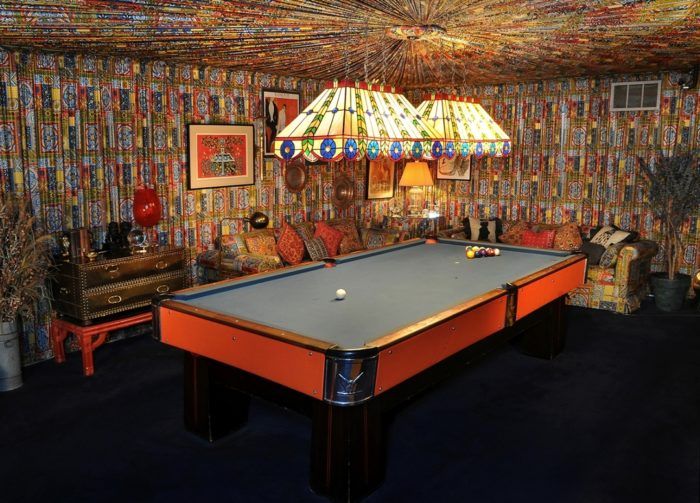 Years ago I visited Memphis, Tennessee, and I couldn't miss a trip to Graceland. Elvis Presley's former home is still, to me, one of the most poignant and memorable attractions I've ever visited. I say poignant because I remember the model of the shotgun shack where he was born. I think he must have been a kind person because of the all-pink bedroom and bathroom he had put in for his grandmother on the first floor. I also believe he stayed something of a country boy even at the height of his celebrity – one of the garages was riddled with holes where he and his buddies practiced shooting into the back wall.
But there was one room in Graceland that was an amazing novelty – the basement Billiards Room. It is completely lined with pleated fabric in an elaborate print. The pleats telescope to the ceiling's center, where the raw edges are covered by a fabric-covered medallian. Ever since I saw it, I wondered what inspired Elvis, and how this one-of-a-kind room decor came to be. Elvis Presley Enterprises was kind enough to share photos and the story.
Elvis bought Graceland in 1957. Over the years, he put a lot of time, money and effort into decorating it with the best. He added a pool table to a basement room in 1960, and in 1974 decided to decorate the room around it. He enjoyed researching his own decorating, and got the idea for the fabric-covered walls from a picture of a 18th-century billiards room. He shared the concept with the interior designer he was working with, Bill Eubanks. (William R. Eubanks is still a busy and very successful interior designer – today his eponymous company has offices in Palm Beach, Memphis, and New York.)
Bill purchased the 100-percent cotton material at a local store which specialized in custom furniture. It took three men 10 days to cut, pleat and hang the nearly 350 yards of fabric.
It is hung by tension rods along the walls and stapled in various places to the ceiling. There was enough left to upholster the room's two sofas.
Eclectic may be a mild term for the room's overall affect! The billiard lamps above the table were custom-made by Laukhuff Stained Glass in Memphis. There are three Louis XV style chairs in one corner, an Asian-style brass-over-wood campaign trunk on a rattan stand, a Toulouse-Lautrec poster of a can-can girl, Indian accent pillows, and two chairs in 1970's gold wide-wale corduroy. Whew! But clearly, the most distinctive effect is the fabric treatment.
Elvis was an able pool player, but he was known to move a ball to his favor from time to time, probably as a joke or to see who in his entourage might challenge him about it. His favorite games were 8-ball and rotation. To this day, a corner tear remains in the pool table's felt top, reportedly from a friend's attempt at a trick shot.
I love seeing how people – especially those with great resources – interpret fashion and interior design. Whose home or closet would you find it fascinating to know more about – and why?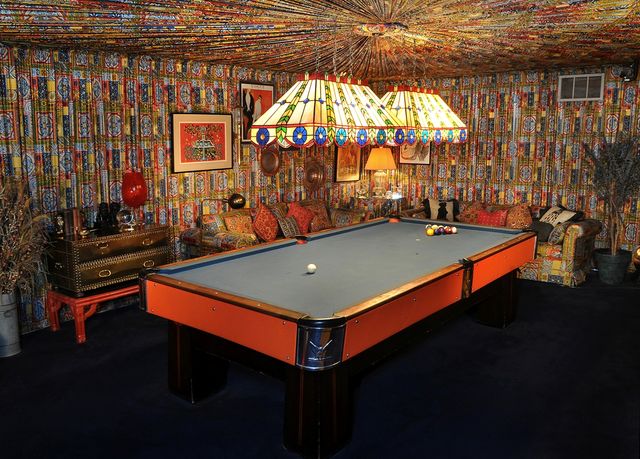 Elvis Presley decorated the Billiard Room in 1974. More than 300 yards of fabric were pleated on the walls and ceiling.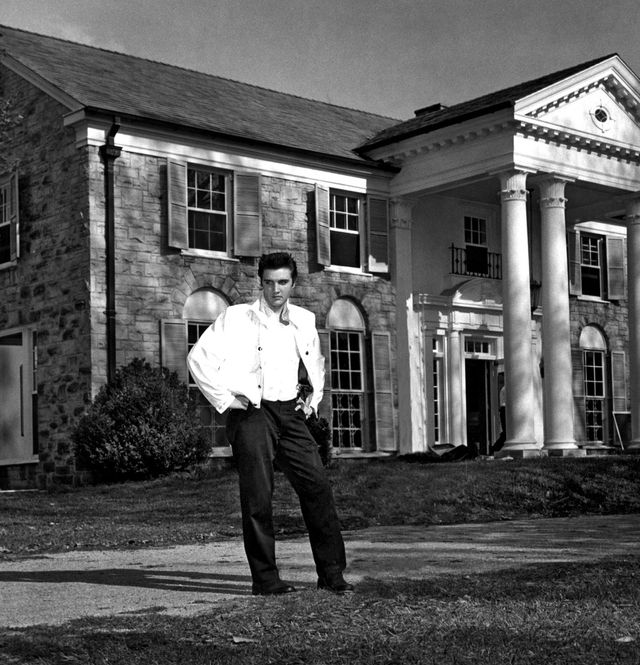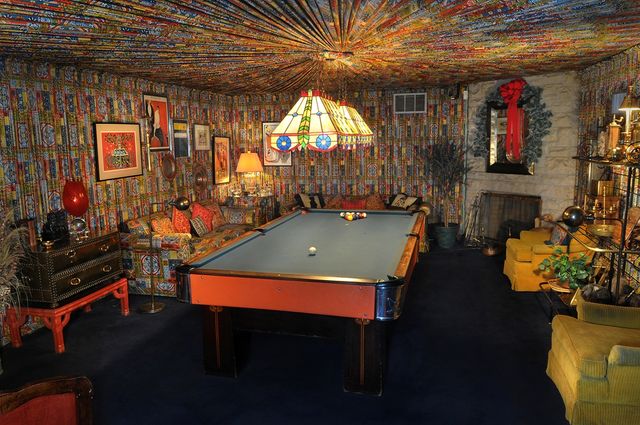 It took three men 10 days to staple and hang the fabric that lines Elvis' billiard room, in the basement of Graceland mansion.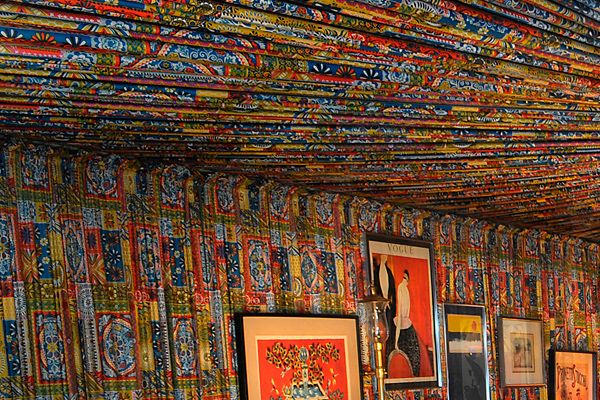 Close up of the pleated fabric on the ceiling and walls.