Enter the Dare To Make It! Holiday Contest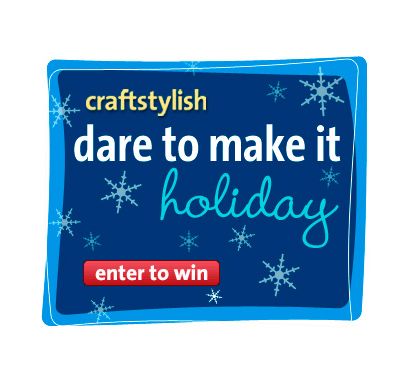 The holidays have always been a time to go into sewing and crafting overdrive. I get a rush from thinking about what to make for gifts and decorations. Right this very minute, a fleece jacket for my mom is waiting to be sewn at home … hope she doesn't see this post!
If you love to sew for the holidays too, check out the Dare to Make It! Holiday contest on CraftStylish.com. All you have to do is share images and information about your holiday projects – gifts or decorations – for this season. The entry deadline is 11:59 p.m. EST, January 12, 2012.
The prize is a package worth more than $200. It includes books and DVDs, full of inspiration and how-to information you can use for the next holiday season.
The prize package includes:
Teach Yourself to Sew, Seasons 1 & 2
Teach Yourself to Sew, special issue
Threads Sewing Guide
Socktopus
Cut the Scraps
Decorating with Papercraft
A collection of CraftStylish magazines (Holiday Decorating, Restyle, Quick Stuff to Sew, Quick Stuff to Make, and Gifts to Make)
One winner will be chosen by the CraftStylish editors. The criteria are creativity, construction, and imaginative use of materials. The winner will be announced on January 17, 2012.
For complete details, see the official rules.
Have fun, and remember, handmade holiday gifts do not have to be ready on Christmas morning. That's an unwritten rule of sewing!