The Talk is Pleating with Designer Babette Pinsky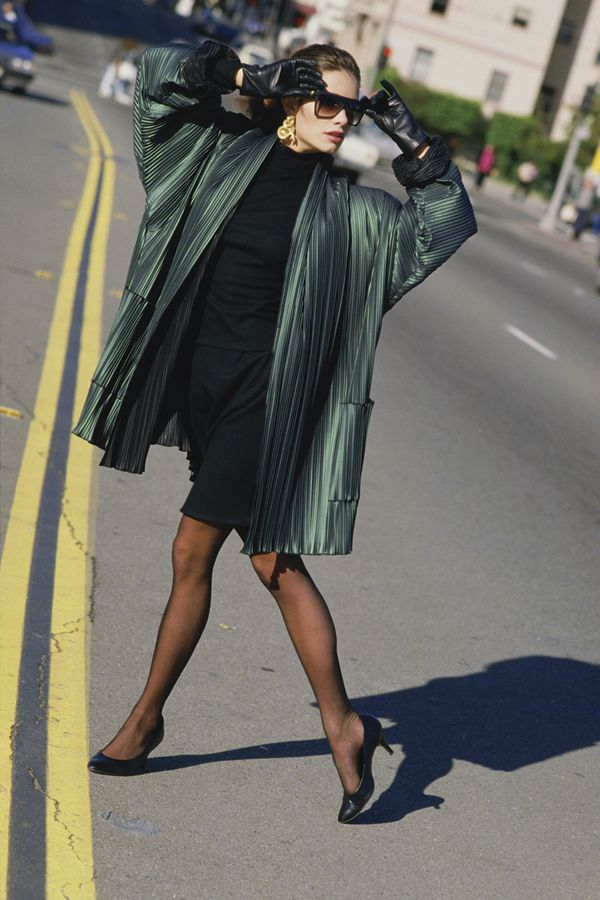 For Threads no. 159, I interviewed designer Babette Pinsky for the Designer Spotlight series. If you aren't familiar with her work, she creates fascinating garments with textiles that she pleats, folds, scrunches, and otherwise manipulates into unique and very flattering designs.
We didn't have enough room on the printed page to cover the techniques she uses in her Oakland, California, factory, to pleat fabric by hand and machine. There was more to my interview with Babette, and you can read it here, including her description of three methods she uses to create textures in her garments. You can view the new Babette collections for 2012 at BabetteSF.com.
THREADS: Do you pleat the fabric or the garment?
BABETTE PINSKY: We never manipulate yardage. We design the garment, cut it, try to anticipate how much fabric will be consumed by pleats and then try a sample. The garment is cut first. Sometimes each piece is pleated, sometimes part of the garment is pleated, and sometimes the whole garment is pleated.
TH: What qualities do you look for in a fabric?
BP: All of the pleated fabrics are either polyester or nylon, because nothing else will hold a pleat permanently. So we look for interesting polyester fabrics.
TH: Tell us how you manipulate fabric.
BP: We use three types of pleating. The first is hand-pleating, in which someone sits at the table with a cut piece or the whole garment in front of them. With their hands they twist, fold or bunch it. After it is ready, the fabric is tied in shape, and then it is baked in an autoclave.
TH: How hot does the autoclave get?
BP: I think it's about 240 degrees. It's not terribly hot, but it applies heat and pressure to set the pleats. The autoclave is maybe 6 feet by 10 feet long. It looks like what dentists used to have in their offices for cleaning instruments.
TH: What is the second pleating technique?
BP: The second would be machine pleating. A pleating machine looks like a big cylinder, turning very slowly. It actually has heated knives in it, running the long way. The knives can be adjusted so that you can get a 1-inch pleat, a 2-inch pleat, a ¼-inch pleat, etc. The knives are heated and coated with oil. The fabric goes through between two sheets of paper so that it doesn't get burned. The pleating machine only does straight lines. If you put a sleeve through cuff first, you're going to get a little short sleeve, a little box. If you put the sleeve in along the over- or under-arm, you'll end up with a narrow sleeve.
TH: And the third?
BP: The third type of pleating is called pattern pleating. It means that the fabric is pleated between pieces of paper that are scored identically. Let's use the example of a fan. If you have two fans that fold identically and you take a piece of cloth and you put it between them then close the fans, the cloth will take on the fans' contours. You could tie the fans closed, and toss them and the cloth together in the autoclave. We use a heavy paper that can be reused about 100 times. The paper is scored by hand. The two layers must match exactly. (With this method) we can do curves, we can do angles; we've done little boxes, all kinds of stuff.
TH: How many times would you say you go back and forth on a garment to get it right?
BP: If we are lucky, once. Usually we are not, though. We fit the first sample. We fit the second sample with corrections. If the corrections aren't major, we'll go into what we call "duplicates." I think right now we make seven duplicates, and they are for our salesmen and trunk shows. It's like a mini-production. Before we go into full production, we fit the duplicates and make sure everything is just right. It's a minimum of three times and it can be four, five, six times. There's always one garment that we have to cut and cut and cut. Especially if we are doing a new shape and it's complicated. One of the reasons I can't understand how people sew at home is that it is never right the first time. But I guess at home you just rip it out and fuss with it!
For the rest of Babette's interview, be sure and pick up the new issue of Threads, no. 159!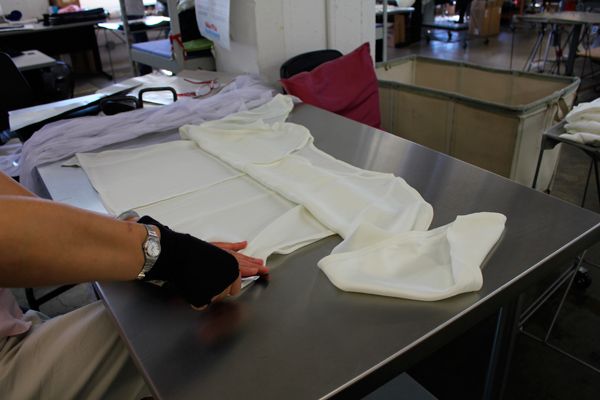 Babette designs the garment first, like this shirt, planning how much fabric will be consumed by pleats.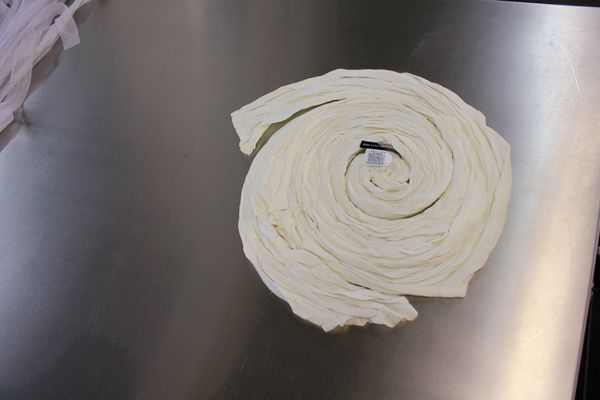 This particular Babette shirt is to be hand-pleated. Here, it's been bunched and twisted into a spiral.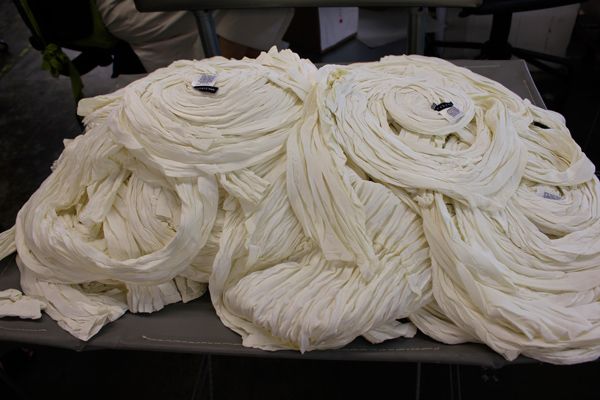 A stack of hand-pleated shirts, ready for the autoclave. The autoclave uses heat and pressure to "bake" in the hand-twisted pleating.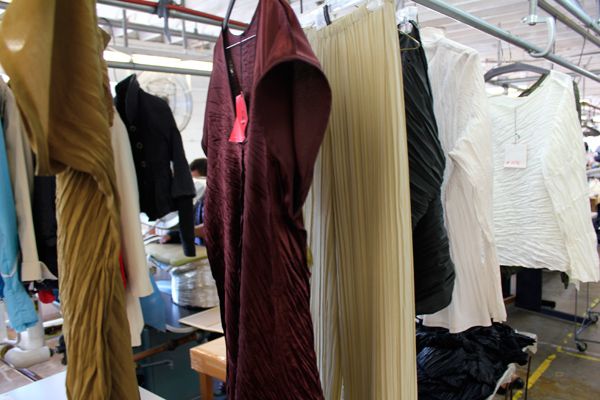 With the pleats "baked in" by the autoclave, a sample pleated shirt hangs at far right, next to more pleated samples at Babette Pinsky's Oakland, California, factory.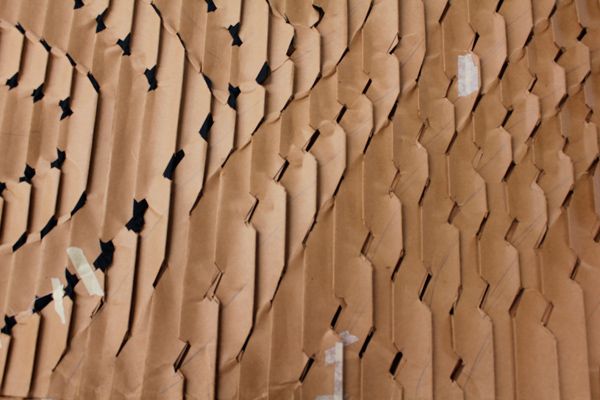 For what Babette calls "pattern pleating," the fabric is pleated between identically scored paper pieces, like the one shown. Pattern pleating has multidirectional and shaped results - check out the chevron pleating on the skirt in the next photo.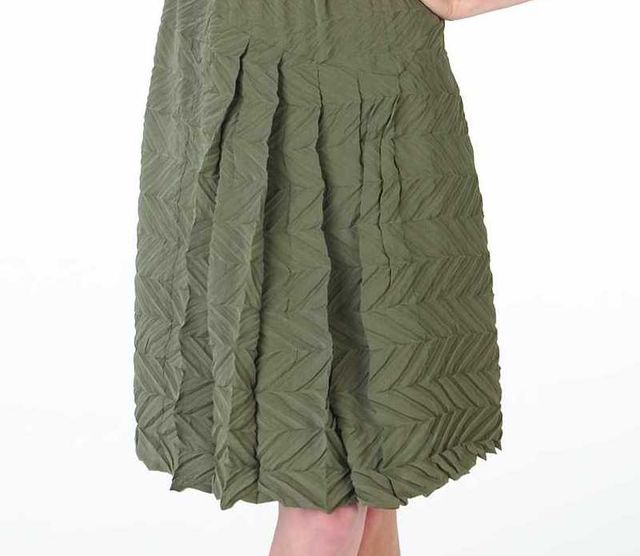 Pattern pleating created the chevron effect on the skirt of Babette's "Muse" dress for Spring 2012.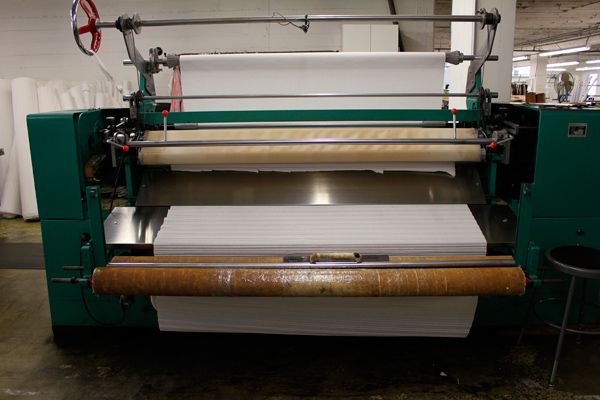 A pleating machine at Babette's factory. Flat yardage goes in - knife-pleated fabric comes out.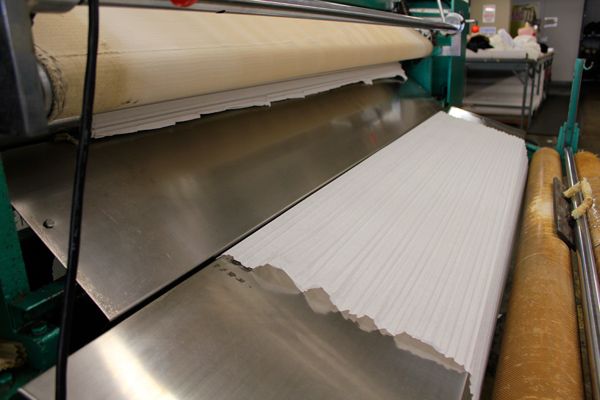 The pleating machine has heated knives in it, running the long way. Paper sheets protect the fabric from being burned as it passes over the knives, but the knives are hot enough to permanently pleat the fabric.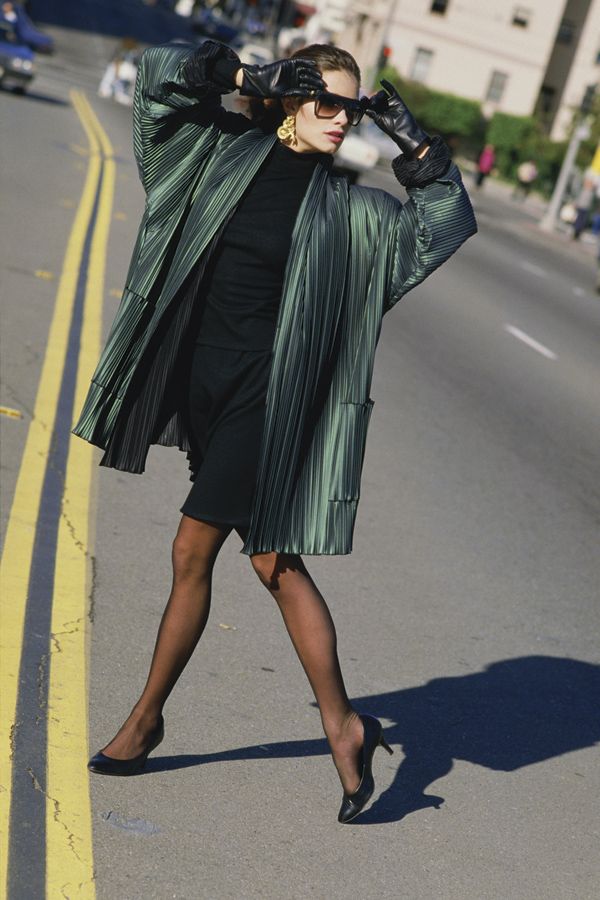 Babette's original pleated raincoat design, introduced in the early 1980's.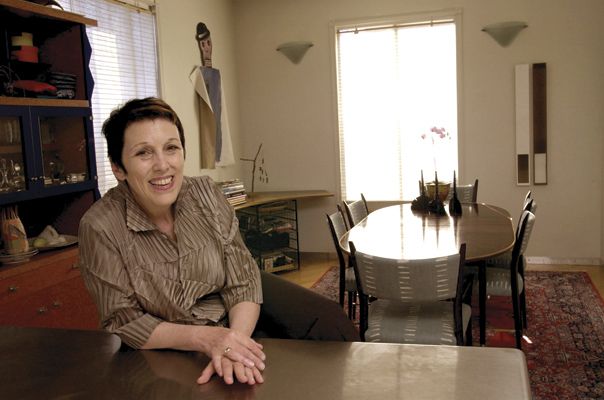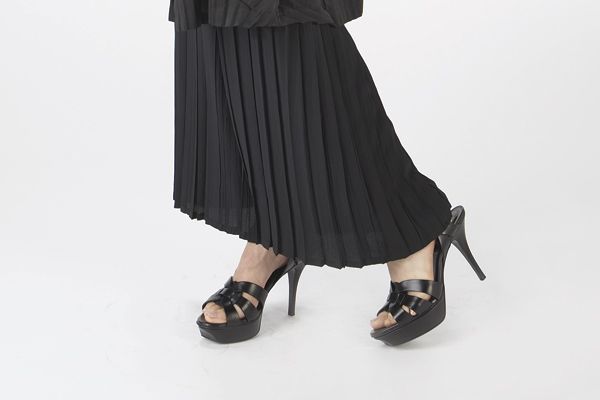 Machine pleating creates even knife pleats, like those on this skirt from Babette's Spring 2012 collection.