McCall's patterns for your fabric stash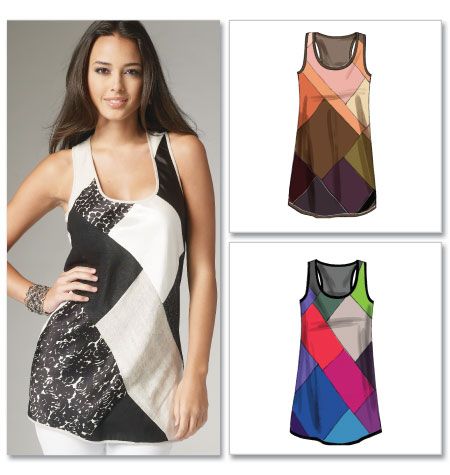 Is your New Year's resolution to break into your fabric stash? Check out McCall's Spring Collection for some great ideas.
I have fabric—a lot of fabric. There, I've said it (admitting it is the first step). And I know I'm not alone. Sewers have a habit of going to a sewing store and simply falling in love with a fabric… or two or three or twenty. I once knew a sewer who said that if she made everything she bought fabric for she'd finish in the year 2050. So, I've decided that in this New Year I'm breaking into my stash more often! Are you with me? And McCall's newest spring pattern line makes it a little easier. Check out these patterns that use multiple pieces to start you on your fabric stash-busting mission.
Pattern 6511 is a long (low hip) racerback tunic. Designed for moderate stretch knits, the neckline, armholes and hem are bound with a bias strip. The front is artistic with 13 different patches for View A and 12 patches for View B. One yard of fabric is required for the garment back and binding and the contrasting fabrics range in size from 6 inches to 16 inches. I have a fabric combo from Marcy Tilton that is perfect for this pattern!
Pattern 5604 is a sweet, knee-length dress that uses four fabrics, approximately 1 1/8 yards each. Make it sleeveless or with short sleeves and choose an optional flounce. (That'll use more of your stash!) Suggested fabrics are cotton blends, cotton lawn, linen, and chambray. This is the perfect spring-time dress!
Other stash-busting ideas include accessories and children's clothes. Pattern 6497 is a cute-as-can-be dress, tunic and pants set for little girls. Required yardage for each contrasting fabric ranges from 1/2 yard to 1 yard. Pattern 6522 is a sophisticated Laura Ashley bag collection. The two styles, drawstring or zipper closer, use three fabrics ranging from 3/8 to 1 1/8 yards.
Check out these and other great new spring patterns from McCall's. Are you on a stash-busting mission too? What are you making?