How to Sew Buttons, Snaps & Hooks
Learn how to sew buttons, snaps, and hooks correctly on the first try with this demonstration by Threads Senior Technical Editor, Judith Neukam. If you choose the right type of thread for the occasion and thread your needle with Judy's simple method, sewing on buttons can be a snap.
Teach Yourself to Sew is for beginning sewers or anyone who wants to brush up on their skills. Throughout the year we will demonstrate basic sewing techniques, share tips, and give step-by-step instruction for beginner sewing projects.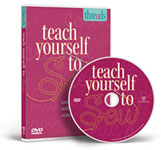 Click here to purchase the Teach Yourself to Sew Video Series on DVD.
How to Sew Buttons, Snaps & Hooks

Get the latest including tips, techniques and special offers straight to your inbox.