Project: How to Sew a Skirt
This series for beginning sewers provides a complete course in mastering the basics. Our experienced Threads editors personally walk you through the fundamentals, from threading your machine through attaching that final button. The skills found in Teach Yourself to Sew are perfect for new sewers or for those looking to brush up on the basics. Lessons include hemming, attaching buttons and zippers, how to iron, and sewing a jacket from a pattern.
With the techniques we have already covered this season, and this simple tutorial, you should now be able to sew a skirt. Referring back to our episodes on darts, zippers, buttons, and basic seams may be necessary as you work your way through this project. If you get stuck, or have any problems or questions, feel free to ask in the comments below or ask our experts in the forum.
Teach Yourself to Sew is for beginning sewers or anyone who wants to brush up on their skills. Throughout the year we will demonstrate basic sewing techniques, share tips, and give step-by-step instruction for beginner sewing projects.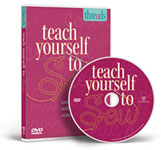 Click here to purchase the Teach Yourself to Sew Video Series on DVD.
Project: How to Sew a Skirt

Get the latest including tips, techniques and special offers straight to your inbox.