Charles James: The Exhibition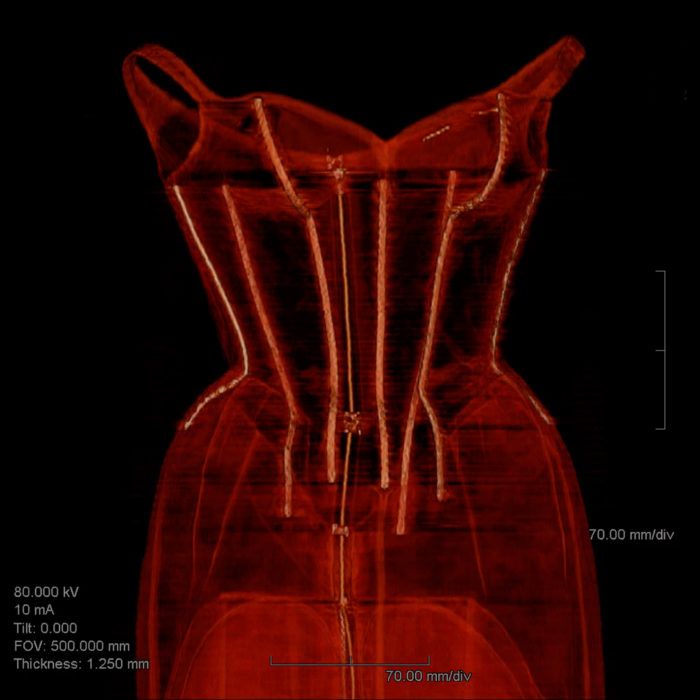 If you've looked at Threads no. 159, you've seen stunning photos of dresses by American/British designer Charles James. I recently went one better and saw those very pieces up close, at the "Charles James: Genius Deconstructed" exhibition, on view at the Chicago History Museum through April 16, 2012. The show does more than just display drop-dead gorgeous gowns: it reveals the inner workings of the pieces, through the use of state-of-the-art imaging techniques.
I've seen my share of fashion exhibitions in an assortment of museums, but the Chicago History Museum does things a little differently from most: They show us not just the garments, but how they're constructed. In the Charles James exhibition, we see muslin models, made by fabricator Michael Hall, of the complex understructures of some of the gowns, so we can understand how seamlines, boning, and other brilliantly engineered layers create and support the shape of each garment.
The question burning in my mind, though, was how the obviously very clever Michael Hall figured it all out. There's only so much you can determine by examining a garment: linings hide inner structures, and the sheer number of pattern pieces involved in some of James's gowns would make it nearly impossible to create a perfect replica. So what's a fashion researcher to do?
The CHM took the "Tree" dress, below, over to the Field Museum of Natural History in Chicago, where a CT scan of the dress was performed.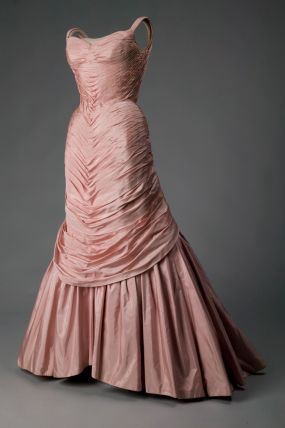 The resulting images reveal the gown's inner structure in new ways. For example, we're able to see exactly where the stiffly quilted "flying buttresses" form a low, bustle-like fullness at the back of the skirt.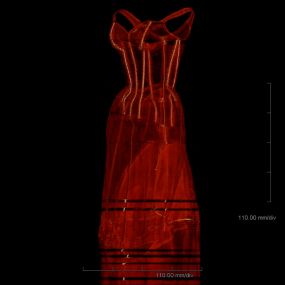 Here, we see the gown's "skeleton" of boning, as well as zippers, hooks and eyes, areas of multiple fabric layers, seams and darts in underlayers, and even a few leftover pins hiding inside the bodice, along its upper edge. (So, no, you're not the only one to leave pins in a finished garment!)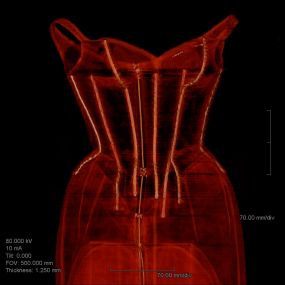 The scans contributed to the development of detailed drawings, indicating everything from grain- and seamlines to the type of stitching used to secure fabric layers. With this information, the staff was able to build accurate replicas, like this one of the James's "Clover" dress.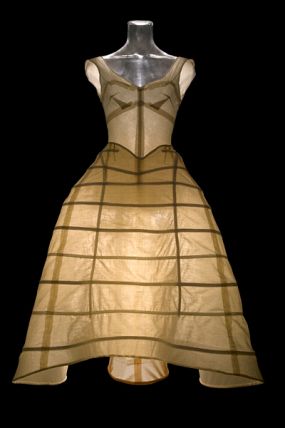 If you can't make it to Chicago to see the exhibition (with or without your X-ray specs!), you can purchase the exhibition catalogue, which includes beautiful, large color photos of all the garments in the show, at ChicagoHS.org.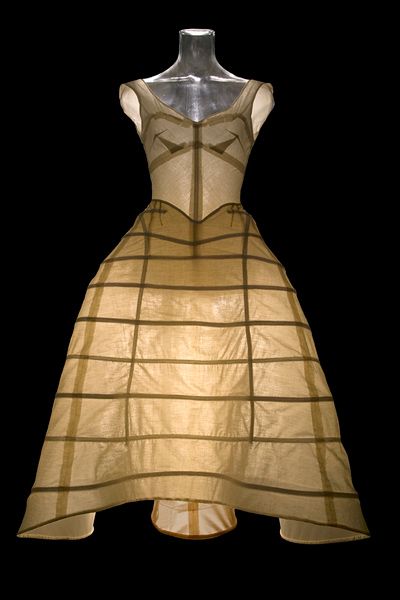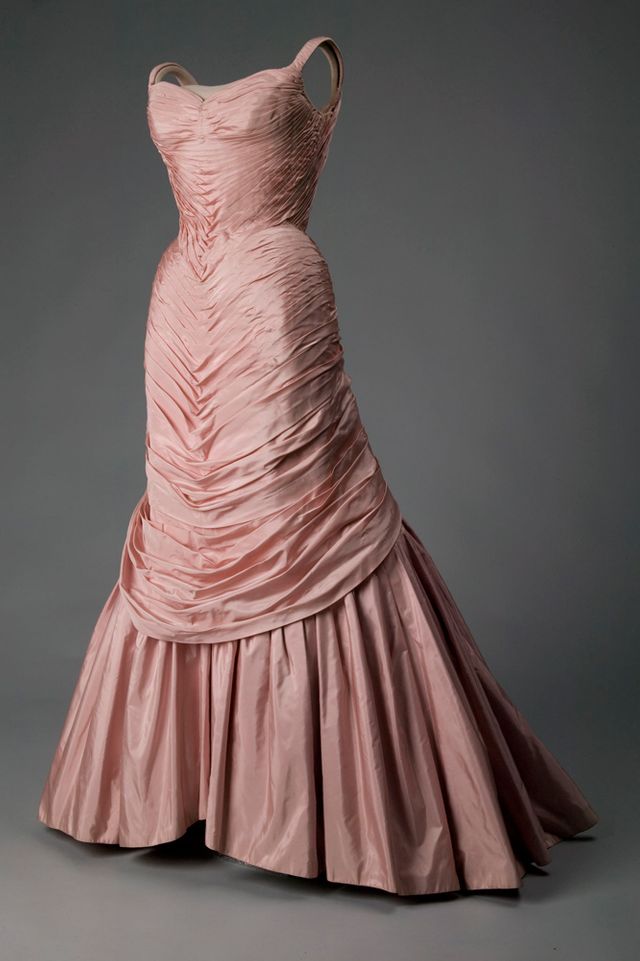 The "Tree" gown, from 1957, looks great from the outside—but what's going on inside?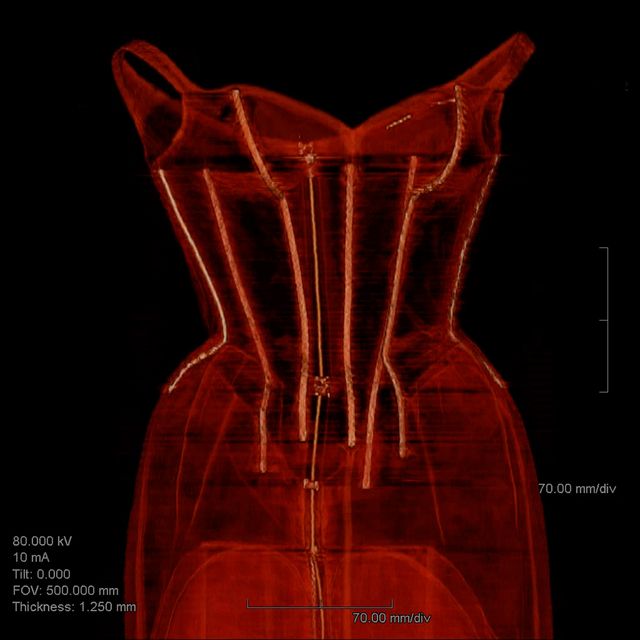 Medical imaging helps researchers figure out how James's design was constructed.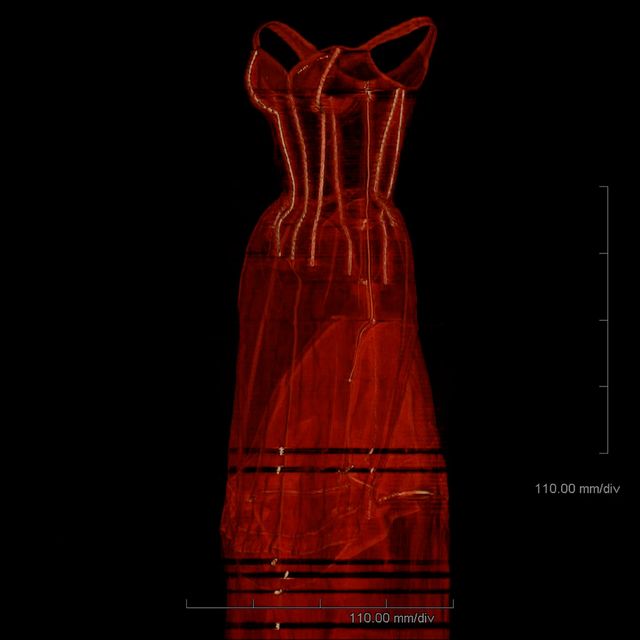 A CT scan shows the inner workings of the "Tree" dress.