SewStylish Spring 2012 is on Newsstands Now!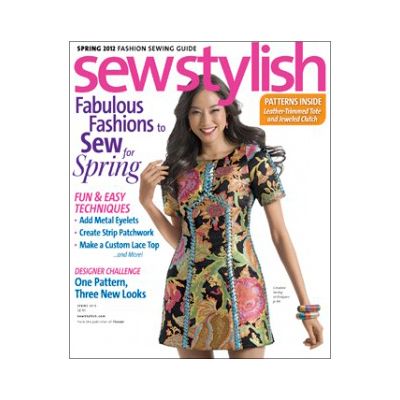 The Spring 2012 issue of SewStylish is available on newsstands now, and you won't want to miss it. Featuring fabulous fashions to sew for the upcoming spring season, it's overflowing with exciting sewing suggestions and tips. Learn fun techniques and designer secrets in no time.

Here are the highlights:
• Stellar Machine Features. These sewing machine options make the job easier than you've ever imagined.
• Custom Lace Top. The season's hottest luxury fabric is simple to sew.
• Get On a Roll. Cut fabric efficiently with rotary cutters and mats.
• Serging Secrets. Discover what a serger can do for your sewing.
• The Mighty Pin. Don't overlook its importance.
• Make It Your Way. Three designers take the same pattern in new directions.
* EXTRA: Make the cummerbund belt from Gretchen Hirsch's design here!
• Copy That. Trace the fit of your favorite sleeve and darts.
• Express Pocket. A quick method for a bulk-free version.
• Easy Ease. Learn how it affects fit, appearance, and comfort.
• Perfect Match Tote. Delicate embroidered fabric meets sturdy lambskin trim in this sweet, yet tough, bag.
• Denim in Detail. This everyday fabric could easily work the runway.
• All Laced Up. Turn and old-fashioned closure into a cool design feature.
• Sew It, Style It. Mix what you've sewn with what you own.
• Painted Lace. Apply dye with a brush for multicolored effects.
* EXTRAS: Learn how to apply that trim to a garment. Have leftover lace? Turn it into lovely earrings.
• Metal Eyelets. Embellish with a hint of hardware.
• Piece Movement. Strip patchwork creates exciting color panels.
• Designer Insider. Get to know Project Runway semifinalist Suede.
Get your copy on newsstands today!