How to Sew an Invisible Zipper
Learn one method for adding a zipper to your garment in this excerpt from our beginner sewing video series. Teach Yourself to Sew was created with beginners in mind, but sewers of any level can use these tutorials to brush up on their skills.
In this chapter of Teach Yourself to Sew, Season 2, Threads Editor-at-Large Judith Neukam will show you how to attach a zipper to your garment, with an exciting twist: the finished zipper will be concealed from sight. This stylish technique is often found in high-end garments.
You can find more excerpts from this series at TeachYourselftoSew.com, or visit our store to purchase seasons 1 & 2 on sale now. This series would make the perfect gift for any new sewer in your life!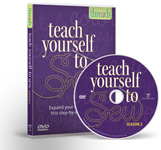 Click here to order Teach Yourself to Sew, Season 2 on DVD.
Get the latest including tips, techniques and special offers straight to your inbox.