Inside a Designer Jacket
Susan Khalje demonstrates the four key features of a Chanel jacket.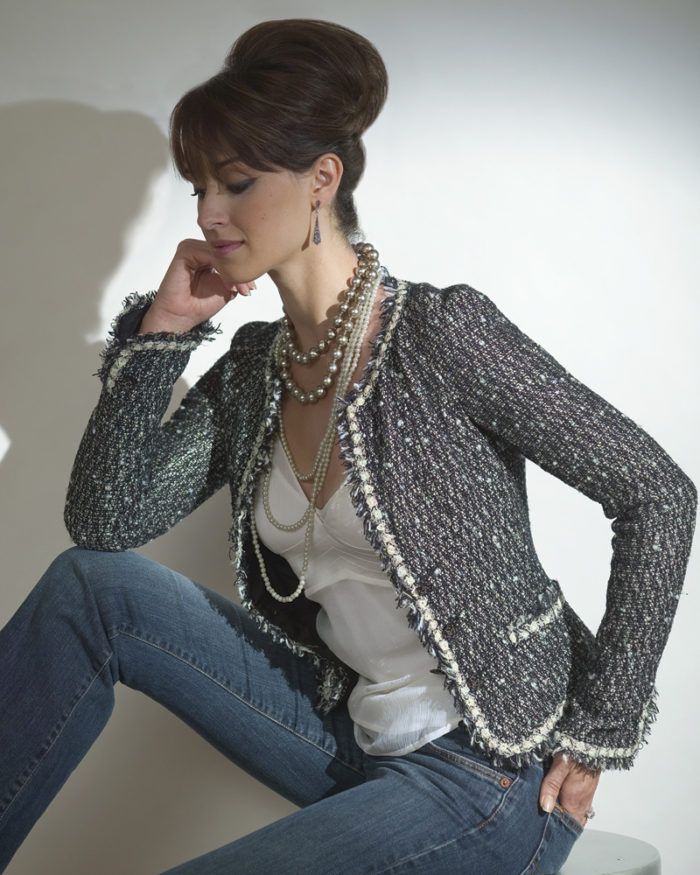 In the list of iconic fashion garments, there are a few classics that are included without fail: the little black dress, the crisp white shirt, the belted trench coat, and the Chanel jacket. What they share is an uncomplicated elegance and a clever marriage of fabric, fit, and design. But in none of these garments is the partnership more splendid than in the Chanel jacket. With the added element of sewing techniques that brilliantly bring the design to life, it's no wonder the term "classic" so aptly applies.
I've always been a devotee of haute couture sewing, starting way back when my grandmother was a client at New York's couture salon Chez Cez et Bez. When a wrist injury cut short my career as a classical pianist, I applied for a job almost on a lark at Chez Cez et Bez. To my amazement, I was hired to train with the most talented designers and seamstresses, and at the salon, I was able to poke around in boxes of fantastic garments from various couture houses. Packages from Chanel were my favorites—when I inspected the garments' seams or oh-so-carefully peeked inside a lining, I was amazed by the fine, ingenious handiwork.
In the following pages, I will show you how to sew the four key features of a Chanel jacket—quilted rows of stitches that anchor the soft bouclé fashion fabric to a slinky lining; hand-finished seams that provide hidden strength and support; a hard-working and decorative chain weight at the hem; and bold trim and buttons for design interest and stability. There really is nothing like a Chanel jacket, and every woman deserves to have the simple style, luxury, and utter comfort of this unique garment in her wardrobe.   
Start your 14-day FREE trial to access this story.
Start your FREE trial today and get instant access to this article plus access to all Threads Insider content.
Start Your Free Trial
Already an Insider? Log in