Why are pincushions frequently made to resemble tomatoes?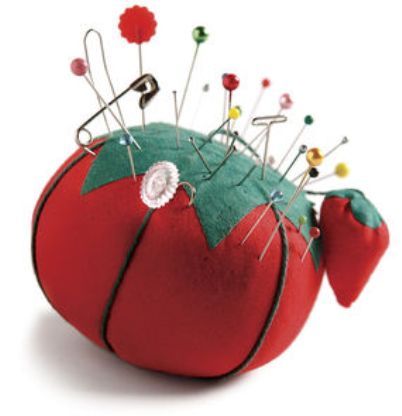 TOMATO PINCUSHIONS HAVE BEEN POPULAR FOR YEARS
The "Best Tip" in Threads #160 (April/May 2012) features the use of a standard tomato pincushion (and a permanent marker) to organize your machine-needles. Knowing which needle is in which sewing machine or serger is just an added benefit to trying out this technique. The tomato pincushion lends itself beautifully to this tip, but as I read the tip, I couldn't help wondering how the tomato pincushion came to be. My grandmother and mother both had tomato pincushions, and I have several. I did plenty of research on this subject and found some interesting information.

More on working with pins:

• A Pin for Every Purpose
• Create Intricate Fabric With Pin Weaving
• How to make a dust pan that attracts pin
A LITTLE BIT OF PINCUSHION HISTORY
In the years 1300 through 1400 metal pins were costly, and as you would imagine, not as readily available as they are today. They were usually stored in special needle/pin cases made from ivory, bone, silver or other metals. In the early 1700's pin-pillows came into use–the predecessor of the pincushion of today. They were beautifully made from fine fabrics and often delicately embroidered. Soon the pin pillows became mounted on a silver, china, or wooden stand or base. In many cases the pincushion was actually used more as a home décor item than a sewing tool. During the early 1900's pincushions became more common as a useful, functional sewing aid.
THE TOMATO EVOLVES
I also learned that during the Victorian Era, folklore suggests that when a family moved into a new home, a fresh tomato was placed on the mantle to ward off evil spirits and thus bring prosperity to the new homeowners. Since tomatoes were only available in certain seasons and didn't stay fresh forever, the good-luck symbol was frequently fashioned from fabric instead–stuffed with sand or sawdust and made to look like the real thing with embellishments such as leaves and veins. I can imagine how easily the tomato graduated from a "tchotchke" to something more useful. Whenever I find straight pins or needles lying around my home, I poke them into my quilted toaster cover until I'm able to bring them upstairs to my sewing room. If I had a stuffed tomato on my mantle, I'm sure I'd use that instead! Perhaps even the "voodoo" nature of the tomato encouraged people to poke pins into it.
Do you have a tomato pincushion? Does your mother? Your grandmother? Have you heard other "folklore" stories about the origins of the tomato? If so, share them with us in the comments.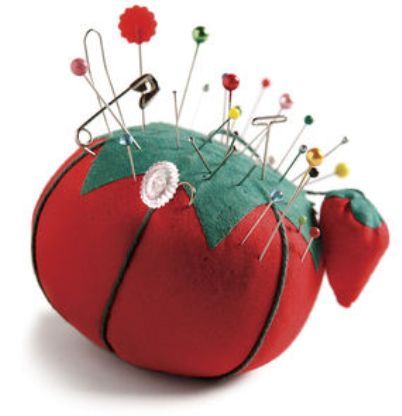 The tomato pincushion has become an icon representing sewing today.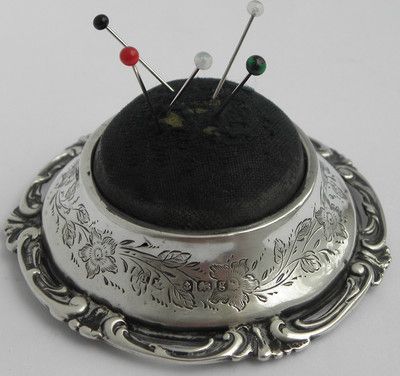 An early pin cushion with engraved sterling base.