MAGAZINE GIVEAWAY: The April/May 2012 issue of Threads magazine!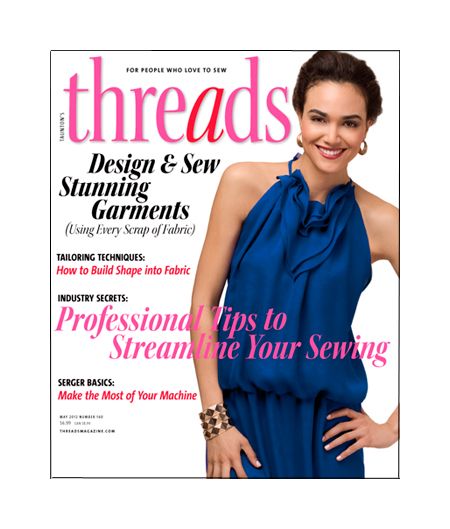 THE MAY ISSUE OF THREADS IS AVAILABLE ON THE NEWSSTAND TODAY!
We received our office copies of the latest issue of Threads, and I can't wait to read it. There are so many fabulous articles in this issue and so much to learn!
YOU COULD WIN A COPY!
You could win a copy of this amazing issue by simply leaving a comment at the bottom of the page. Tell us which article appeals most to you. Leave your comment on this post before the deadline-11:59 p.m., Tuesday, March 20-and you could win a copy of the issue. The winner will be randomly selected and announced during the week of March 25.
THERE'S SO MUCH TO LEARN INSIDE
Here are the highlights:
• Sophisticated Deconstruction–Create unique garments by layering fabrics and stitching them together.
• ASDP Member Challenge: No-Waste Designs–The winners of the Threads/ASDP Challenge were asked to make a garment without fabric waste.
• Tailoring Principles–A traditional menswear tailor talks about how to build impeccable shape into garments.
• Spring into Fashion–A fashion forecast of the leading colors, fabrics, and silhouettes to guide your sewing.
• Bound for Beauty–Three methods to make fabulous bound buttonholes.
• Garment Industry Secrets–Borrow these professional sewing techniques for precise and efficient results.
• One Pattern, Endless Options–A base pattern makes it easy to whip up an entire wardrobe.
And of course, you'll also find our regular departments:
• Notions
• Tips
• Embellishments (Painted textiles–using brushes, stencils and stamps for one-of-a-kind fabric)
• How Did They Sew That?
• Designer Spotlight (Sandra Betzina)
• Pattern Review
• Fundamentals (Meet your serger)
• A Stitch in Time
• Embroidery Essentials (Make lace–Learn to stitch on air)
• Reader's Closet
• Q&A
• Closures
• Back cover
WHAT APPEALS TO YOU THE MOST?
We all have our favorites. What do you think yours will be in this issue?