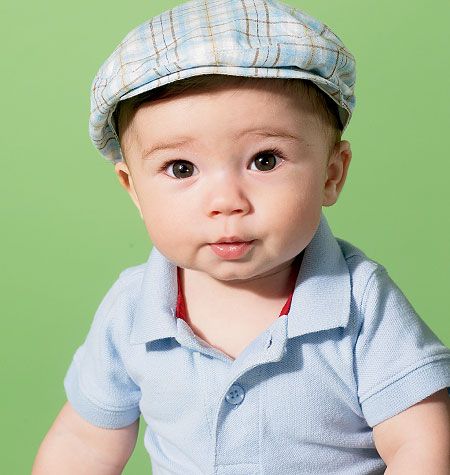 Most children agree (and many of us grown-ups too) that summer is their favorite season. It's an exciting time filled with trips to the beach, catching fireflies, picnics, and pool parties. Whether it's a sweet wide-brimmed hat to keep the sun out of baby's face, or a dinosaur-topped tee for imagination-filled adventures, McCall's Summer Pattern Collection is filled with adorable made-for-summertime-fun children's clothes and accessories.
Charming hats and shoes
Pattern 6575 offers six precious hats and shoes. Choose from four all-around brim styles, a baseball cap, or a flat cap. Six soft shoe variations coordinate with the hats. Various strap and color-blocking options are included. Make the hats and shoes in a cotton or cotton blend fabric and cover the shoe soles with non-skid fabric.
Whimsical appliqué tops and dresses
Pattern 6545 is an easy-to-sew tee shirt made special with fun, fabric appliqués. Choose from a robot with buttons for dials and a zipper mouth; a cat with paw-shaped pockets; a purse and strap appliqué; a dog who wraps around from the center front to the back; a frog; and a friendly dinosaur who wraps around the shirt.
Pattern 6541 is a sleeveless A-line top or dress with buttoned down shoulder seams paired with elastic waist shorts. This project stands out with four sweet appliqué choices: a whale, a giraffe, a frog, and a snail. Lightweight cotton or cotton blends are recommended.
Ruffles and gathers
Girly as can be, pattern 6543 features a full three-tiered skirt trimmed with ruffles. The two-pieced bodice is shirred at the waistline and smooth along the neckline. The back closes with two buttons and the front straps have optional buttons.
Be sure to check out McCall's full Summer Collection.
What children's clothes do you sew? Who do you sew for?