MAGAZINE GIVEAWAY: Quilt Your Stash!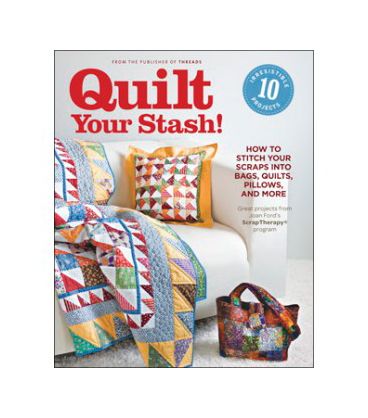 IS YOUR STASH TOO LARGE?
Do you sometimes wonder how your stash became so large? Do you hate to toss even small scraps of "perfectly good" fabric? If so, then this magazine is for you. The editors at Threads all asked ourselves the same question. Quilt Your Stash! is a delightful collection of projects and quilting techniques selected from Joan Ford's popular book, ScrapTherapy, Cut the Scraps (The Taunton Press, 2011). It's packed with plenty of ideas to help you use your stash–even small scraps–in beautiful, creative ways.
TAKE CONTROL OF YOUR STASH USING THESE EASY INSTRUCTIONS
Even if you've never done quilting, you'll find the techniques presented easy to follow. The magazine will help you take control of your fabric stash while having some creative fun.
THERE ARE TEN IRRESISTIBLE PROJECTS
You'll find ten irresistible projects ranging from home decor ideas, to bags, quilts, and more. The clear step-by-step instructions are included for each project. Whether you make an item as a gift for someone special or to bring personal joy to you or your family, you'll be inspired. This magazine is a must for anyone who sews and hangs on to at least some of their fabric scraps.
LEAVE A COMMENT AND YOU COULD WIN THIS AMAZING MAGAZINE
Leave a comment and tell us how much fabric you have in your stash, and you will be entered into our giveaway contest. Leave your comment on this post before the deadline–11:59 pm EST, Wednesday, April 18–and you could win a copy of the magazine. The winner will be randomly selected and announced during the week of April 23.