How to Design with Sheer Fabrics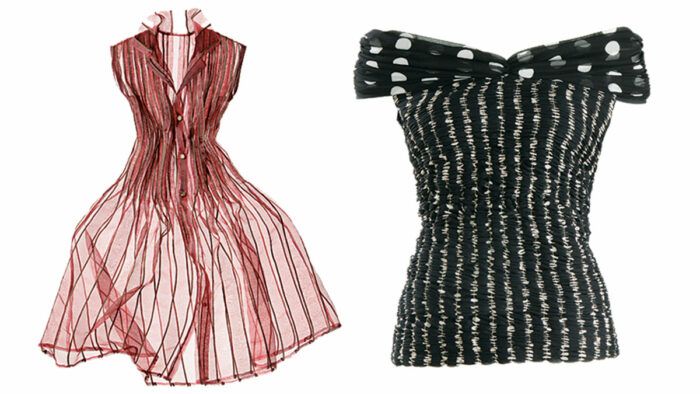 Synopsis: To discover the wonders of sheer-fabric manipulation, start with a sheer fabric and then create new prints for more exciting garments. You can change the shape of these fabrics by layering, tucking, pleating, gathering, or ruching. Make stripes into solids or plaids; make dots into stripes. Once you get the hang of it, use your new creations to rev up your garment sewing. Fred Bloebaum explains the benefits of these gossamer fibers.
---
Sheer fabrics make lightweight layers
Gossamer fibers are sturdier than their delicate appearance suggests. Organza, the fabric used in most of the garments shown in this article, is easy to sew. With lightweight sheer fabrics, you can overlay two or more fabrics without bulk. The see-through fabrics blend colors and double-expose graphic designs to transform the original material into something magical.
When two sheer fabrics of different colors are overlaid, a wonderful change occurs. The secret is in the transparent weave. It enables you to position the fabric grain in different directions and in multiple layers to create interesting geometric designs. The excitement doesn't occur with just any print, you have to find the right ones. But once you get some practice, your imagination can run wild.
Always audition your fabric
When choosing fabrics, examine the effects created by multiple layers. Stand back and study the combination. Does the color change? Rotate the grain on one layer; a new design is sure to emerge. Reverse the order of the layers. This is especially important if you're combining two prints of different scales.
After you've explored the visual possibilities of the fabric used in layers, manipulate it in your hands to discover other possibilities. For example, tuck or pleat out a specific stripe or color. Or scrunch up the fabric with your fingers to see what…
Start your 14-day FREE trial to access this story.
Start your FREE trial today and get instant access to this article plus access to all Threads Insider content.
Start Your Free Trial
Already an Insider? Log in