Decoupage Ideas Using Sewing Patterns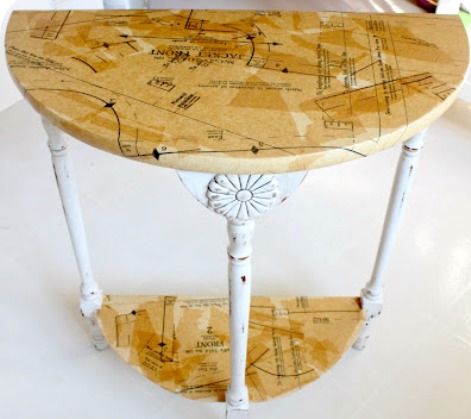 Years ago my mother-in-law transformed many items using decoupage techniques. She selected a theme, and made all of her pieces with the theme in mind. When she lived near the ocean, she used a nautical theme. In other locations she used other themes (flowers, birds, etc.). I seem to recall that she used regular white glue to create an artwork collage and then sealed the artwork with many layers of varnish, which also produced a hard outer surface.
Mod Podge makes decoupage a lot easier. It's a water-based glue, sealant, and varnish all in one. It comes in a bottle and can be found in most craft stores. During a recent online search, I bumped into a couple of extremely inventive items made using Mod Podge. I suspect crafty sewers might enjoy trying the technique to add interesting "sewing" decor to their sewing room or sewing corner.
My first discovery was a table created by Bethany. After her grandmother's death, Bethany was given a small side table. She transformed it into a beautiful conversation piece using tissue pattern pieces from a jacket pattern. The table's design is incredibly clever, and would look perfect in any sewing room.
After inquiring about Bethany's table, I encountered a decorative box made by Amy Anderson also using Mod Podge and pattern tissue paper. Amy decoupaged the amazing box for her friend's mother's 60th birthday. (Her friend's mother happened to love sewing, which made the gift even more special.) Amy was certain the box would make a convenient and lovely storage place for patterns and other sewing notions, and I agree!
You can find step-by-step instructions for both of these ingenious items on Bethany's and Amy's websites respectively. Their websites have given me an incredible urge to redecorate my own sewing room!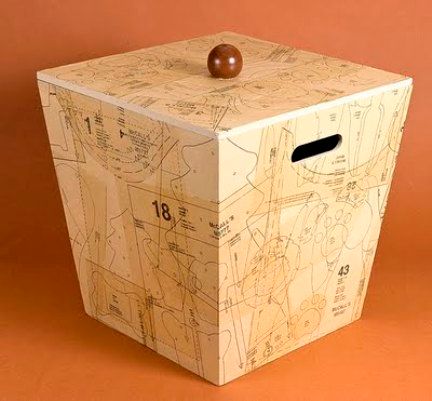 Notice the pattern tissue decoupaged to this box.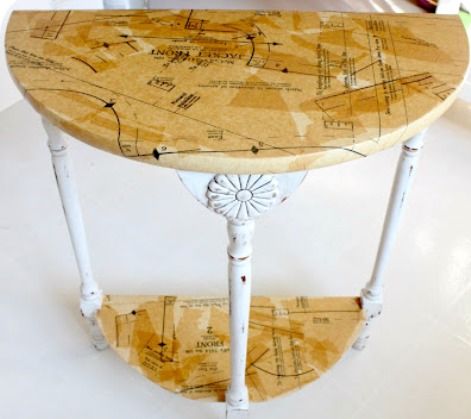 This tissue paper is from a jacket pattern.