MAGAZINE GIVEAWAY: The New June/July Issue of Threads (#161)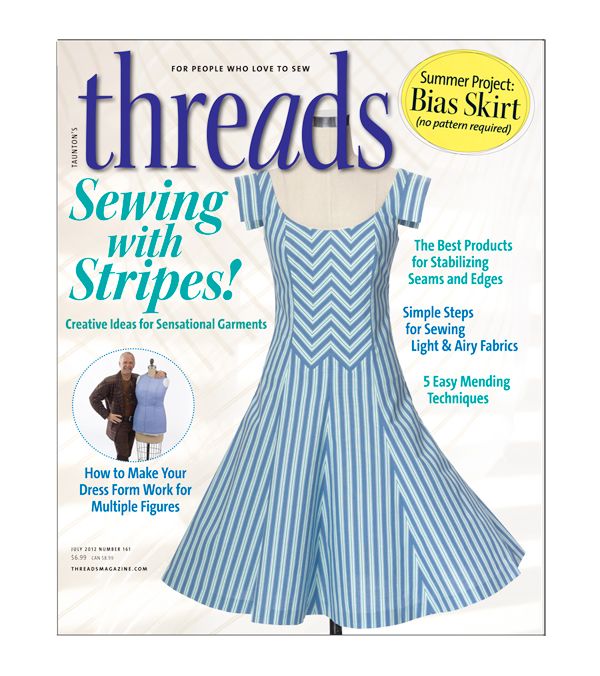 THE JULY ISSUE OF THREADS WILL BE AVAILABLE ON THE NEWSSTAND SOON!
We received our office copies of the latest issue of Threads, and I can't wait to read it. Of course, members of our Threads Insider group already have access to the digital copy of the issue, and subscribers should receive their hard copy on or around 4/26. There are so many fabulous articles in this issue and so much to learn!
YOU COULD WIN A COPY!
You could win a copy of this amazing issue by simply leaving a comment at the bottom of the page. Tell us which article appeals most to you. Leave your comment on this post before the deadline, 11:59 p.m., Tuesday, May 1, and you could win a copy of the issue. The winner will be randomly selected and announced during the week of May 7.
THERE'S SO MUCH TO LEARN INSIDE
Here are the highlights:
"Engineered Stripes" by Judith Neukam. Learn creative ways to let the fabric's lines lead your design.
"Summer Sewing Project: Bias Skirt" by Julianne Bramson. Five fabrics come together for a versatile pieced design.
"Sewing Destination: London, England" by Paula DeGrand. Discover why this culturally rich fashion and sewing metropolis rules.
"Fit for Everyone" by Kenneth D. King. Sew removable covers to make your dress form work for multiple figures.
"Precision Placket" by Marguerite LeBlanc. Learn how to make the classic sleeve finish that most patterns don't include.
"Stabilizing Tapes" by Linda Lee. Discover which products are best for beautiful, pucker-free seams and edges.
"Tissue-Weight Wovens" by Mary Ray. Make light work of sewing these airy textiles.
And of course, you'll also find our regular departments:
Contributors
Letters
ThreadsMagazine.com
Notions
Tips
Embellishments (Distressing leather)
How Did They Sew That?
Designer Spotlight (Kay Unger)
Pattern Review
Fundamentals (Tend to your mending)
A Stitch in Time
Reader's Closet
Q&A
Closures
Back cover
WHAT APPEALS TO YOU THE MOST?
We all have our favorites. What do you think yours will be in this issue?