Do stripes really make you look thinner?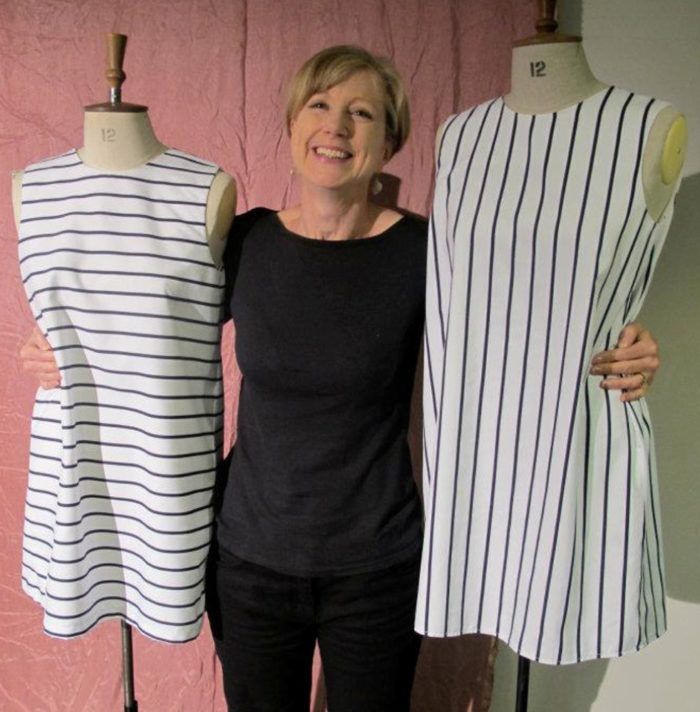 DOES FABRIC CHOICE REALLY TRICK OUR EYES?
The current issue of Threads (issue no. 161, July 2012) features a fabulous striped dress on the cover. The stripes are both horizontal (across the bust) and vertical (around the hips and below), and everything I've learned tells me wearing the dress will create the perception of a larger bust and smaller hips (an appearance most of us would welcome). In fact we're working on an article for our next issue (no. 162, September 2012) by Susan Lazear on this subject which will show you how to tap into this "visual opportunity" when you sew.
FASHION ILLUSION BECOMES A SCIENCE EXPERIMENT
BBC Radio 4 is a British domestic radio station owned and operated by the BBC (British Broadcasting Company). Their weekly science show Material World has selected 4 finalists in a contest (So You Want to Be a Scientist!) to find the Amateur Scientist of the Year. Among the finalists is Val Watham, who devised an experiment to test whether stripes affect people's perception of size. She then turned to Fashion Design students at The University for the Creative Arts (UCA) in Rochester, United Kingdom, for assistance. They have been working to settle the age-old question of whether stripes really can make you look thinner.
UCA STUDENTS DO THE STITCHING
A team of volunteers from UCA's Fashion Design course stitched a variety of shirts and dresses with stripes positioned horizontally and/or vertically. Students were then filmed wearing each of the dresses and shirts, plus a plain black alternative. Visitors to the BBC Science tent at the Edinburgh International Science Festival this month (April 2012) will be asked to watch the videos and estimate the model's size in each clip. To make sure the study is scientifically valid, Val worked with psychologist Dr Peter Thompson from the University of York. He is an expert in visual perception and assisted in the development of the test.
THE RESULTS WILL BE HELPFUL TO US ALL
Val hopes "that the data we gather from this experiment will shed more light on the way different patterns affect our perception of size." Student Luq Ali added: "I own loads of stripy clothes, and I definitely do think they have an impact on perception of size. I can't wait until the findings are revealed." The results of Val's experiment will be revealed at the Cheltenham Science Festival in June.
WHAT DO YOU THINK THE RESULTS WILL SHOW?
I personally hope this experiment will corroborate my assumptions based upon what I've been told over the years, but I've never owned clothing that validated this theory. From your experience with sewing, fashion, and style, what do you think the results will show? Have you ever made a garment that was unexpectedly flattering and you attributed it to the lines of the garment or the fabric's pattern? Please tell us about it.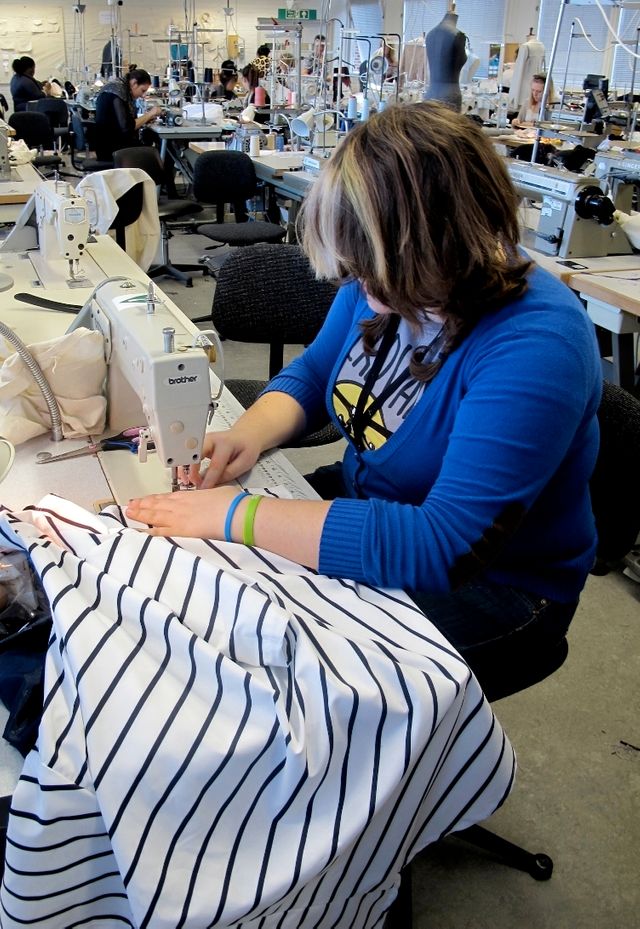 Fashion Design students at the University for the Creative Arts working on striped garments.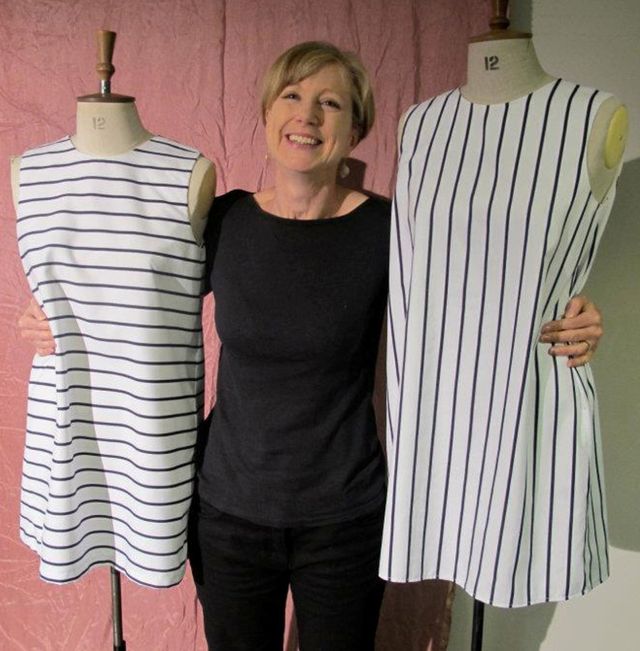 Val Watham with 2 striped dresses in progress.