Bernina Challenges Sewers to Upcycle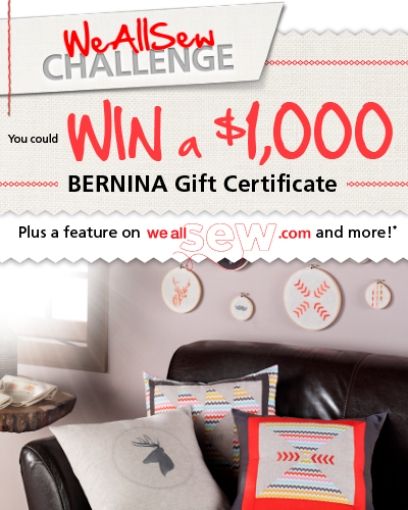 Bernina of America is holding a new WeAllSew Challenge. This is the second of three challenges encouraging sewers to upcycle and reinvent pieces of clothing and fabric into new clothes, crafts, or home decor. The challenges are the named for Bernina's WeAllSew blog (WeAllSew.com) to share projects, ideas, patterns, tutorials, and tips with sewers of all persuasions.
The contest theme is "Make Yourself at Home" and challenges participants to recycle any item-such as old bedding or drapes-into a new home decor item. Upcycling saves resources and money and transforms old or unused materials into useful or decorative objects.
Just photograph your completed project, and post it along with a brief description on Bernina's Facebook page between May 3 and May 21. Instructions for posting projects and contest rules are available on the Bernina Facebook page. A panel of Bernina experts will judge all WeAllSew Challenge entries based on the number of votes each project receives, the project description, and the finished item.
The WeAllSew Challenge winner will be announced early in June on Bernina's Facebook page and will receive a $1,000 Bernina gift certificate. All participants will also be entered into a sweepstakes for a chance to win a Bernina 730 E sewing machine (retail value $5,000). You can also enter the sweepstakes without entering the WeAllSew Challenge by filling out an entry form at participating Bernina dealers. The sweepstakes drawing will be held in October.
Don't forget to post your upcycled sewing projects on Bernina's Facebook page between May 3 and May 21.
Will you be entering the WeAllSew Challenge? Do you recycle old or unused materials into new sewing projects? What's your favorite aspect of upcycling?