Roy Denim: A small jeans factory with only one worker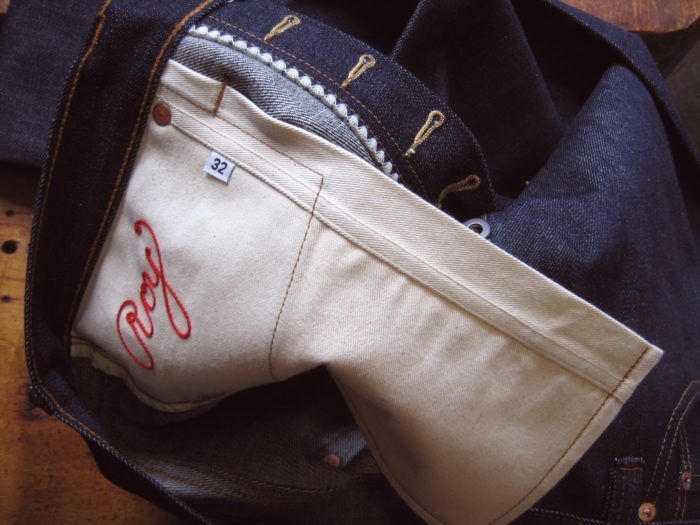 ROY SLAPER IS A ONE-MAN SHOW
Roy Slaper, a.k.a. Roy Denim, began working in metal fabrication but evolved to sewing. As he puts it now, "Think of me as a tiny factory where only one worker is there, rather than a do-it-yourselfer." His shop is hidden on a back street in Oakland, California, in a warehouse filled with old specialty sewing machines.
IT BEGAN WITH HIS FIRST SEWING MACHINE WHEN HE WAS YOUNG
When he was a young child, his aunt bought him a home sewing machine and helped him make little clothes for his stuffed animals. In the beginning all he needed was a little encouragement. When he became older, sewing evolved until he sewed 10 hours a day. "At one point I had 10 machines and a cutting table in a 10′ x 13′ studio apartment. There were machines in the kitchen; I slept in the closet; and there were other machines I wanted to get."
ON TO A LARGE WAREHOUSE SPACE
Finally, he moved into his current warehouse space. When he first moved there, he wasn't selling jeans, but he was obsessed with making them. Within 3 months, he was making custom jeans. "I put up a budget website, and people started ordering right away. I didn't think strangers from Maine would order jeans from me. I thought it would be a few friends from Oakland." Originally, it took him two weeks to make one pair of jeans, so he didn't make much money, but he feels he got paid to learn. He comments that the average person who looks at a pair of jeans doesn't notice all the details. There's a lot going on in a pair of jeans–there are lots of different stitiches and areas that are sewn together in a unique way that most people aren't aware of.
ROY HAS ONLY ONE PRODUCT–JEANS
He makes only one product–jeans, and he has a special machine for just about every part of the jeans he makes. He has a machine that makes belt loops and a bar tack machine for attaching and reinforcing them. He has a keyhole buttonhole machine, a specialty overlock machine for the edges, and one that makes the iconic jeans seams. He also has an embroidery machine to stitch his logo and other designs. He believes that while new machines are much faster, older machines have outstanding quality. "When I get a new machine, I want to work it into the garment. The way I design is totally machine driven."
MAKING JEANS IS FUN FOR ROY
Having my avocation go from something I'm obsessed with to become my vocation has been strange for me because basically I'm still obsessed with this. People often ask me why I work the way I do. Why don't I have employees? Why do I have all the machines? "Because it's fun for me. When it starts not being fun, I'll have to reevaluate what I'm doing."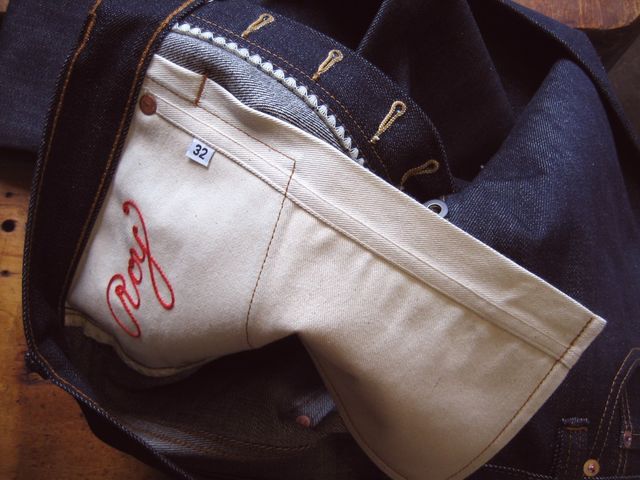 Roy includes his logo inside his jeans.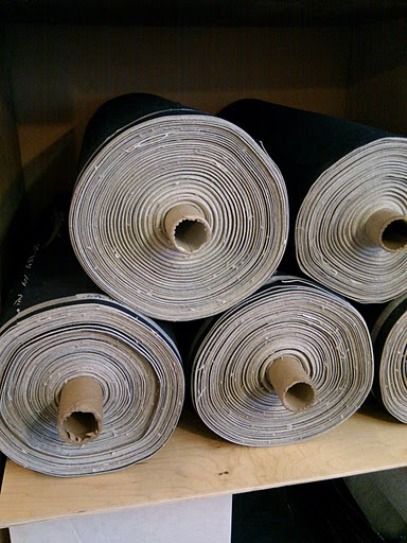 Just some of the denim in Roy's studio.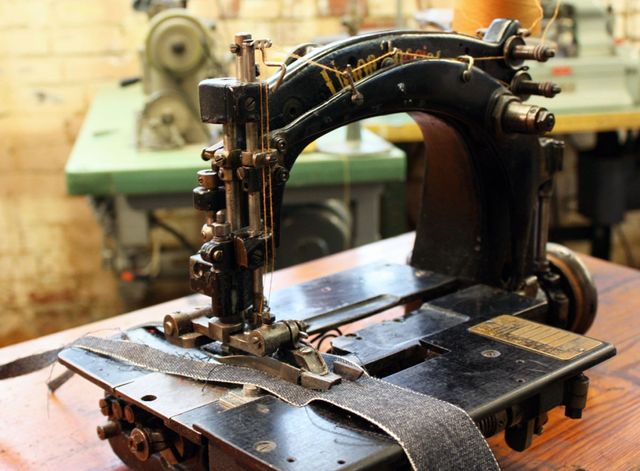 The machine that makes Roy's belt loops all in one step!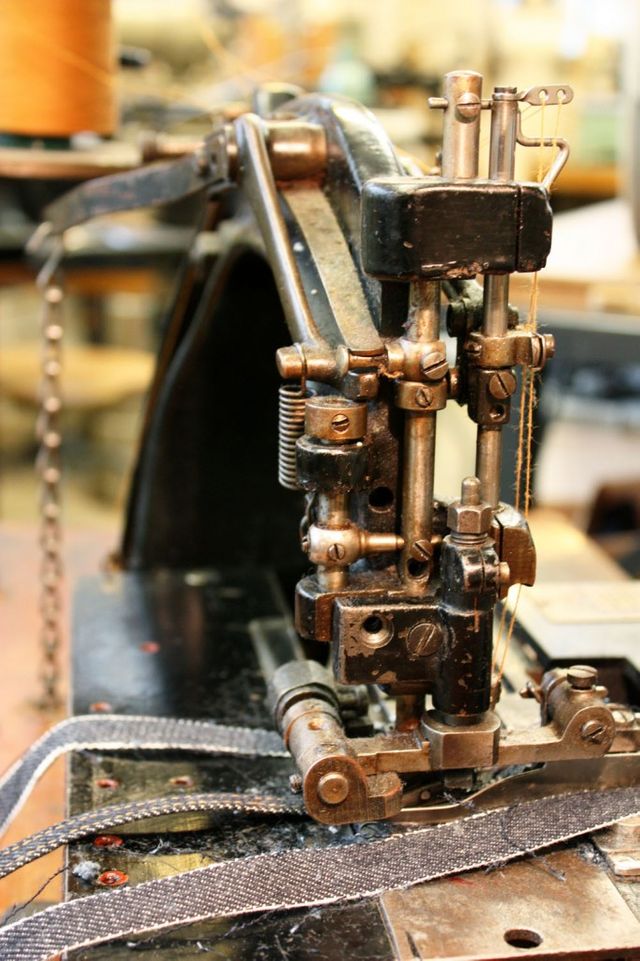 A close-up of a belt loop being created.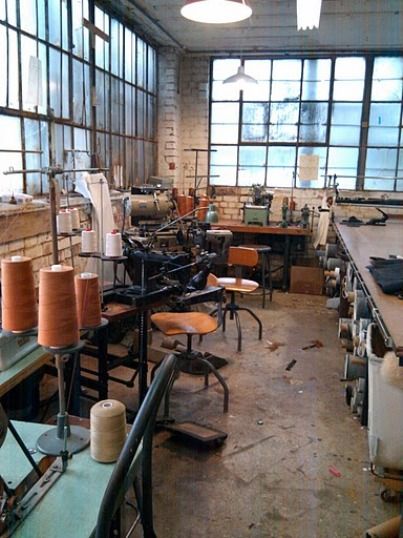 Roy's studio. Note all the large cones of jeans thread.